Smart glasses are classified as augmented reality devices (AR). However, there are also virtual reality glasses (VR). What are the differences between them? What do the smart glasses do? What are their functions? In this article, we will give answers to these and other questions and will showcase the 5 top smart glasses models according to our reckoning.
A quick note before we get started:
Augmented reality (AR) is a combination of real and computer-generated images that overlap each other and as a result, the user plunges into a different world. This principle was implemented in the Pokemon Go game: on the smartphone screen, you can see both the real surrounding environment and nonexistent objects – Pokemons – simultaneously. It is noteworthy that AR gadgets only make visual adjustments to what the user sees, and do not overlap the picture of the real world. The devices can further serve as applications that store and transmit information.
There are four types of augmented reality devices in total:
Head-up displays (HUD)
Holographic displays
Smart glasses
Handheld/Smartphone-based
Virtual reality (VR) is the creation of a simulated environment that is completely different from the real one. Virtual reality affects all the human senses: sight, hearing, touch, sense of smell and others. VR devices provide full immersion into a virtual world, for example, into a video game. A screen is attached to the glasses for this purpose, or there is the possibility to connect your smartphone.
General Characteristics of Smart Glasses
The most widespread smart glasses look very much like the ordinary ones. The main difference is in their sidepiece, where the computer, sensors, and camera are located. The glasses also have an optical display, whereby images and information are superimposed on the existing reality in the user's field of view. As a result, the image can be produced directly through optical elements, such as holographic waveguides and other systems that provide a graphic overlay on the picture of the real world.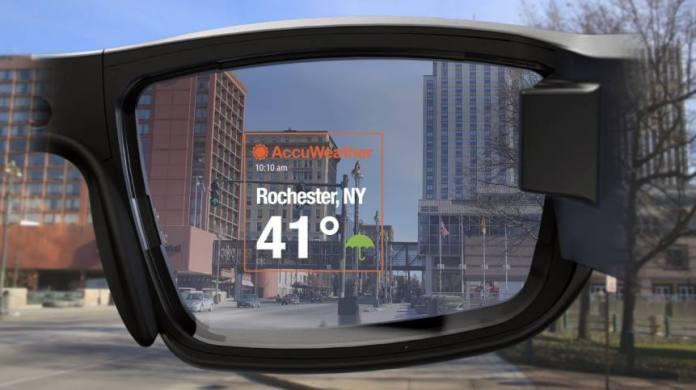 https://brandingforum.org/
All the smart glasses are equipped with a touch panel on the arms, which allows controlling the device with light touches to the frame. AR devices are connected to phone applications via Bluetooth or WiFi.
Smart glasses have three main functions:
Allow a person to talk on speakerphone, and receive information in the form of messages on the screen.
You can record images, video, and audio by activating the function on voice command, or by slightly touching the touch panel on the arms.
Augmenting reality with virtual objects, for example for gaming purposes.
The gadget is used both for entertainment and in various serious and socially important fields, such as education, medicine, defense, industry. There are professional difficulties in each of them and requirements for the gadgets' performance, which can be solved technically: it is possible to add all the necessary functionality to the device.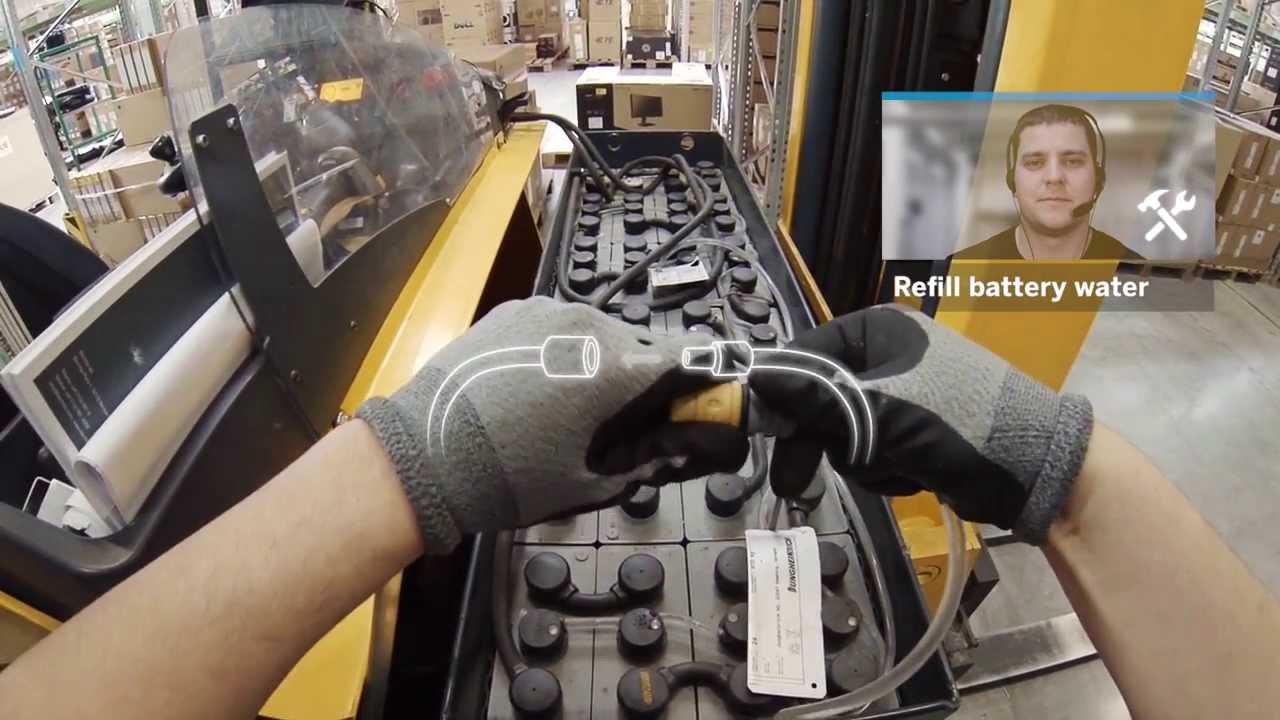 https://www.heise.de/
Best Examples of Smart Glasses in 2019
Previously, we talked about smart glasses in general. It's time to take a more detailed look at some of them and evaluate their characteristics and advantages. Below we have listed 5 most interesting exemplars, in our opinion.
Kopin Solos
Kopin Solos are positioned as the best friends of athletes and have the shape of sunglasses, which can be controlled contactless. These AR smart glasses are equipped with a small display that allows runners and cyclists to monitor the speed of movement and heart rate in real-time; they also have an internal speaker and microphone for two-way communication. Solos have no processor or memory and are smartphone-controlled.
Technical specifications

Display:

16:9

Product weight:

65 g

Battery life:

5 hours typical use

Wireless connectivity:

Bluetooth Classic, Smart 2,4 GHz, ANT+ sensors

Other:

MicroUSB – recharging port

IP54 dust and water resistance

Supports MapMyFitness, Strava, and TrainingPeaks

Price:

$499

solos-wearables.com
Vuzix M300
The Vuzix M300 is a successful example of smart glasses equipped with a comfortable and durable frame and designed for industrial enterprises. Glasses can both be worn on the head or be mounted on a hard hat. They also serve as eye protection. A specific advantage of Vuzix M300 glasses is that they can be voice-controlled (in their factory version, they can "understand" several languages) and controlled by eye movements. A Vuzix M300 representative claimed that glasses help employees to communicate with each other, optimize learning and increase the workers' productivity by providing the necessary information in real-time.
Technical specifications

Display:

16:7

Battery life:

Up to 12 hours of use

Camera:

Up to 10 megapixel stills, up to 1080p video

Memory:

64GB internal flash memory + 2GB RAM

Processor:

Dual-Core Intel Atom CPU

Wireless connectivity:

WiFi, Bluetooth 4.1

Other:

Gyro base, 3 axis accelerometer, magnet, and integrated compass

MicroUSB

Auto-focus and optical image stabilization

Price:

$1.500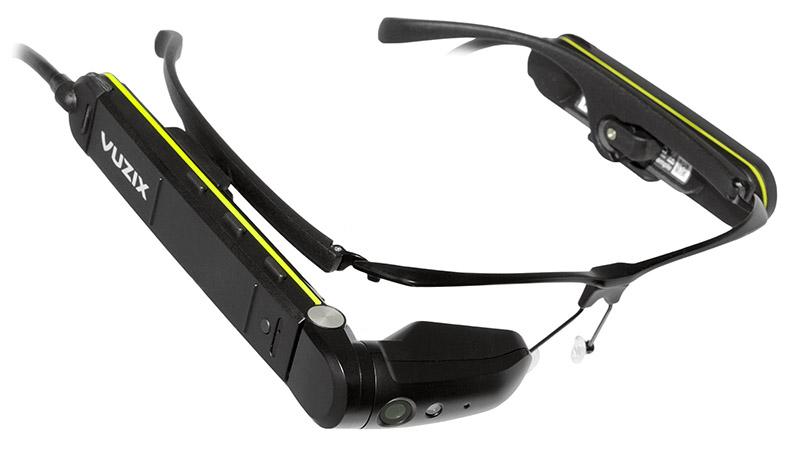 vuzix.com
Vuzix Blade Commercial Edge
Vuzix Blade Commercial Edge are smart glasses for entertainment and performing everyday and commercial tasks. Integrated camera systems capture AR markers and targets, allowing the host computer or mobile device to combine real and virtual worlds. Pointers to the map, weather data, restaurant menus and notifications from social networks may appear in your field of view. Their advantages are contactless control and the possibility to use corrective lenses.
Technical specifications

Display:

480x853

Battery life:

Up to 4 hours of use

Camera:

8 Megapixel camera, supports 720p 30fps or 1080p 24fps video

Memory:

4GB

Processor:

Quad-Core ARM CPU

Wireless connectivity:

WiFi, Bluetooth

Other:

MicroUSB

MicroSD expansion slot

Price:

$999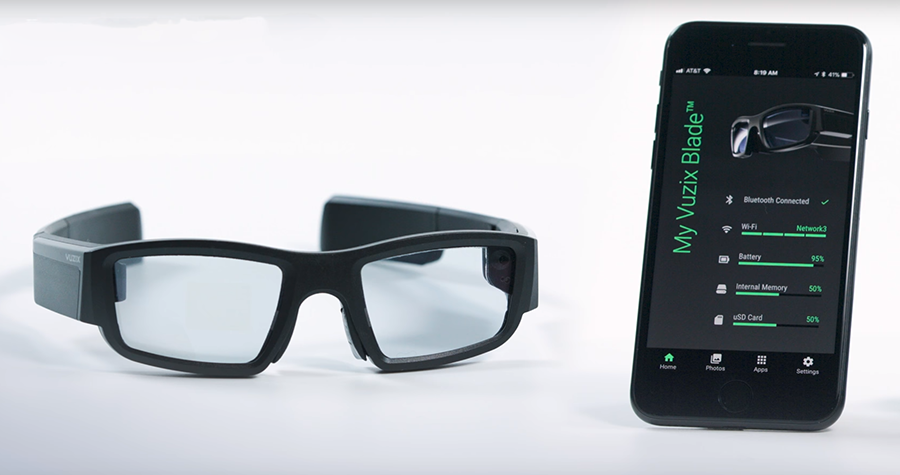 cronio.sv
Google Glass Enterprise Edition 2
Google Glass Enterprise Edition 2 is the augmented reality glasses, also known as "EE", produced by Google. They present the company's more successful attempt to enter the smart glasses market compared to the first Google Glass model and are focused exclusively on the business segment. Owing to a convenient and light frame, the device is barely felt when worn. It can be used all-day, replacing the usual means of communication e.g. phone, laptop, and smart-watch. Users can use these AR glasses to access the business information they need: checklists, instructions, and send inspection photos or videos.
Technical specifications

Display:

640x360

Product weight:

46 g

Battery life:

Up to 8 hours of use

Camera:

8MP, 80 DFOV

Memory:

32 GB internal flash memory + 3 GB RAM

Processor:

Qualcomm Quad-Core CPU

Wireless connectivity:

WiFi, Bluetooth

Other:

USB Type-C, USB 2.0 480Mbps

3 beam-forming microphones

Price:

$999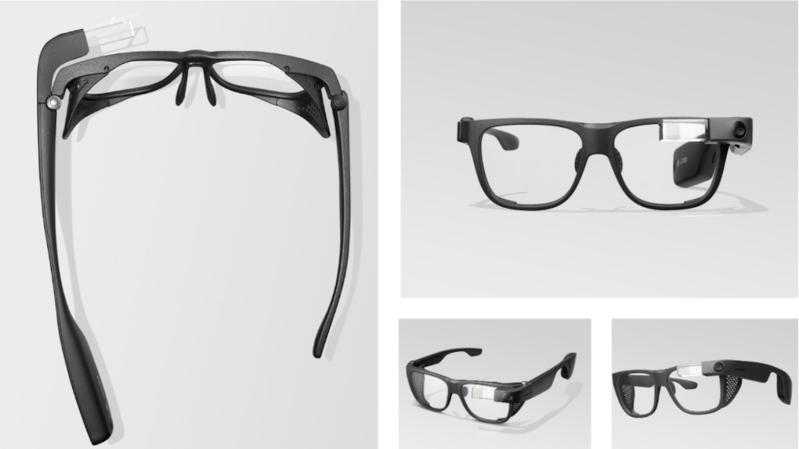 https://static.pressfrom.info/
ODG R-7 HL
ODG R-7 HL is smart glasses designed for workers in the manufacturing sector, who cannot do without protective clothing. The glasses have increased resistance to falls, impact, vibration, and extreme temperatures; they replace ordinary safety glasses, but also perform smart functions. For example, they may display assembly instructions or necessary additional information. The protective model is designed for use in enterprises in the sectors of power, oil, pharmaceutical, and chemical industries. The lenses can be easily changed and reused, even in an active non-normative environment.
Technical specifications

Display:

16:9

Product weight:

182 g

Battery life:

Up to 3.5 hours of use

Camera:

4MP, 1080p at 60fps, 720p at 120fps

Memory:

64 GB

Processor:

Qualcomm Snapdragon 805 quad-core Processor

Wireless connectivity:

WiFi, Bluetooth, GPS

Other:

Multiple integrated inertial measuring units with 3-axis accelerometer, 3-axis gyroscope, 3-axis magnetometer

Triple eye protection: ANSI Z87.4 + (impact), ANSI Z87.1 + D3 (splash and droplet), ANSI 287.1+ D4 (dust)

Magnetic USB charging/data cable

Altitude sensor, humidity sensor, ambient light sensor

Ar Venting to limit device fogging

Price:

$2,750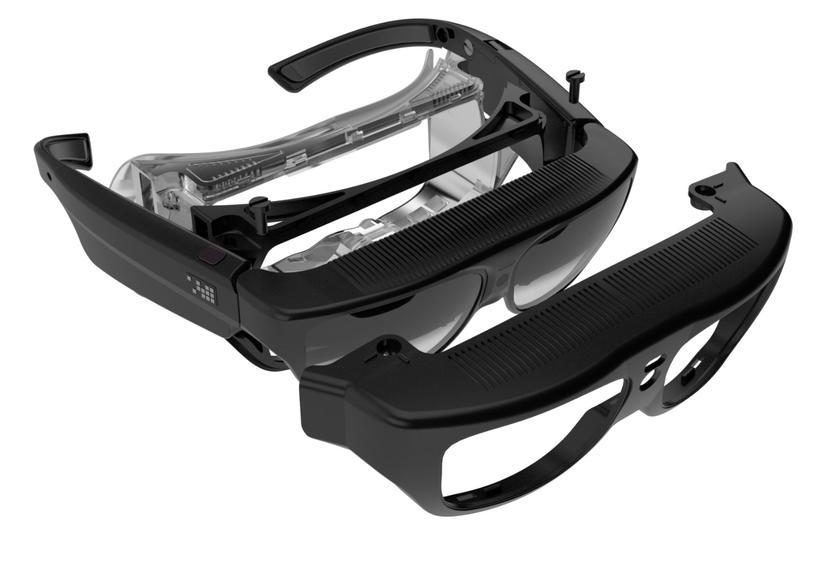 https://gagadget.com/
Smart Glasses for Visually Impaired and Blind People
Above, we discussed in what way smart glasses are usually used at home and work. But in addition to the listed advantages, the smart glasses are also a device that can literally open up the world. Smart glasses can help people with very poor eyesight, and even those who have entirely lost the ability to see.
The principle of action is that the camera on glasses captures images, and artificial intelligence analyzes them and voices the received information to the person wearing the device. Thanks to this technology, people with disabilities can recognize their loved ones and acquaintances. And even more surprisingly, thanks to smart glasses and artificial intelligence, they get the opportunity to read and spend time with friends at board games.
Smart glasses are one of many examples of how technologies make life easier for people and make them work more efficiently. Are you looking for a technology solution that will reinforce your business? Contact us!
28.12.2019
The images used in this article are taken from open sources and are used as illustrations.