Finally, we can say: we did it!
Dobro.ua is the first platform of goodness in Ukraine, which unites more than a million philanthropists, has helped to implement 5,500 projects, and supports hundreds of new initiatives.
We are proud that our team of professionals at Evergreen technically supported the development and launch of dobro.ua for the Ukrainian Philanthropic Marketplace.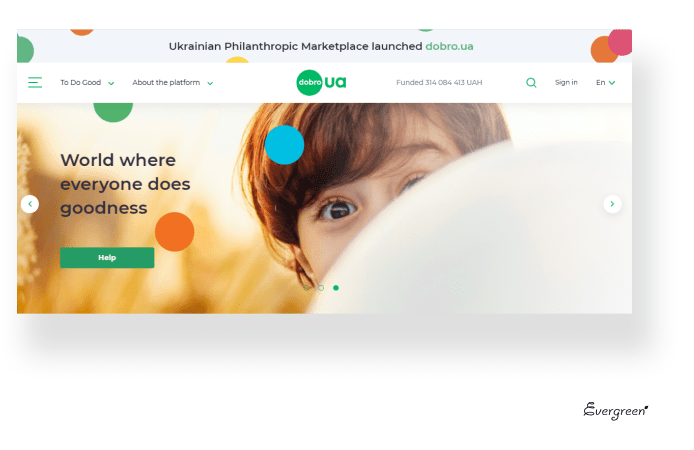 We were sincerely imbued with the goals and objectives of the UPM team back in 2019 when we took over the now-former website ubb.org.ua for support. Through the efforts of the team on both sides, we managed to stabilize the platform: during the year of support, not a single failure occurred in the system. After all, for a high-load social project with up to 10,000 simultaneous visitors, each successful transaction is a well-timed surgery, purchased medications, and a happy smile of a child. If the online fundraising platform stopped working for a while, disruptions in accepting the donations would prevent the aid from flowing to those for whom it is vital.
Dobro.ua is about people with big hearts. And literally, to the extent that the old website ran out of room for new ideas and initiatives: it was technically possible to implement them on the existing architecture, though, but very difficult and expensive.
For this reason, Evergreen has built a modern online platform based on the prototype and design concept provided by the client's team. We prepared the specifications, designed the architecture, re-wrote and expanded the functionality based on cloud technologies, partially developed the design, performed the SEO maintenance, automated and optimized some of the processes that had been performed manually before. For a small team of dobro.ua, it is an opportunity to raise more projects, successfully support them in-house, and still have time to carry out new initiatives and improvements.
Technically, the updated platform meets all user requirements: it is simple, convenient, modern, and above all, it makes it possible to help and participate in charity activities right away, while the funds will reach the addressee for sure. Such reliability is guaranteed by the highload technology, transparency of reporting and documentation, and the ability to track your donations. Thanks to the new functionality, you can quickly and easily track the progress of your project and get a full history of payments in your account.
Moreover, each user can create their own fundraising campaign for any chosen project — a "Good Actings" campaign, invite friends and acquaintances to support it, and after the fundraising is closed, receive a full report on the results. After all, doing good is indeed very simple.
We are proud to have helped bring to life something so bright and kind.
You can read more about the technical challenges and solutions the Evergreen team has encountered, in the Cases section.
25.08.2020
The images used in this article are taken from open sources and are used as illustrations.