We are your competent IT partner when it comes to integrating, providing, and expanding Odoo. We are very familiar with the popular ERP and build on years of experience that guarantee you the best service.
Why Odoo?
Odoo is a modular ERP (= Enterprise Resource Planning) system that impresses above all with its flexibility, modern interface, and ease of use.
The software is becoming more and more popular and is particularly suitable for eCommerce projects due to its easy customization options.
Odoo's strengths lie in its structure: depending on the company size and the associated requirements, the system can be adapted and individualized as much as needed. For example, the accounting and CRM software are combined in a uniform, centralized system and, if necessary, expanded to include additional modules. There are no limits to your imagination: in addition to the standard modules like warehouse management, purchasing, sales, email marketing, product management, accounting and many more, you can access innumerable, partly free Odoo Apps from the community, which our team of specialists can implement in a short time.
Furthermore, unlike most other ERP providers, it is open-source software. This makes it possible to create your custom applications and easily integrate them into Odoo. Our team will be happy to assist you in the development of these applications, as well as in connecting them to the existing modules, and implementation in the Odoo software.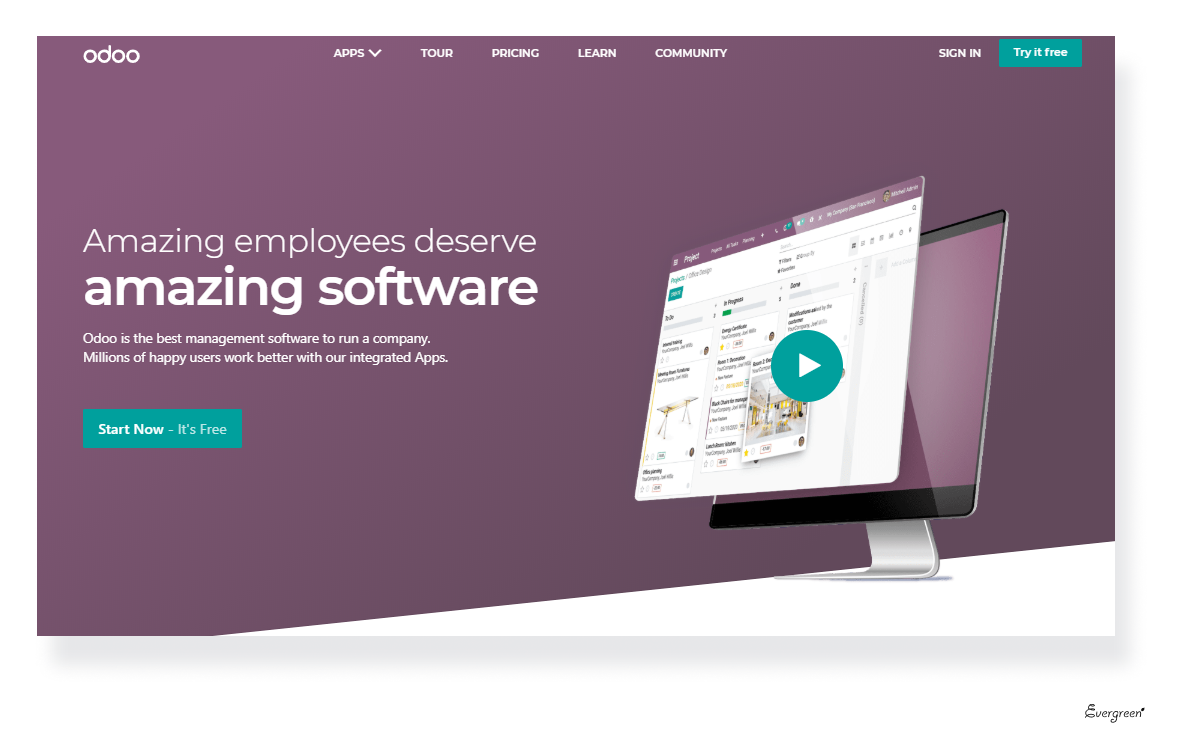 Odoo and Evergreen: an Excellent Combination
We stand for the award-winning service and comprehensive support for our customers.
To avoid disturbances during operation that interrupt the business activities of your company, it is crucial to work professionally and thoroughly when installing ERP software. Serious malfunctions, for example, in your booking systems, could cause enormous costs that have to be avoided by all means. For this reason, Evergreen puts quality and customer satisfaction first in all business matters: internal audits, quality controls, and a team of the most reliable and experienced developers ensure that you experience the highest level of quality.

What Distinguishes the Odoo Service by Evergreen?
As a cross-industry IT service provider, we have been dealing with a wide variety of business models for years and work flexibly in numerous IT areas such as web development, chatbots, eLearning, artificial intelligence, and many more. In addition to development, we are particularly well-positioned in the area of consulting and understand both our and our customers' business very well. So — unlike most vendors — we are not limited to working with Odoo alone, but bring along our extensive knowledge of company growth and modern technologies on which we build our service. As a result, you can be sure that we are not just satisfied with a general implementation, but that we focus mainly on personalizing the software to meet your company's needs. In this way, we ensure that you get the greatest benefit from the system and that your company processes run smoothly and profitably.
We live in a time that is characterized by great competitive pressure and an extremely dynamic market. When the circumstances change for your business, you can rest assured that Evergreen is a one-stop-shop: our specialists can take care of both the management of your ERP system and related matters, as well as all other IT issues. At no time are you forced to use a third-party provider, but instead, you have a reliable and broad-based IT partner who has your back.
Are You Convinced of Odoo? Let Us Tackle Your Project Together!
Request your Odoo Demo from us and test the alternative to SAP and similar solutions this very day! Once you have familiarized yourself with the clear and intuitive user interface, we will jointly compare the needs of your company with the features of the ERP software. If we conclude that the switch to Odoo is advantageous for you from an operational and tactical point of view, nothing stands in the way of cooperation! We will advise you personally and put together a team of experts tailored to your ideas to enable a smooth process. With Evergreen, switching to Odoo is quick, easy, and efficient.
Do you have any questions? Please feel free to contact us, we will gladly answer your inquiry without obligation and free of charge.
15.07.2020
The images used in this article are taken from open sources and are used as illustrations.