Franchise management software (FMS) is the medium ground where franchisors and franchisees can interact and collaborate. It assists in increasing engagement between the two parties regarding various aspects of the business such as marketing, sales, branding, CRM, inventory management, reporting, operations, and so on. FMS essentially establishes business rules and processes in mutual agreement between the two parties, allows the franchisor to monitor performance based on real-time analytics as well as exercise control over the franchisees, capture and store market data and trends for further analysis and benchmarking. The franchisees, on the other hand, can use the software to automate their business operations and also keep track of their business performance and provide necessary reports to the franchisor.
Issues a Franchise Management System Helps Solve
Franchise management software can vary from basic multiple vendor retail to advanced franchise solutions with the support of multiple sites and multiple franchise holders. Let's take a closer look at the problems these systems are designed to address.
1. Workflow automation and simple administration. By automating workflows you can convert the repetitive or low-value tasks into free-running operations allowing your team to focus on the high-priority endeavors. By setting up a detailed workflow framework, you can map processes, set triggers to automatically transmit and register communications and follow-up assignments, draw up standard activities and unify performance measurement. Automation helps provide a simpler administration of the franchise framework allowing to manage the retail network as one enterprise.
2. Inventory levels and supply chain optimization. Franchise management software gives the franchisor both corporate-level visibility and tools to respond to customer demand. Orders can be placed based on minimal and maximum inventory levels and connected to the supplier chain. Individual franchisees can get access to stock replenishment data and have a complete idea of their supply. All links in the retail chain can be fully aware of what is going on, how much product they have and foresee any future shortages and ways to avert them.
3. Increase sales by taking care of the final customers and building customer relations. Franchisees are responsible for the quality of the final in-store customer experience but good software can help drive more clientele to the outlets. Therefore, the franchise software should include customer retention tools like targeted and loyalty discounts, sales promotion management, gift cards, customer tracking, coupon and store credit tracking across the retail chain, etc. In a nutshell, the more every outlet sells, the higher the revenue for all parties involved.
4. Improve franchise marketing. Franchisees should have an opportunity to conduct own limited marketing, which grants each business owner more flexibility and freedom. Franchise management software enables you to monitor, improve and approve all campaigns in real-time. All marketing ideas can be shared across the franchise network and agreed-upon with the head office. It is important to track the origins of your leads (social media, paid campaigns, referral, etc.), trace the number of leads generated by each promotion channel, and compare this data with total expenditures on each source. CRM systems developed particularly for franchising can add leads straight from franchise portals or brokers.
5. Conflict-free inspection of franchises. Headquarters should be able to monitor outlets in real-time and indicate any possible areas of concern, as well as finalize management and sales goals to rectify any issues. The use of historical data is needed for early problem detection. Thus, actual in-person inspections become faster and are not needed as regularly.
6. Accessibility and data synchronization across multiple accounts and devices. Almost all franchise management systems are cloud-based and can be accessed from smartphones and tablets. At the same time, they should work offline, too, so the data can be synchronized when the Internet connection is re-established.
7. Integration. Franchisors must keep track of the course of action that follows once you award a franchise. Your CRM needs to get smoothly integrated with the subsequent stages of the franchise lifecycle. A credible integration feature must offer coherent APIs that input/output external data to be used somewhere else. The franchise management system should also have a built-in digital signature and be compatible with the accounting software, and payment gateways.
8. Reporting and analytics. Business owners should be informed if they attract the right target audience, are being able to convert qualified leads into gainful opportunities and successful deal closures, if and where they are performing well, which areas need improvement and if they are meeting their financial goals. Hence, a powerful business intelligence framework is needed that collaborates with the franchise CRM tool to provide real-time tracking and shareable reporting architecture locally and enterprise-wide.
9. Taking control of branding and delivery of a consistent brand image. The central interface is usually designed for communicating the product information to the whole retail chain. It prevents locations from posting inconsistent content, the central office can deliver on-brand templates to franchisees, and they are free to customize them if needed.
10. Training. You need to train your franchisees to address their possible knowledge and skill deficiencies.
11. POS and Cash Desk Hardware support. POS systems are crucial for any retail and service business since it is the gateway for money to come in. So it is preferred to choose software that is easy to configure and supports a wide range of physical interfaces including Windows OS, Android, iOS and dedicated POS hardware like POS registers.
Key Features in Franchise Management Software
A comprehensive franchise management system has all the advantages of retail management software and helps balance cross-chain integrity and freedom of decision of individual franchisees. What features should a good franchise management system have? We reviewed some of the most popular solutions, so let's find it out.
Intranet. Secure Intranet provides a central repository for all your brand management documentation. This feature is important since it allows you to maintain version control of your documentation and ensure all franchisees have access and work from within the latest branding parameters. The only alternative to this feature are manual checks and tracking. Some popular franchise management systems support the Intranet module, for example, Chetu and FranchiseSoft. FranchiseSoft's Intranet Module has franchise-related digital and private libraries and supports integration with third-party applications, messaging and much more. Chetu supports an integrated Document Management System (DMS), news tickers and franchisee forums.
Operations management. The central core of any franchise management system. Some franchise management systems e.g. Naranga have a separate operations management module. Naranga's ncompass is a unified tool enabling you to develop, manage and support a complete multi-location network, and effectively communicate and interact with your teams. Other systems may not have a separate module but also support real-time reporting, dashboards, tickets, performance metrics, etc.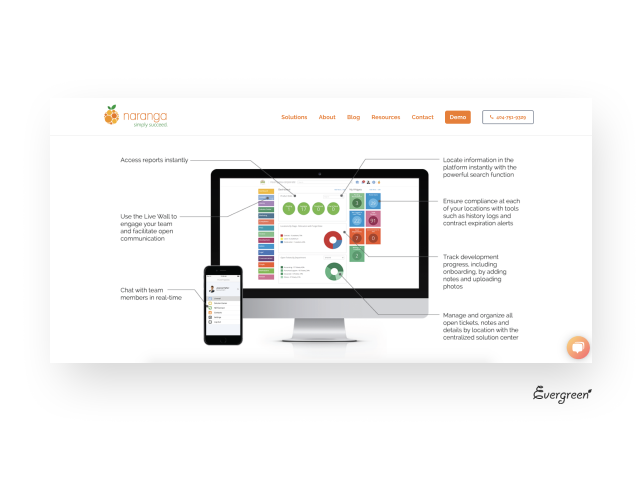 CRM. Some vendors like Chetu, FranchiseSoft or ChainSync provide custom franchise CRM solutions, while others support third-party integrations. Naranga has a separate lead management module that allows to instantly capture and distribute leads, track sales performance, measure lead source effectiveness and much more.
Marketing tools. Franchise management systems in most cases have a separate marketing module, or their vendors provide custom digital marketing solutions. ChainSync marketing module supports CRM integration, email drip campaigns and has a resource library of approved marketing assets. FranchiseSoft provides in-built marketing automation features through static or dynamic groups, custom marketing templates, separate marketing analytics, etc. Naranga's interesting feature is its module for local marketing with access to thousands of mobile apps and social media partners.
Royalty management/processing. Features like automated royalty calculation, configurable royalty reporting (royalties can be set by location, product or service) and many more. Sales data can be collected in different ways: by using open API's, own CRM or from POS systems (ChainSync), through integrated BI engines, POS data (Chetu). Royalty reports and the tools for royalty tracking should be supported as well.
Financial accounting. A module to track financial data of all kinds based on the key finance performing metrics, invoice generation, management of royalty agreements, forecasting, electronic payments transfer, and many more.
Employee training. You can establish online training modules, assignments and tests with your choice of formats, track results or create a repository with all your franchise operational manuals and FAQs (ChainSync), etc. Some systems e.g. FranchiseSoft have a built-in LMS module for employee training. Naranga has a training module that uses video and visual content only.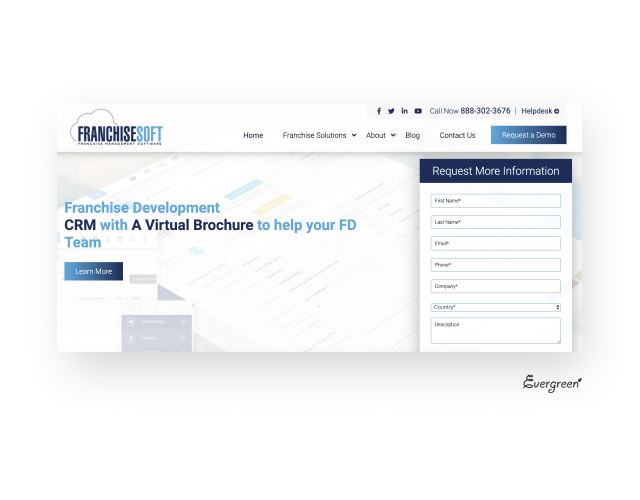 Scheduling. This module usually includes features enabling franchisees to organize and schedule their staff, teams, rooms, vehicles and other resources, resource profiling, automated job scheduling, event management, and many more.
Field audits. A feature needed to ensure every franchisee is operating at peak performance. It allows you to review checklists and audits online, to schedule audits and rate the performance.
eCommerce. This module can be useful for your franchisees since it simplifies the process of ordering supplies. You can create a fully-branded site and online catalog, track and manage the supplies in real-time or connect with suppliers.
And this list can go on. What if you are not happy with any ready-made SaaS FMS? Read about custom franchise management software or contact us for consulting.
Ready-Made Solution vs. Custom Development: We Have an Answer
It depends. The answer to this question will vary depending on your business needs, the area you operate in, specific market potential, and your financial capabilities.
Modern turn-key solutions offer a fairly wide range of options for managing franchises. However, as we already mentioned in this review, all these solutions are mostly cloud-based, which brings both advantages (the vendor is responsible for hosting, data synchronization, updates, etc.) and risks. Among the main risks of using cloud solutions are data security and compliance with regulatory procedures (in particular, GDPR or Guidance on cloud outsourcing), potential problems with the service provider and financial risks. Besides, if you have specific system requirements or you are doing or want to do something unique, typical solutions will most likely not suit you.
Custom development is always expensive, but as a result, you get a system tailored to address your specific business needs. Also, you can choose the format of software delivery that is right for you, whether it is a "boxed" solution or SaaS, and you decide to stay in the cloud.
We developed an FMS system that was designed for automating the core business and marketing processes of a chain of restaurants in different countries. It can be set up on your servers and developed for your needs. Contact us and request the demo!
Franchise Management Systems Implementation: Quick Steps
The process of franchise software implementation can be outlined in five simple steps:
1. Learn your needs. Step one is to determine the overall needs of your franchise and identify the areas that need improvement. Without knowing your business processes and needs well, you won't be able to choose the practical solution and proper functionality.
2. Choose tools and modules of your preferred franchise management software. Also, keep in mind that even if your franchise now incorporates only one-store franchisees, the software should be ready for store grouping by the franchise, i.e. must support multi-site operations.
3. Manage your templates. A franchise management system should contain working templates that will help you outline and document your procedures if you haven't done so. Templates usually include franchise brand guidelines, sales playbook templates for franchisees, estimate templates for field service teams, timesheet and payroll templates, royalty calculations including templates for streamlining franchise royalty collection, etc.
4. Software implementation. At this stage, you will most likely be guided by your system vendor.
5. Team onboarding. Provide your franchisees with the knowledge, attitude, and resources they need to start building their success from day one with your business. If they succeed, you will succeed as well.
The ways to set-up your franchise using the software can be centralized or semi-centralized:
· Centralized: franchisor has total control, identical inventory, overarching rules, and shared customers;
· Semi-centralized: franchisees have freedom, core shared inventory, unique store rules, private customers.
Business owners are presented with a comprehensive set of tools to streamline the learning process of their franchisees and monitor their lifecycles to make sure they are following the standard procedures (including business processes, check-lists, procedures, and operations management). Individual franchisees get access to a turn-key system for learning, onboarding, and operations management that helps them launch their own restaurant with less effort (comprising a set of business processes for employee training, tools for automated scheduling, operations management, loyalty programs, etc.).
If you are interested to learn more about this or our other projects, don't hesitate to contact us. Shall you have any specific ideas on how to rocket your business, want to order individual franchise management software or need an expert evaluation of your case, we will be happy to assist you.
12.03.2020
The images used in this article are taken from open sources and are used as illustrations.