Today, the market is flooded with chatbot building services of various complexity and quality. Although 99% of them offer an almost identical set of features, some tools require coding skills for creating a viable product, while at the same time any marketer or non-tech person can tackle the others. To build simple chatbots without (or with just a little) coding, you need to know more of what specific platform has to offer. In this article, we shall talk about the differences between Botmother, often ranked as one of the best chatbot services, and Kwizbot.
If this is your first time hearing about Kwizbot, then it's our pleasure to inform you it is a low-code chatbot platform by Evergreen, created for building and deploying chatbots by non-developers. We decided to focus on the visual process assembly and working with scenarios to speed up the development process. And from the business perspective, the clients who opt for using Kwizbot get an easy chatbot builder that helps them save their time, money and developer resources.
Fun fact: both Kwizbot and Botmother initially emerged as an in-house solution to facilitate the work of our respective chatbot development teams, which later grew into a standalone product.
Botmother is a cloud-based no coding chatbot builder, one of the very first and most popular in Eastern Europe. It has an extensive set of components and a drag-and-drop editing interface. While using the platform is relatively easy at the beginning, it has some limitations that can be crucial for enterprise chatbot solutions:
You cannot install Botmother on private servers;

Processing multiscreen bots will be challenging (a 'screen' is a chatbot building block here). The system hits a speed bump after processing 100 screens and what if there are 300 or 400? You need to hide screens in the editor view and open them one by one to apply changes. Not very convenient to say the least;

Botmother lacks interaction logs. The platform documentation lists the main errors but is not complete. In case of an unknown error, you will either have to look for the reason at random or contact the support team for help;

If you want to share access to your bots paid functions with another user, they must have a paid account as well;

By the way, the free plan is limited to building a single simple bot (e.g., a welcome chatbot). All major business features (statistics, mailings, etc.) are only available in the paid tariffs.
Now that you learned a little more about Kwizbot and Botmother, let's take a closer look at the differences and similarities between them.
Key Features Of Chatbot Development in Kwizbot and Botmother
Support for Multiple Languages
Billions of people use messengers for everyday communication. Now imagine how many of them can be your customers — you must speak the same language. Our chatbot builder, Kwizbot, allows you to select languages for chatbot localisation (English, German, Italian, French, etc.) out-of-the-box during the initial setup. Botmother's interface supports either Russian or English and, unlike in Kwizbot, there is no possibility to change the chatbot language in the editor. To create a multilingual bot, you need to figure out a way to maintain and develop the chatbot logic in 2 (3, 4, 5?) languages in parallel.
Omnichannel Capabilities
Botmother is compatible with the most popular messaging platforms, including Telegram, Viber, FB Messenger, and Vkontakte. In Kwizbot, you can create cross-platform chatbots for Telegram, Viber and Facebook. Additionally, upon request, we can connect your bot to other platforms, for example, Skype or WeChat, via the Chatbot API. Please, contact us if your business needs a chatbot with specific requirements and we will offer you a custom solution.

System Load and Bot Management
We mentioned earlier that Botmother is a cloud service. Under heavy loads, the system often starts freezing, and saving the progress or sending group messages to large numbers of users appears to be problematic sometimes, especially when it comes to large projects (according to customer feedback). Besides, you can connect a maximum of 1, 5 and 20 chatbots to your account depending on your chosen pricing plan.
As for Kwizbot, the number of chatbots you can create and manage is unlimited. Our team has expertise in supporting and developing high-load projects, so we provide a reliable backend for stable system operation. And we will deploy the product on your servers with an architecture precisely designed for such loads, should you opt for an on-premise version.
Quick Deployment and Testing
If you have no previous experience with a chatbot builder and no technical skills, it will take some time to understand how the platform works. Both Kwizbot and Botmother help you build and run simple chatbots very quickly — in just an hour or two when you learn the basics. But for more complex solutions and non-standard tasks, you may still need the help of professional developers.
Editing Capabilities
In Botmother, chatbot logic consists of a sequence of 'screens' that you fill with components from the palette: navigation buttons, forks, dynamic elements, messages to users and so on:
However, it is not possible to format the text, and the entire bot logic will be displayed on one screen. The more detailed and extensive a project, the easier it is to get lost in it.
Kwizbot has a simpler interface, where different bot sections appear in separate tabs. All the main actions have been assembled into structural blocks that you can logically combine, translate, and keep track of the transitions between the elements: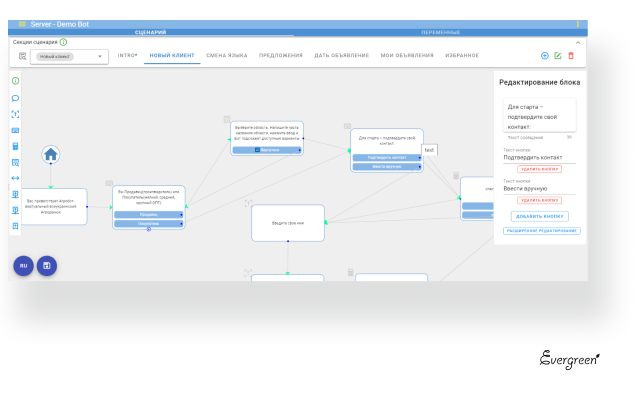 Additional Features
Integration
Kwizbot offers you unlimited and smooth API integration into your existing software environment (CRM, ERP, accounting systems, website) and can connect with any external and internal corporate systems. Botmother can transmit and receive requests in JSON format only but supports various external integrations via Zapier and Albato API connectors.
Analytics
The statistics in Bomother are quite limited. You can view the number of conversations, active users, the average time spent in dialogues and a range of other indicators. However, there are no statistics on the efficiency of mailing campaigns, for example, and these metrics are invaluable for a business as they allow evaluating the effectiveness of marketing efforts. Kwizbot will soon introduce a detailed statistics module where you can set your custom metrics and display data on the dashboards. We recommend you to subscribe to our updates — stay tuned!
Connecting With an Operator
The Dialogue component in Botmother allows you to set up direct communication with customers and view all user interactions with the bot. A dialogue can be remotely initiated or closed on the user side. You can also configure the parameters for connecting a live operator via the Chat feature.
Since Kwizbot has a modular structure, the human takeover is implemented through a separate Operator Panel module, where you can access all communication channels, manage agent groups, view information about customers, send files and more — all in a single interface.
Privacy
We at Evergreen always put the security of our customers first and use only the safest protocols for data transfer. Only you have access to management, editing and viewing customer data in chatbots connected to your account. Besides, our solutions have been audited by authority bodies of large corporations to comply with the highest industry standards.
Scalability
We can extend the functionality of the platform specifically for your business tasks through custom components, and customise everything with JS, including the programme interface.
In Botmother, you can partially change the components by setting variables and regular expressions, but you cannot change the interface in any way. Besides, the updates they release are based on the most frequent user requests, and our team can create something just for you, which is important for large custom projects that need more flexibility.
Pricing
In Botmother you can set up an account and make your first test bot for free (a worthy alternative to a trial period). Advanced functions, including statistics, mailings, switching to a live agent, API integrations are available in each of the three paid tariffs: for 1 bot, 5 and 20 bots - in the price range from $20 to $399 per month (20% discount on the annual subscription fee).
Kwizbot has no limits on the number of bots you can create, and you can access the cloud version at $30 per month for a standard set of features. We can offer you a customised solution and an individual payment model depending on the configuration that accommodates your business needs.
Let's summarise our review and give it a little more clarity by comparing Kwizbot and Botmother in a chart:
Botmother

Kwizbot

Multi-language

Yes

Yes

Omnichannel capabilities

Yes. Supports Telegram, Viber, Facebook Messenger, Vkontakte, Odnoklassniki, WhatsApp (paid separately)

Yes. Supports Telegram, Viber, Facebook Messenger. Support for other platforms upon request

Deployment

Cloud

Cloud, on-premise

Max. number of bots connected to one account

1, 5, and 20 depending on the subscription plan

Unlimited

GUI and visual editor

Yes

Yes

Built-in analytics

Unique user dialogues, tags, the average number of dialogues per user, average conversation time, etc. No stats for mailing campaigns

Advanced statistics (dashboards, charts, database analytics, sales funnels) (soon)

Bot payments

Telegram Payments, Robokassa, bePaid, PayOnline, VK Pay, Yandex Checkout

Upon request

Integration support

API/ Webhooks

API/ Webhooks

Chatbot to human handoff

via Dialogue/ Chat menu

Operator Panel (soon)

Mailing lists

Yes

Yes

Custom components

limited

yes

Pricing model

SaaS, monthly/ yearly subscription fee:

$23/ month or $240/ year (20% more profitable, $20 per month)

$99/ month or $948/ year ($79/ month)

$499/ month or $4788/ year ($399/ month)

7-day money back

SaaS, monthly subscription fee:$30/ month (cloud-based)

individual tariffs (on-premise)

Free trial

Free sign-up + first bot for free (limited functionality)

No
And a bonus from Evergreen: we not only implement Kwizbot as a chatbot development platform but also use it to create solutions for our customers. You can see some of the examples in our Cases portfolio. Perhaps you will find the chatbot that you've been looking for among others.
And if you are interested in our product or would like to try out a demo, if you have an idea for a chatbot yet you are still unsure how to bring it to life, please contact us. Our team will provide you with any professional help and support you might need.
02.11.2020
The images used in this article are taken from open sources and are used as illustrations.