We continue our series of articles on the specifics of different approaches and services to building chatbots. You can see many alternatives on the market, and it would be unwise to overlook the bots software segment. Today we'll look at the well-known Corezoid platform and compare its functionality for creating chatbots with that of Kwizbot.
Corezoid is a low-code cloud process engine that allows the building, hosting, running and managing of business processes of various complexity in one single platform. Processes such as communication scenarios, integrations, payments processing, client support, and omnichannel marketing campaigns are all supported - and more. In terms of "pure" chatbot development, Corezoid OS presents a set of ready-made processes called Bot Platform to "create, manage and host your messenger bots without programming skills in a single Corezoid interface". The creators of Corezoid state that it allows developers to move from hardcoding towards process assembly — a task even non-tech people can tackle. In practice, however, that is easier said than done. Here's why.
Kwizbot is a modular low-code chatbot building platform by Evergreen, distinguished by its omnichannel capabilities, multi-language support, unlimited integrations and flexibility. With Kwizbot, you can build and launch simple chatbots without the help of developers, and extend platform functionality through custom components.
What makes Kwizbot and Corezoid similar at first glance is that they focus on visual programming — prototyping products through a drag-and-drop graphical interface, as opposed to writing the bot code from scratch.
Key Points of Chatbot Development With Corezoid OS and Kwizbot
Corezoid Bot Platform
The Corezoid Bot Platform is a set of out-of-the-box Corezoid Processes for designing and managing chatbots. Using this Bot Platform, you can create universal processes and streamline business logic in different messaging platforms instead of developing them separately for each messenger. The Bot Platform is compatible with Facebook Messenger, Viber, Telegram, and iMessage (Apple Business Chat). You can either build a bot from scratch or connect the Bot Platform with any messenger bots created previously. Built-in features include support for exchange rates, switchable conversation languages, NPS and sample surveys, and connecting with an operator.
Here are some of the requirements needed before starting a Corezoid chatbot build:
1. Knowledge of the Corezoid platform.
2. A registered Corezoid account with a monthly subscription fee of $30 to several thousand dollars for a cloud-based version, depending on the loading of the bot. Bots cannot be deployed on your private servers.
3. In summary: the process of designing a chatbot in Corezoid equals that of the development process; and, a single bot will require several processes, requiring the focus to be on the mechanics of building it in Corezoid rather than on designing the chatbot logic itself.
4. The more bots you've assigned to your account, the more processes will arise, and the greater the chance of getting caught in this processing maze. Refer to this example of a purchasing process in Corezoid logic: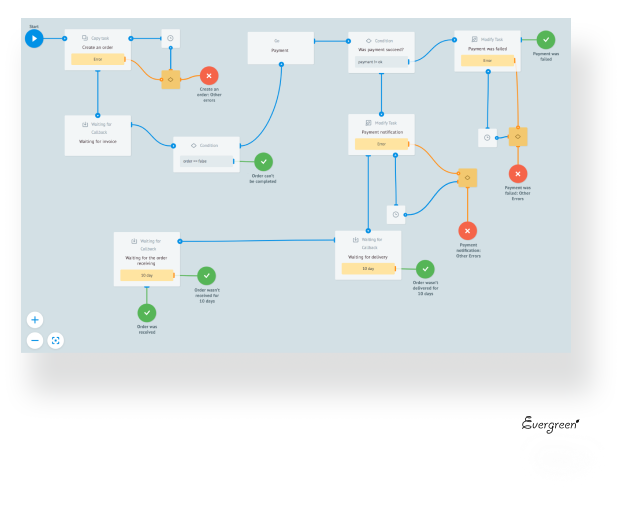 Source: https://corezoid.com
And another example of the process for an operator's returning call: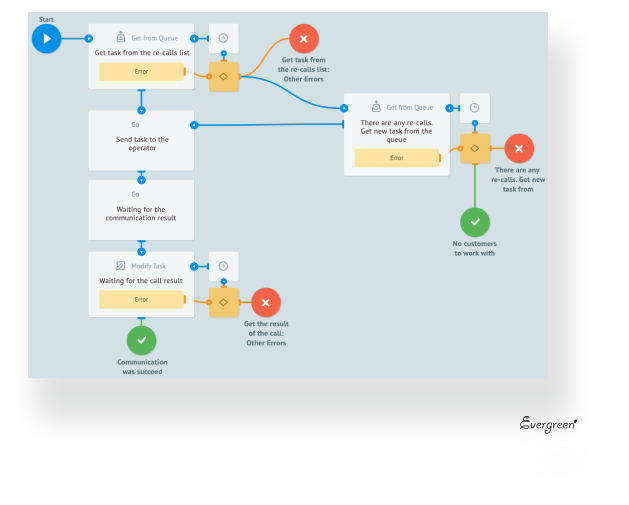 Source: https://corezoid.com
5. Multi-language values are stored in a state diagram.This is convenient and easy to understand by developers, but not by you if unfamiliar with such diagrams.
6. Corezoid's native integration of an Operator Panel is Sender (we covered its features here some time ago). Despite Sender's numerous benefits, it does have several notable drawbacks: Sender is an external service you must connect to and set up; it has its own proprietary operation logic together with the usual limitations that come from such a specialised system; and, integrations are subject to additional fees.
Conclusion
If you already have projects in Corezoid, all of the above features will come in handy, and you can design your chatbots on the same tech stack. Many of our existing clients use Corezoid, and we can recommend this platform per se, especially for business process automation and integrations.
However, we designed Kwizbot specifically for chatbot development, so let us tell you more about its functionality.
Support for Multiple Languages
Unlike in Corezoid, Kwizbot allows you to build chatbot scenarios in several languages in parallel (English, German, French, etc.) and see all steps a user needs to complete with corresponding texts in the same tab, instead of fragmented logic. Also, you can switch between the languages using a drop-down menu in the editor to work with every text version and proceed with translations. Speaking the language of your clients has never been easier!
Omnichannel Capabilities
Social media and instant messengers are places where most potential customers "live" every day and prefer to communicate. In this regard, a chatbot managed service is a quick and affordable way to stay in touch with your audience and expand the presence of your business across all available channels.
Kwizbot is compatible with Facebook Messenger, Telegram, and Viber and allows you to build cross-channel chatbots for the most popular messaging services without going down the rabbit hole of process development.

System Load and Chatbot Management
We designed Kwizbot as a reliable solution for high-load projects, and industries where high volumes of communication are present. This allows you to create and orchestrate an unlimited number of chatbots within your organisation — all in a single interface instead of switching between separate processes. The only limitation here is the load capacity of the messenger platforms in which the bot is running. As part of your subscription, you will receive sufficient capacity to cover all of your needs.
Quick Deployment and Testing
In Kwizbot, the initial chatbot setup is easy: obtain the corresponding access tokens for each messenger to connect them to your platform, then, select the languages for your bot, and - voila! Now you can proceed with creating a scenario. Since this platform doesn't require complex coding, your team can take a simple chatbot to market at a much faster pace, often in just a few days — even less time once you know the basics.
Editing Capabilities
For any chatbot managed service, it is essential for content managers to be able to edit the dialogues, and update any relevant marketing and pricing information at any time and through their own efforts.
That is why we designed a user-friendly editing interface for Kwizbot that even non-developers can handle.
Kwizbot allows you to work with texts, process dialogues with multiple threads, add or delete answers, and rewrite the whole bot scenario without losing the context. Every conversation section, including possible user choices, can be accessed on separate tabs. You don't see the underside of processes, yet you can keep track of the sequences and transitions between sections, with a convenient navigation and editing menu.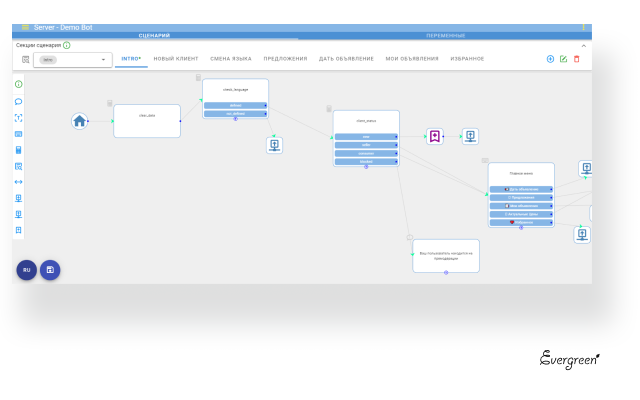 Additional Features You Should Opt For In A Platform
Integration
For chatbots to work correctly and to extend their functionality, they need to blend well into your existing software ecosystem. Kwizbot provides unlimited and seamless integrations with any internal and external systems, including CRM and ERP. The only precondition for a successful connection in both cases is the availability and safety of open APIs.
Analytics
In Kwizbot, the module for detailed statistics is currently under development (available soon). In addition to the statistics unit, you will be able to trigger mail campaigns and track down their effectiveness, as well as access your own database, which may contain information about your products, data retrieved from sellers and buyers, advertisements, and much more. Please, follow our releases, or contact us directly to request a custom solution.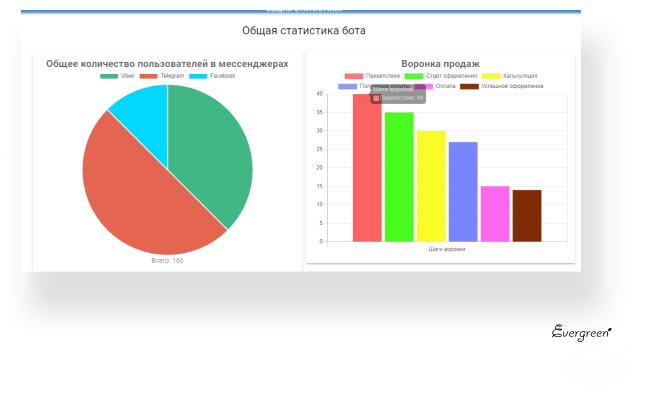 Connecting With an Operator
Should your chatbot fail to answer a user's question, or, if the user requests the assistance of a human agent, the ability to seamlessly switch to a "live" operator is crucial. Thankfully, a simple way to establish connections with operators and route requests from messengers and answers from agents will be available soon. An Operator Panel in Kwizbot, as a standalone module will feature access to all messaging channels, viewing chat history, the managing and assigning of conversation topics, creating user profiles with all related data, quick files exchange, and more. Stay tuned for updates!
Privacy
We make sure that Kwizbot satisfies all necessary security standards, and we only use secure servers and reliable high-load architecture to ensure customer data privacy and integrity. Evergreen solutions are audited by certified bodies to comply with the highest industry standards.
Custom Components
Although primarily a low-code platform, in Kwizbot, you can write user components with JS code and customise everything — both the engine and interface — if necessary. In Corezoid, you can write code inside process components using code blocks. But, there is no way to customise the interface — a real problem for large customised projects.
Pricing
Corezoid pricing is relatively complex, which is one of its main drawbacks. Currently, there are six monthly pricing models
ranging from $USD30 (XS) to $USD1600 (XXL). You should take into account that each tariff has its limitations (a max. number of state changes and requests per second per month), starting at 1M state changes and 2 RPS in the basic plan. Given that 2 RPS is very slow, serving to a large audience at once will throttle the bot even more.
Kwizbot's pricing model is straight-forward and flexible. It is available in the form of a SaaS with a $USD30 monthly subscription fee, and no limitations on state changes! And, if your company needs a scalable package that accommodates your business objectives, we can offer you a personalised solution on individual terms. In addition, in-house deployment is included as well.
Summing up all of the above — it is fair to say that Corezoid is genuinely great for process development, and, for chatbots, there is Kwizbot — as powerful and flexible.
Moreover, we are on good terms with Corezoid, and versions 1 and 2 of Kwizbot used Corezoid as a process engine and have evolved since then. So, if you are looking for a convenient chatbot builder, we are more than ready to offer you one.
Corezoid is a robust business process management software, and Bot Platform is only a part of its functionality. Despite the many advantages of Corezoid in terms of scalability and handling high volumes of external interactions (customer communication, integrations with banking, payment systems, and more), it is way too complicated for those who are unfamiliar with programming. And Kwizbot, on the other hand, was designed as a chatbot building and management platform that exceeds the limitations of a mere chatbot builder, providing an intuitive visual development environment and a simpler functionality given the same unlimited integrations. Moreover, we act as a product implementation team, so we guarantee the compatibility of all components.
Would you like to learn more about chatbot development for business, discuss your project or try out the Kwizbot demo? You can always reach out to us by sending a message to Evergreen or filling out the contact form. Our Team will gladly provide you with any professional support.
21.10.2020
The images used in this article are taken from open sources and are used as illustrations.