So, you've concluded that your business needs a chatbot. Now, the main question is to whom you should entrust the development and what platform to choose. We studied the current market offerings to gain a better perspective of different approaches, comparing them with Kwizbot — a low-code chatbot development and management platform by Evergreen.
Among the main advantages of chatbots is their ability to streamline and automate basic and repetitive tasks through simple text or voice requests, reduce execution time, and provide around-the-clock customer support. According to a study from Juniper Research, chatbots will be responsible for cost savings of $8 billion a year by 2022. You may embed custom chatbots in your everyday workflows to better engage with your employees and customers.
Creating and implementing your own chatbot that will best serve your business objectives is a very thoughtful and careful process. So you need to take all the necessary steps to make it a successful project and answer some questions before deciding which way to go — to create and maintain a chatbot without code using Kwizbot or assign this job to a standalone chatbot developer — freelancer.
What Key Points Should Be Considered When Creating a Chatbot?
Chatbot Code vs. Zero-Code
Most standalone developers specialize in writing chatbots with code in one of the programming languages (Python, Java, Lisp, Clojure, etc.), so you need to be tech-savvy enough to understand what is going on in your bot. Instead, when using a chatbot builder like Kwizbot, you can create your simple chatbots using a graphical drag-and-drop interface without writing a single line of code. We should mention, however, that if you intend to create a more sophisticated solution, you will need an AI chatbot code and some professional support that our Team could also gladly provide.
Support for Multiple Languages
Kwizbot is a multilingual chatbot building solution that allows you to create your chatbot dialogues in multiple languages out-of-the-box. The Admin panel is currently available in English and Russian. We do not doubt that you can find professionals who will create a multilingual bot for you, but if your idea was not within the original TOR, they do it for an additional fee (provided they can).
Omnichannel Capabilities
Kwizbot is compatible with Facebook Messenger, Telegram, Viber and allows you to create cross-platform chatbots — a single bot will run across multiple messengers. Chatbot freelance developers won't provide you with that kind of flexibility and functionality. By the way, we can help you develop a custom chatbot for any possible platform with an open Chatbot API.

System Load and Bot Management
It is the question of your choice of architecture: how fast and secure will your servers perform operations? Should you opt for an in-house or cloud solution for your low-code chatbot? When you have multiple chatbots created by different developers, managing them may be a headache. On the other hand, Kwizbot allows you to create an unlimited number of chatbots within your organization and orchestrate them within a single cloud-based platform with less effort. As platform developers, we guarantee the security and reliability of the system and provide technical support when needed. Freelancers usually work on a piece-by-piece basis and only undertake the configuration of a chatbot, rarely engaging in further maintenance.
Quick Deployment and Testing
An all-in-one service allows you to set everything up through a single interface, configure all actions and steps, and launch a chatbot within several days, if not hours. At the same time, a major challenge is to ensure that chatbots provide relevant answers on time and to avoid chatbot failures. As we mentioned above, the responsibility of a freelancer usually ends when the project is released to the public. Yes, there are reliable developers that will address the issues and bugs that might arise after the release. But provided with the necessary development tools, you will be able to control every step and perform the tests before deployment.
Editing Capabilities
The life of a chatbot only begins after its activation in a messenger. Now and then, it will require ongoing informational and technical care — adding changes, dynamic information for sales and marketing purposes, updating answers, pricing, and other relevant information. Many times we faced the situation when it was much easier to rewrite the entire solution because the developer's code for chatbot had been too convoluted to apply any changes to it. A user-friendly visual editor is one of the main advantages of Kwizbot. You can edit the dialogue trees easily and make every conversation in your chatbot detailed and functional without the help of developers.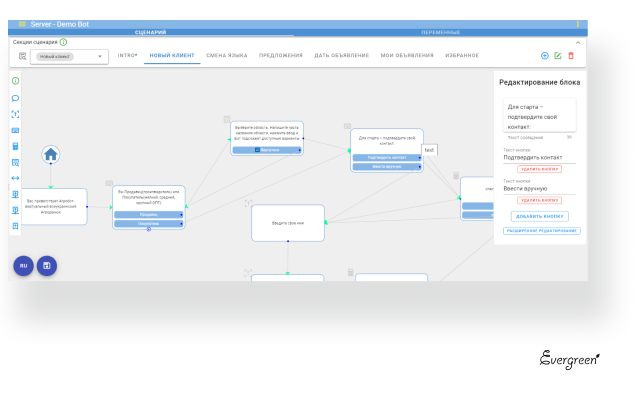 Also, when working with an individual freelancer or freelance team, we recommend that you keep the following in mind:
Their reliability, experience, guarantees, quality of work need to be proven.

Freelancers usually have very narrow specialization. Even if you hire a team of freelancers, it will take time to coordinate them.

For any additional functionality, you need to pay separately. On a condition that the developer can do what you need.

It is impossible to edit bots written with a custom code without involving developers. In most cases, it will be more cost-effective to rewrite the entire syntax rather than hire another developer to "do something."

Problem-solving. A freelancer developer only does what they are assigned to do. In the case of opting for a fully-fledged chatbot development platform like Kwizbot, the technical support team will provide you with all the necessary assistance.
Additional Features You Will Find In Kwizbot
Integrations
It is crucial how your chatbots will interact with other platforms and how Kwizbot, as a platform, will be implemented in your existing infrastructure. Our solution integrates within any external and internal corporate systems via API. Moreover, we act as a product implementation team. So we guarantee full compatibility of all components.
Analytics
You will want to track your chatbot performance and use these statistics to improve your chatbot efficiency over time. Also, you will need access to all customer data — Kwizbot is compatible with any CRM and allows you to track your mailing campaigns. A detailed Statistics module will be introduced soon. Please, follow up with our releases.
Privacy
The safety of our users' data is one of our top priorities. We have taken a number of measures to keep your personal information secure — we use only secure HTTPS-protocol to transfer data and a cloud-based AWS database to minimize the risks of hacking and data loss.
Pricing
A price for a custom freelance chatbot will vary depending on the pricing model the developer prefers (hourly or fixed, etc.), their skills, experience, project complexity, and recommendations. Some charge $500, some may even charge $1000-$2000 per project, but you need to be sure they have a real portfolio.
The pricing plan for Kwizbot starts at $30 per month for a cloud-based version.
For an in-house deployment and if the specifics of your business require a different approach, our Team will do their best to provide a personalized solution. The pricing will be calculated individually in this case.
Of course, there are many possibilities and options on the market for chatbot development. We at Evergreen have designed Kwizbot as a comprehensive platform to develop, edit, and manage conversational chatbots for various messaging-based business areas (eCommerce, insurance, finance, tourism, and more). We build products that help our clients become market leaders who use state-of-art solutions.
Please, send us a message if you have any additional questions or suggestions. You can also try out the Kwizbot demo to get acquainted with its functionality. Contact us, and our Team will provide you with all the information and assistance you need.
25.09.2020
The images used in this article are taken from open sources and are used as illustrations.