We keep exploring the most popular systems for distance learning. In this article, we compared the capabilities of Source LMS and D2L Brightspace: what these systems have in common and what are the main differences.
With LMS, you can manage your school or academic institution as a whole from a user-friendly interface. D2L Brightspace is another comprehensive LMS for creating courses and managing distance learning.
Admin Panel
In the Brightspace environment, instead of an admin panel, there are administrator tools: creating and managing user roles (administrator, instructor, student, etc.), form editor, widget and access management, and tools may differ for different users.
Our solution. All the main features of an online platform: user roles in the system (administrator, teacher, student, moderator, payer, student/billing), course creation, as well as groups and chat rooms. There is a role of "student/billing" for self-paying persons who have reached the age of 18 years. We are working on the creation of a Parent's Account and a School Year unit with support for schedules, electronic gradebooks — please, follow our updates.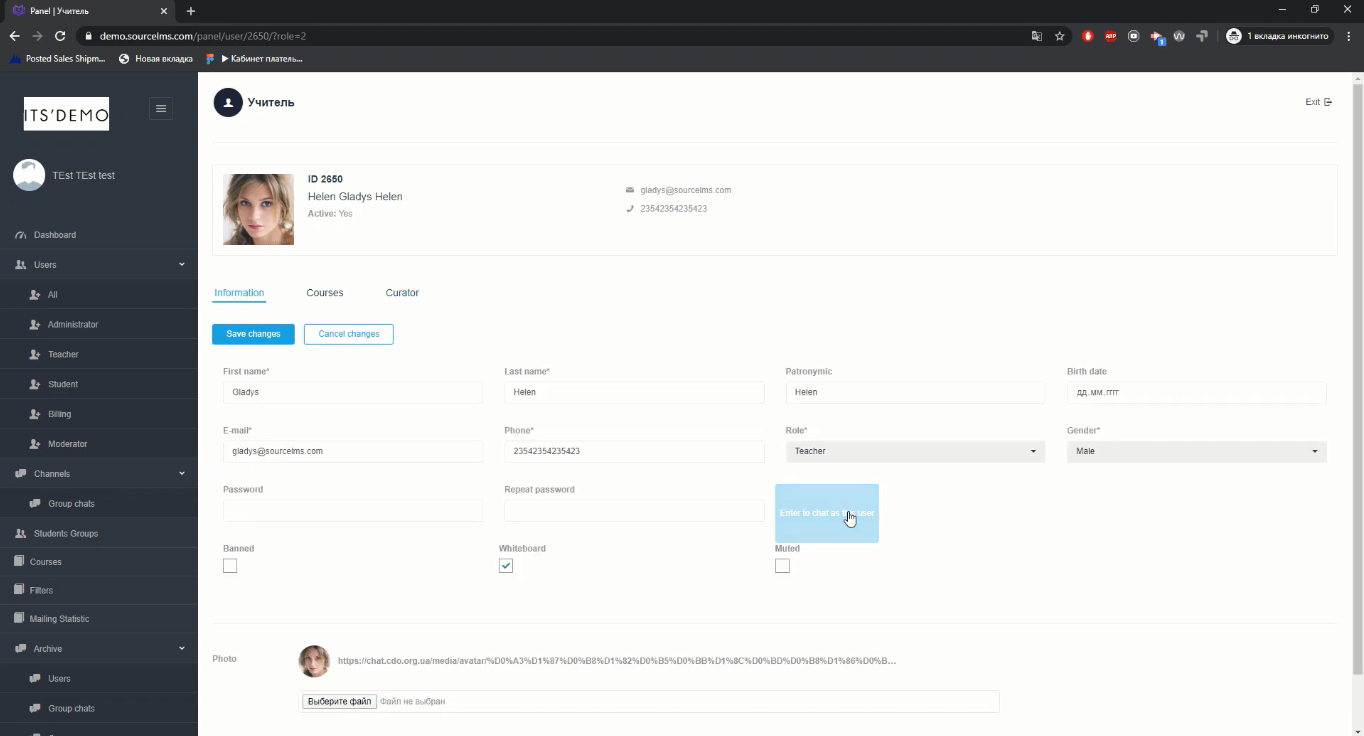 Chat
D2L Brightspace uses Instant Messages for communication between students and teachers — internal e-mail and private chats: you can create a chat with one person or a group of users from your friend list.
Our solution. Built-in group chats — you can create them simultaneously with the formation of student groups and courses. There are separate technical chats for general announcements (only teachers or moderators can write in them). From group chats, you can switch to individual chats, as well as Whiteboard and directly to courses. If necessary, the administrator can block access to the whiteboard or chat rooms for some participants (e.g., for certain violations).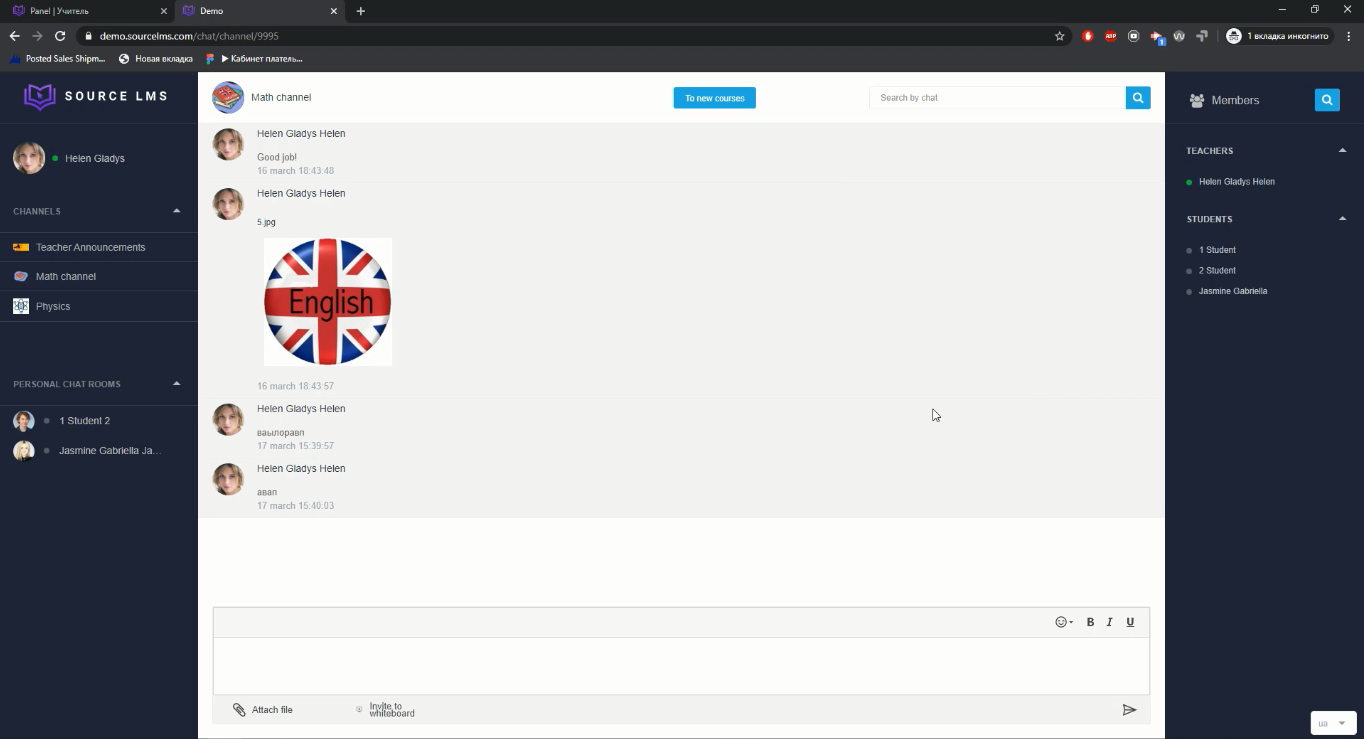 Course Management
You can create courses in D2L Brightspace from scratch or use templates already available to your organization. You can add courses, lectures, create student groups, create assignments, tests. You can install widgets, change home page settings — there are numerous possibilities. Learning management does not require much effort.
Our solution. The functionality of Source LMS is simpler in comparison with D2L. Additional features can be customized (e.g., the ability to divide large groups into sections). A feature not found in other LMSs: when creating users and courses, you will be able to choose the form of learning (full or external). The participants will have access either to all or only selected materials (the course is created one for all).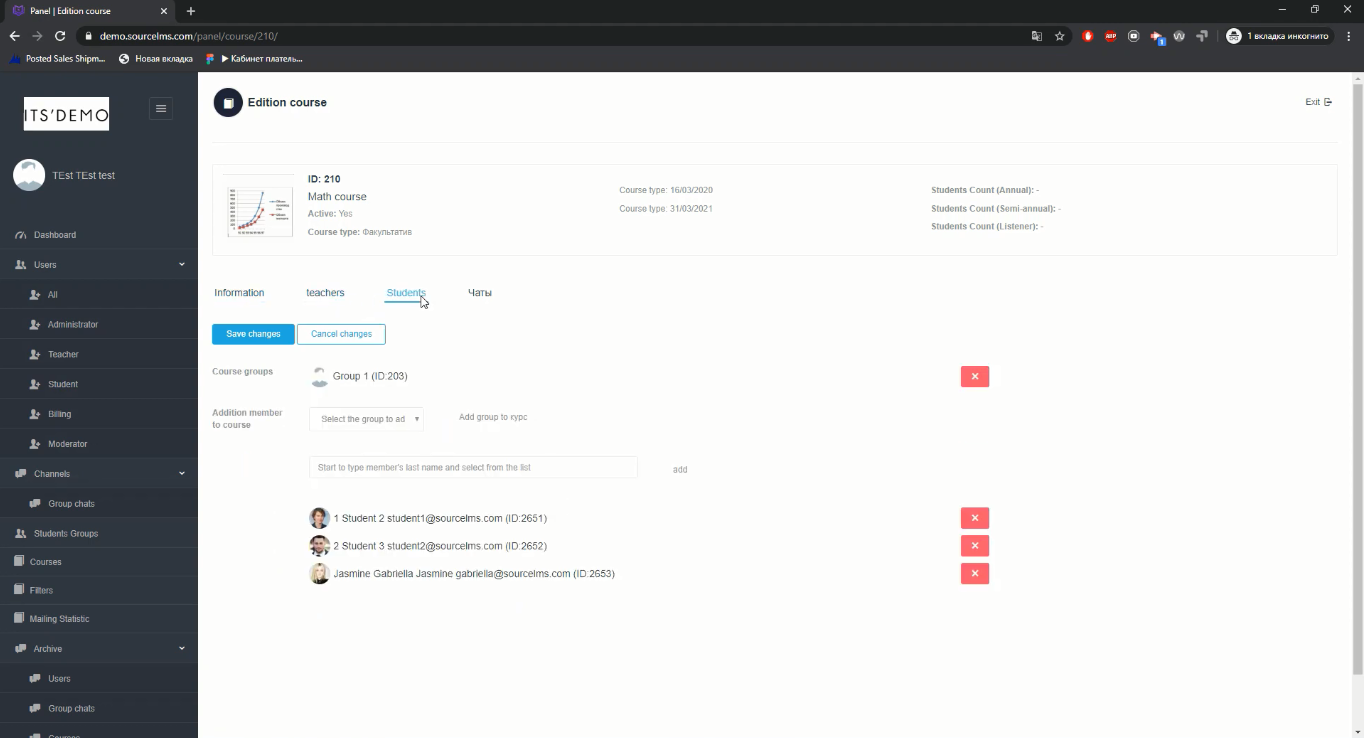 Teacher and Student View
Both teachers and students can see their courses and have access to materials, assignments and grading books. Widgets can be added to the course home page. A distinctive feature of the D2L Brightspace interface is that the top of the screen always displays a toolbar, as well as quick function buttons: My Courses, Instant Messages, notifications, personal account, etc. Some tools will or will not be available depending on the role of the user and level of access. Student view of D2L Brightspace: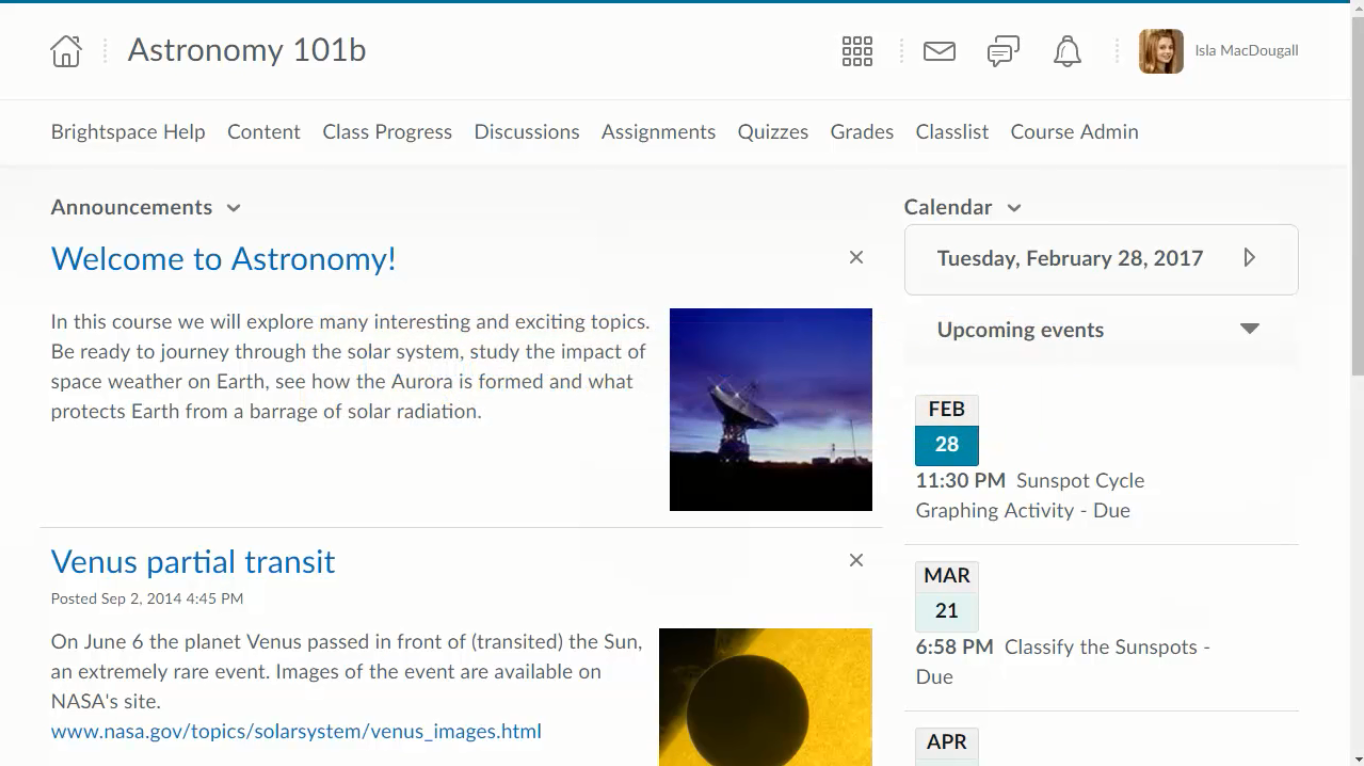 Source: https://www.youtube.com/watch?v=ysM2cc2zIPM&list=PLxHabmZzFY6mtggGZAitZ61kmpS-pMIaM
Our solution. A simpler interface: access to courses and chat rooms, the opportunity to view course materials. At the invitation of the teacher in the chat room, students can switch to Whiteboard (in viewer mode with the ability to communicate via video and audio), where the teacher is the moderator.
Tests and Assignments
The Brightspace functionality offers extensive possibilities for creating tasks and tests, and you can attach forums and/or discussions to your lessons. Different types of questions ("yes/no", multichoice, one correct answer, text box, etc.) can be used when creating tests. It is possible to generate tests randomly: you must first create a question pool and extract questions from this database. Different grading scales, grading schemes, and gradebooks are supported.
Our solution. The basic functionality to create assignments and tests on the teacher's side is already available. Different types of questions, grading scale selection (5, 12 or 100-point), manual or automatic assessment, time limits on passing the tests and other advanced settings. We are working on creating gradebooks and extending the functionality, so please watch for releases.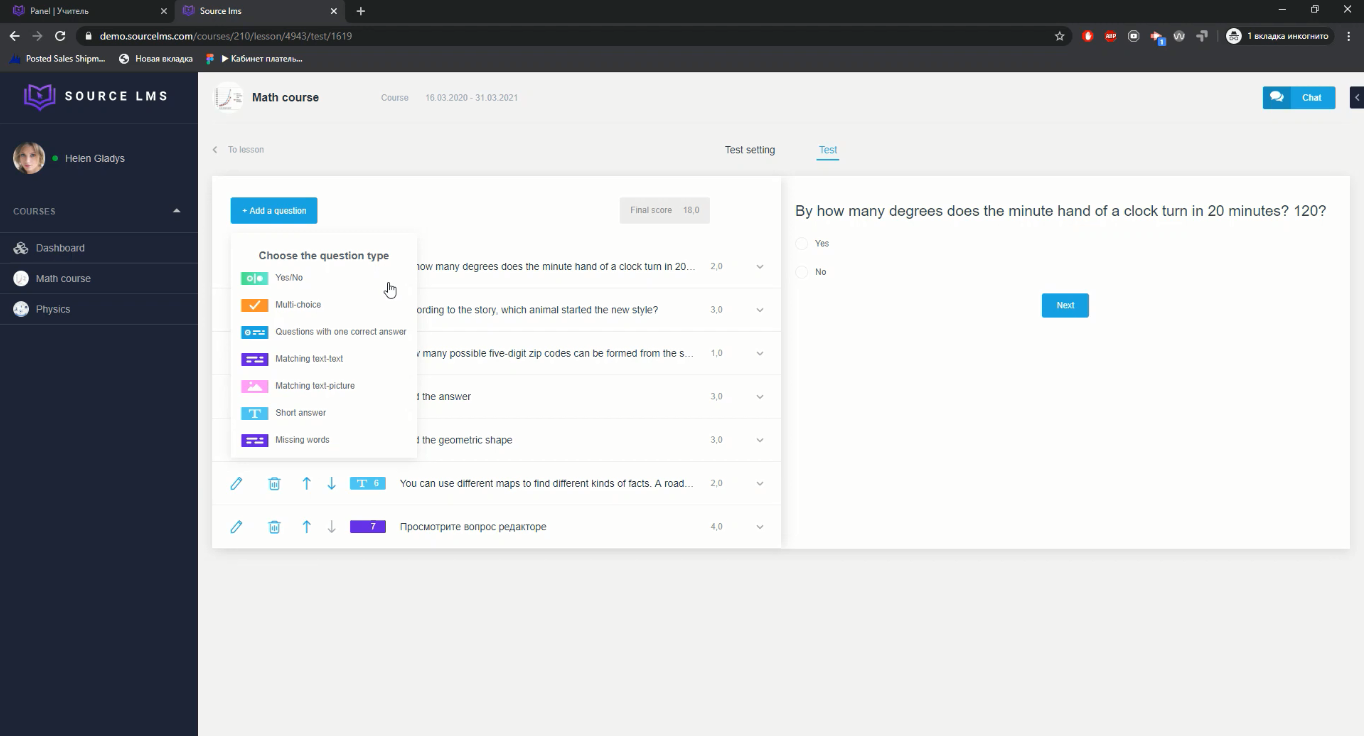 Whiteboard
The D2L Brightspace system does not support Whiteboard.
Our solution. Built-in Whiteboard is one of the key features of our system. A teacher can create a whiteboard in any chat room, and invite students to it. Here you can write formulas, draw, enable video conferencing, screen demonstrations, or communicate with audio-only. Students can only view the whiteboard, use virtual pointers, point them to areas of interest on the screen, turn on the camera or use only audio, and much more.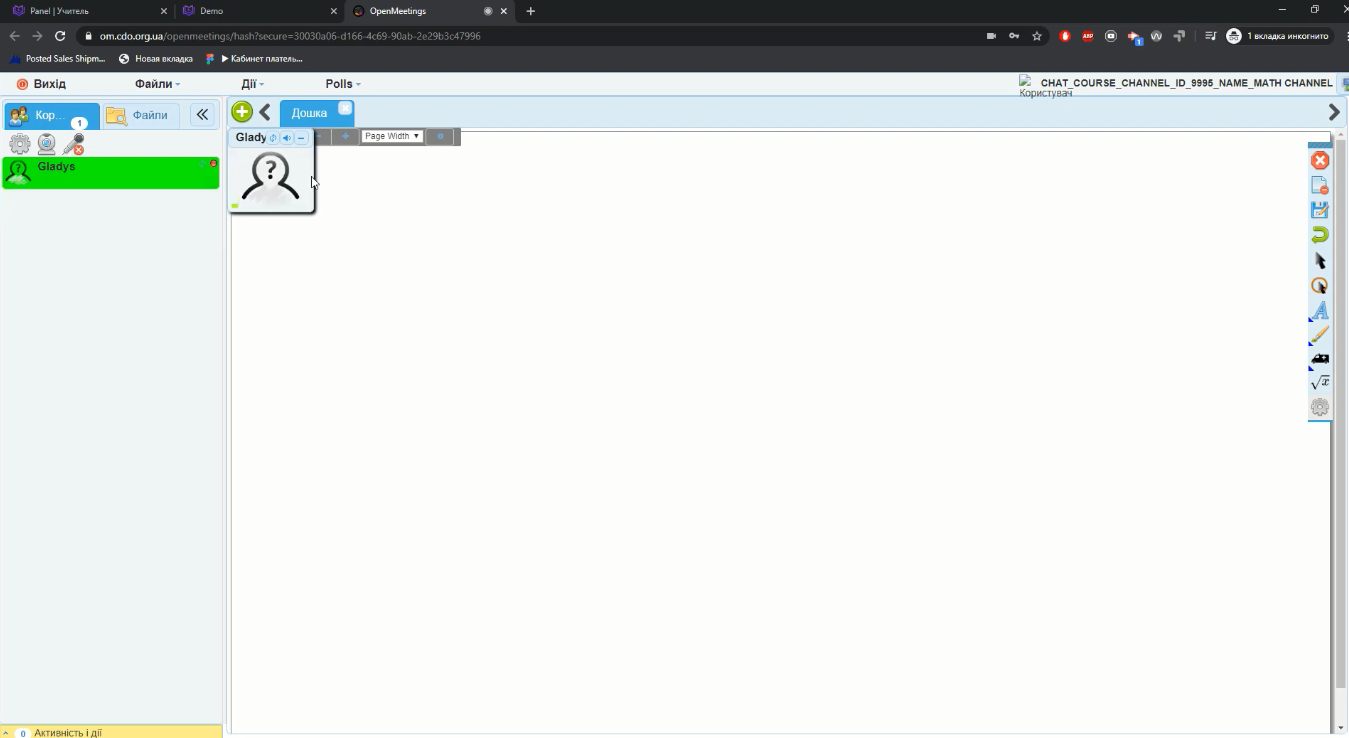 Let's compare some of the functions of D2L Brightspace and Source LMS:
| | | |
| --- | --- | --- |
| | SourceLMS | D2L Brightspace |
| Courses, teachers, and students | yes | yes |
| Creating lectures, tests, assignments | yes | yes |
| Creating lessons (lecture + test + assignment) | yes | no |
| System SMS | yes | no |
| Group Chat Rooms | yes | private chats only |
| Different limited forms of learning in one course, and different assignments for different forms | yes | no |
| Different access to common assignments/ tests | yes | no |
| HTML Editor | yes | yes |
| Admin Panel | yes | no |
| Integrated Whiteboard | yes | no |
| Cost | depending on your chosen plan | upon request |
If you have any further questions about functionality, any ideas or concerns, please contact us. Give us a call if you want to order a ready LMS or test a demo. We will be glad to assist your team in organizing distance learning, and we are ready to customize the system to your individual requirements and processes.
20.05.2020
The images used in this article are taken from open sources and are used as illustrations.