We are comparing the functions of Source LMS with the most popular distance learning platforms. In this article, you will learn how you can use Microsoft Office 365 tools for distance learning and what you can get using Source LMS.
Microsoft Office 365 is not a full-scale distance learning system — it is a software package for online and offline work with documents: text, tables, presentations, and other tools.
Admin Panel
From an MS Office 365 account, you can manage programs and documents rather than the learning process and the school as a whole.
Our solution. The administrator's panel contains all main features to configure a fully functional platform: you can create teachers, students, student groups, as well as group and individual chats, courses, and classes. A user role can be assigned when creating his or her card. There is also a payment management unit. New Parent's Account will be introduced soon, a School Year module with support for schedules, gradebooks and more — watch for updates.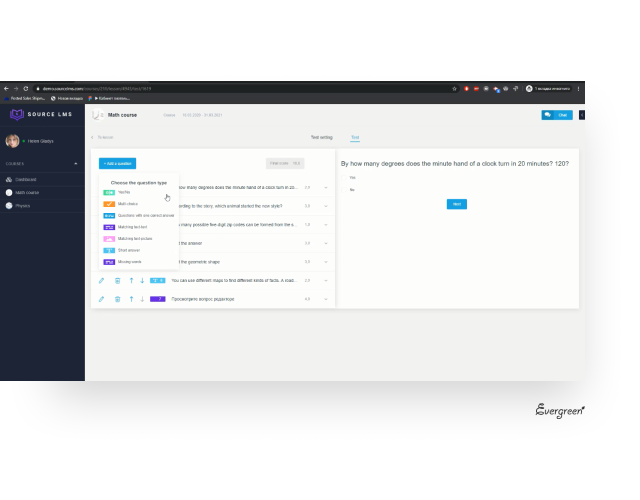 Chat
You can leave comments in Microsoft Office 365 documents, use Skype to communicate, although in practice teachers prefer to connect with students in Telegram, Viber, Facebook chat, etc.
Our solution. Built-in group and private chat rooms for teachers and students with the ability to switch to a virtual classroom — Whiteboard, as well as technical chat rooms for general information. Whiteboard supports audio and video conferencing: you can hold lessons and explain assignments almost like in a live classroom.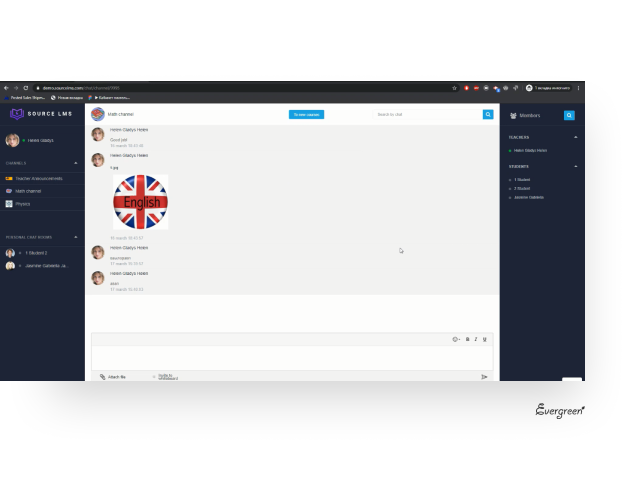 Course Management
With OneNote in Microsoft Office 365, you can create digital Class Notebooks. They can be used to place learning materials, use interactive worksheets for lectures, assignments or tests. You can also create workspaces for students to comment, embed links to files, draw, and do more. Such a notebook is an excellent solution for creating interactive textbooks, but not for managing the school in a broad sense. An example of what Class Notebook looks like: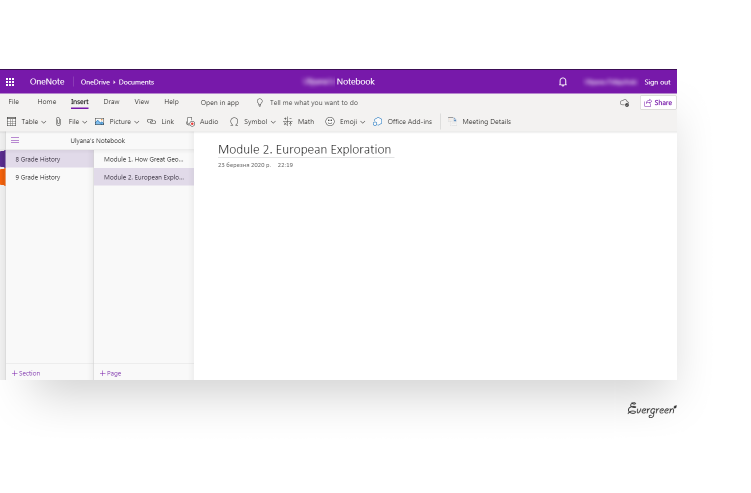 Our solution. You can create courses, groups, and classes in the admin panel — they will be available to all assigned participants, there is no need to send links to files manually. Teachers manage the course content, students can access all the educational materials, can download them, do assignments, communicate in chat rooms.
Teacher and Student View
MS Office 365 does not have an interface for managing an online school. There is access to digital Class Notebooks, messengers can be used for communication, but there is no unified system.
Our solution. School management from a simple and user-friendly interface: views of courses and chats, access to learning materials. A built-in Chat provides an end-to-end passage to courses and Whiteboard — at the invitation of the teacher.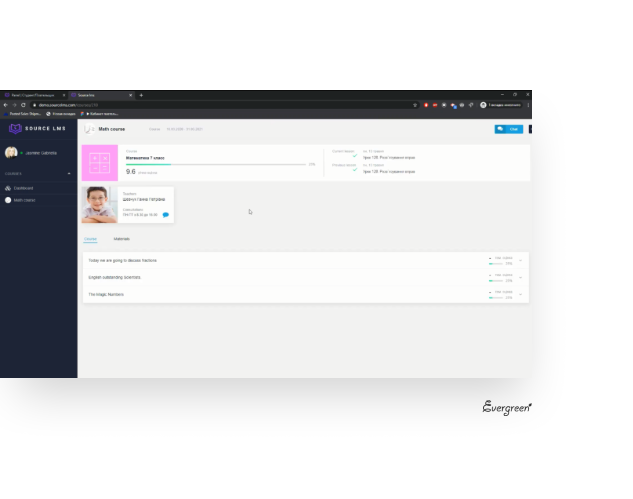 Tests and Assignments
For assignments, you can create separate worksheets in Class Notebook, place links on them, attach media files. You can create tests using Microsoft Forms or use external services such as Learningapps.
Our solution. We offer a ready-made basic functionality for creating tests on the teacher's side (with the possibility of improvement). Assignments and tests can be created using different types of questions ("yes/no", one correct answer, multiple-choice, text-text matching, text-image matching, text field, etc.). You can set additional parameters: grade limits, the weight of answer in points, the time limits, etc. You can choose a grading scale (5, 12 and 100 points). Tests and assignments can be graded in automatic or manual mode (if a student has to type in the answer and not choose from a list).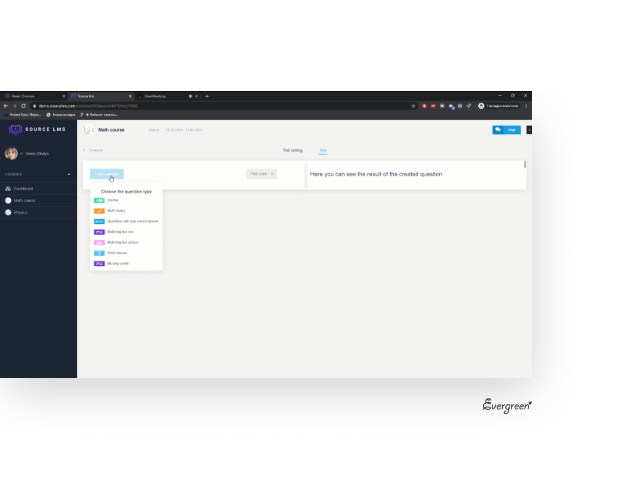 Whiteboard
The MS Office 365 software package does not support Whiteboard. Virtual whiteboards can be created in Padlet or other applications.
Our solution. We offer a built-in Whiteboard (virtual classroom), where teachers can hold classes in video and audio conferencing mode, draw, write formulas, enable screen sharing. Students are viewers only: they cannot draw themselves (at the moment), but they can use virtual pointers, turn on a camera, etc. A built-in Whiteboard is one of the key features of our system.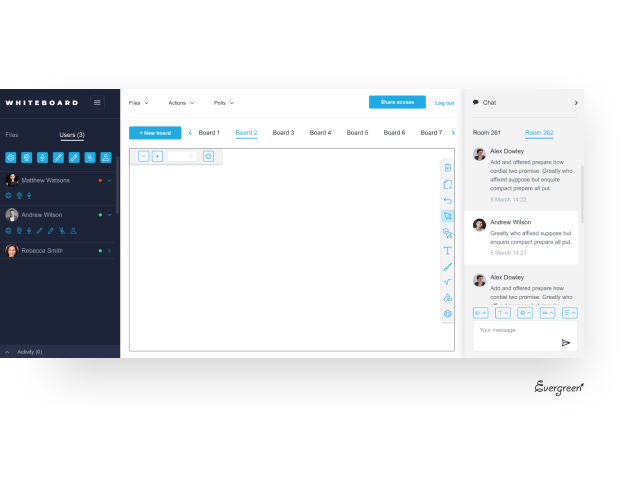 We will compare the selected features of Microsoft Office 365 and Source LMS to gain better insight:
| | | |
| --- | --- | --- |
| | SourceLMS | MS Office 365 |
| Courses, teachers, and students | yes | no |
| Creating lectures, tests, assignments | yes | yes |
| Creating lessons (lecture + test + assignment) | yes | partially (as OneNote or Forms documents, etc.) |
| System SMS | yes | no |
| Group Chat Rooms | yes | no |
| Different limited forms of learning in one course, and different assignments for different forms | yes | no |
| Different access to common assignments/ tests | yes | yes, teachers may set access restrictions |
| HTML Editor | yes | no |
| Admin Panel | yes | no |
| Integrated Whiteboard | yes | no |
| Cost | depending on your chosen plan | paid subscription (free for eligible institutions) |
Do you want to discuss additional functionality, test a demo or order a ready-made system? Please contact us — we will be glad to hear your ideas and suggestions. We are also ready to adapt the system to your processes and requirements.
15.04.2020
The images used in this article are taken from open sources and are used as illustrations.