We continue the series of articles in which we compared the main features of Source LMS and the most popular distance learning platforms. Today we will talk about Moodle functionality and what features Source LMS offers you.
Learning Management Systems (LMS) help you manage your school or academic institution from a single interface. Moodle is one of the most popular open-source educational platforms. It is used for blended, distance and other e-learning projects in educational institutions, and for training employees in other organizations.
Admin Panel
In the Moodle admin panel, you can create courses, assign user roles (student, teacher, manager, parent, or others), as well as install plugins, manage accesses, prepare reports and much more. In practice, admin panels often allow to perform only simple actions on users or groups (add, delete, duplicate, download, etc.), or are too elaborate. If there are specific tasks: for example, if you need to move a group of students to another class, add an ID or special notes to the students' cards — you will most likely need to complete the functionality yourself. This is how the manager's (administrator's) interface looks in the Mount Orange School demo: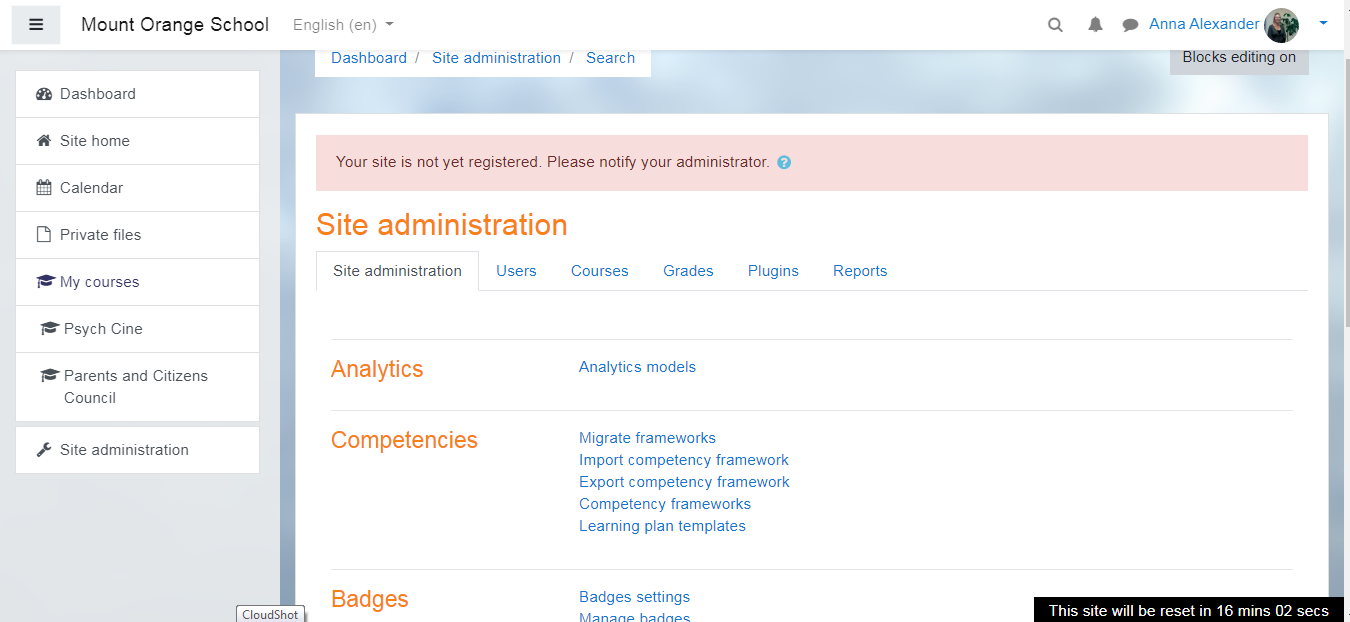 Source: https://school.moodledemo.net/admin/search.php#linkusers
Our solution. The main functionality of an online platform: user roles (admin, teacher, student, moderator, payer, student/billing), the ability to create courses, chat rooms, groups. Plus, we created the "student/billing" role for people who have reached the age of 18 years and are self-paying for their studies. A School year module and Parent's Account will be released soon — follow the updates.
Chat
The chat functionality in Moodle can be configured via a plugin, e.g. CometChat.
Our solution. A built-in "Chat" module for creating both group and private chat rooms for students and teachers. There are also technical chats for teachers to inform their groups by sending announcements (students cannot write back). Admin can block access to chat or Whiteboard for certain participants when needed. Teachers can invite students to Whiteboard in group chats and private conversations — for individual lessons. Quick access to courses from any chat room.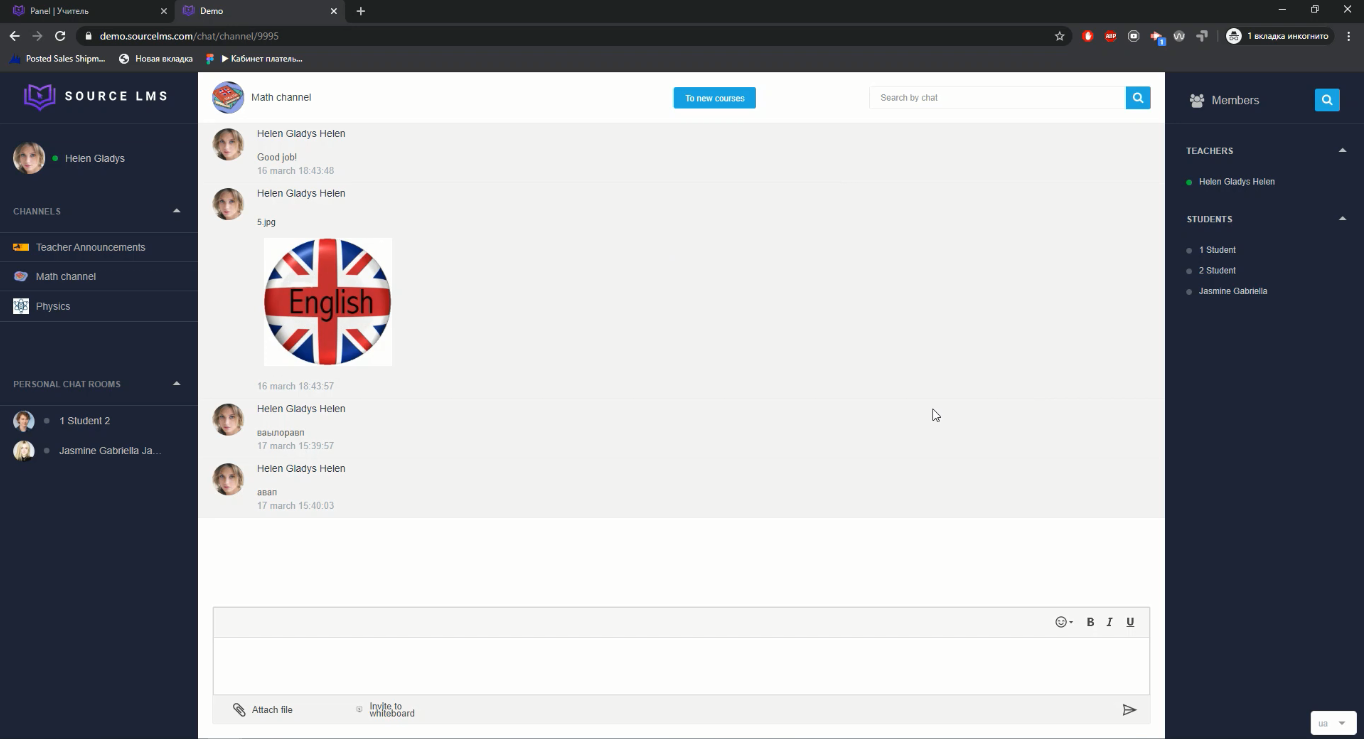 Course Management
The mechanism of course creation in Moodle will depend on the theme or plugins you have installed, as there is no built-in course editor in the basic version. You can use ready-made "sets" of plug-ins, as developers themselves suggest: you can use them to customize the functionality separately for K-12, high school, university, etc. Setting up a course in Moodle using the Mount Orange School demo as an example: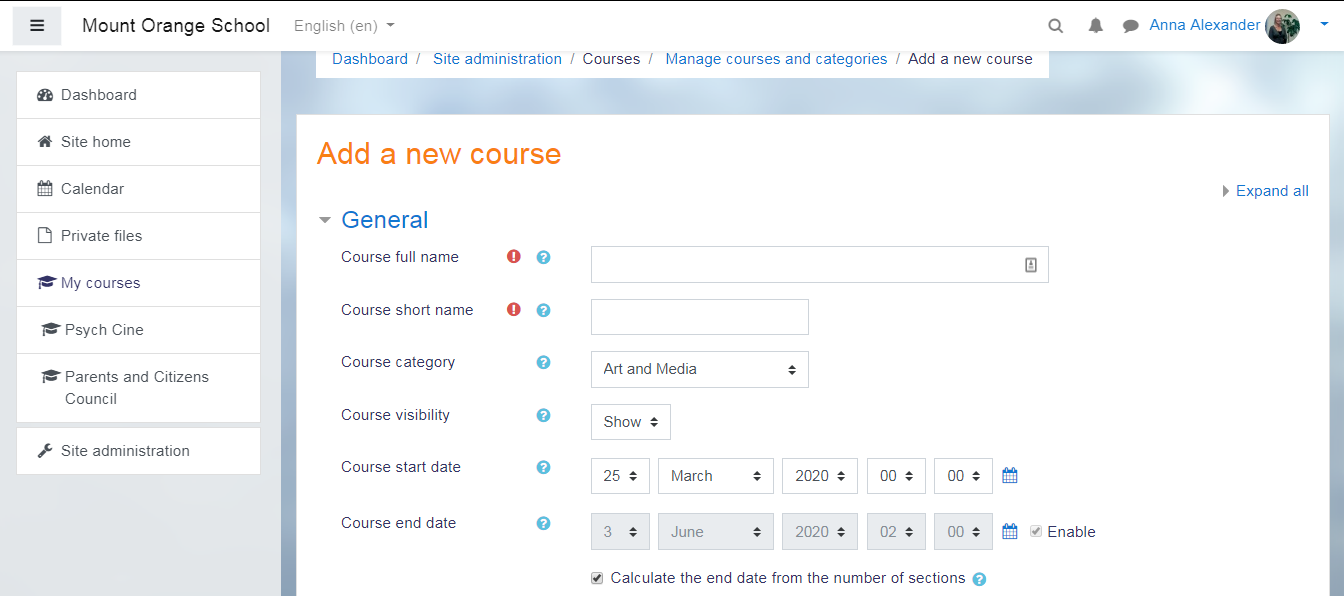 Source: https://school.moodledemo.net/course/edit.php?category=0
Our solution. Our system has a built-in course constructor. All information about courses, teachers, and students is displayed on the Dashboard. At the admin level, you can enter short course information (title, subject), as well as assign a lecturer, students, and create a chat room. Teachers can manage course content, and students can view and download learning materials, complete assignments, and tests.
Teacher and Student View
Teachers can see all the courses (groups, classes) where they act as lecturers or curators, and fill the course with materials. There is access to student lists, gradebooks, the ability to create quizzes, announcements, chat rooms, etc.
Our solution. Easy navigation and a simple interface for teachers and students. We've made the end-to-end transition from a chat room directly to courses and Whiteboard. The teacher can optionally attach additional material to the course so that students can download them. Students can also see their assignments and progress. We are currently working on improving the interface and new functional modules — please follow the updates.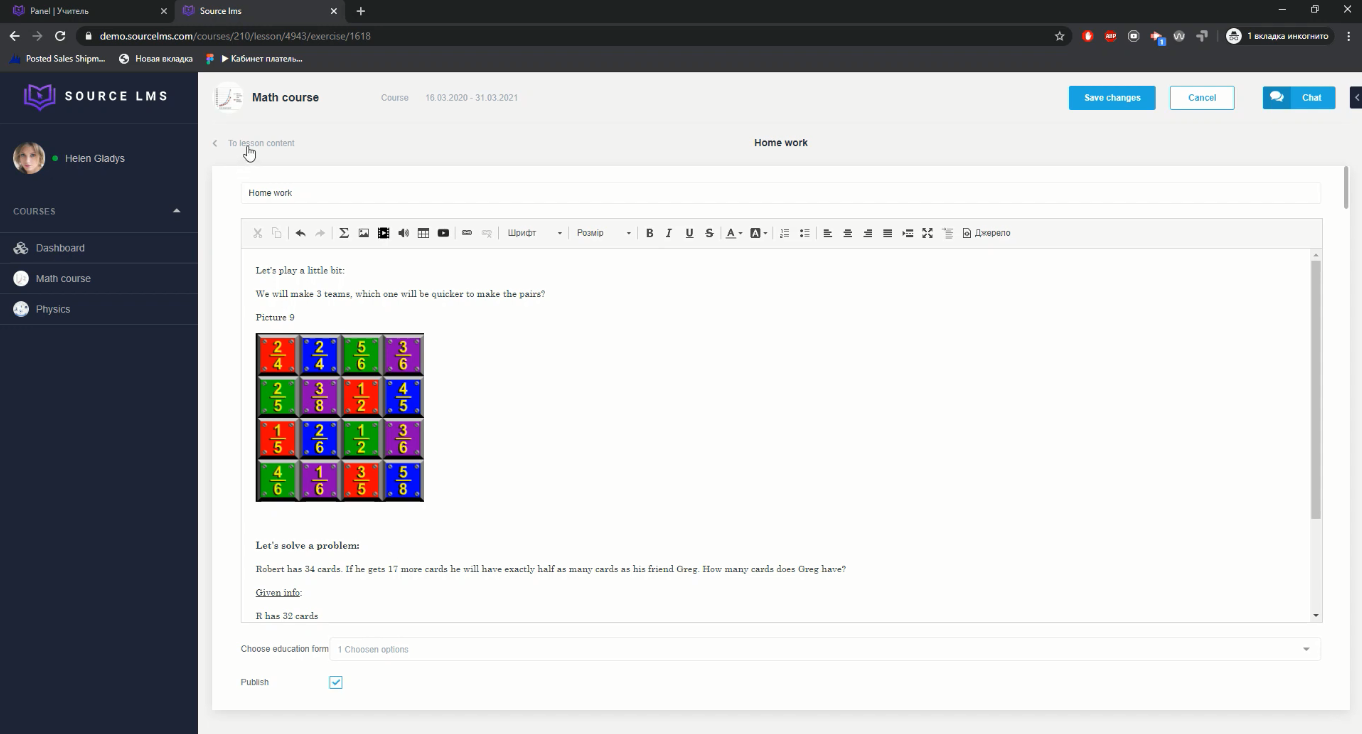 Tests and Assignments
Gradebooks are available for each course in Moodle. You can also create collective and individual assignments and select different answer parameters ("yes/no", one correct answer, multichoice, text-text matching, text-image matching, text field, etc.), as well as advanced test settings (time and grade limits, grading scheme, etc.)
Our solution. We offer a ready-made functionality for creating tests and tasks for teachers (with the possibility of improvement). Several grading scales (5, 12 and 100 points), automatic or manual quiz verification (if students have to write their answer). One of the next updates will include electronic gradebooks and more, please watch for the releases.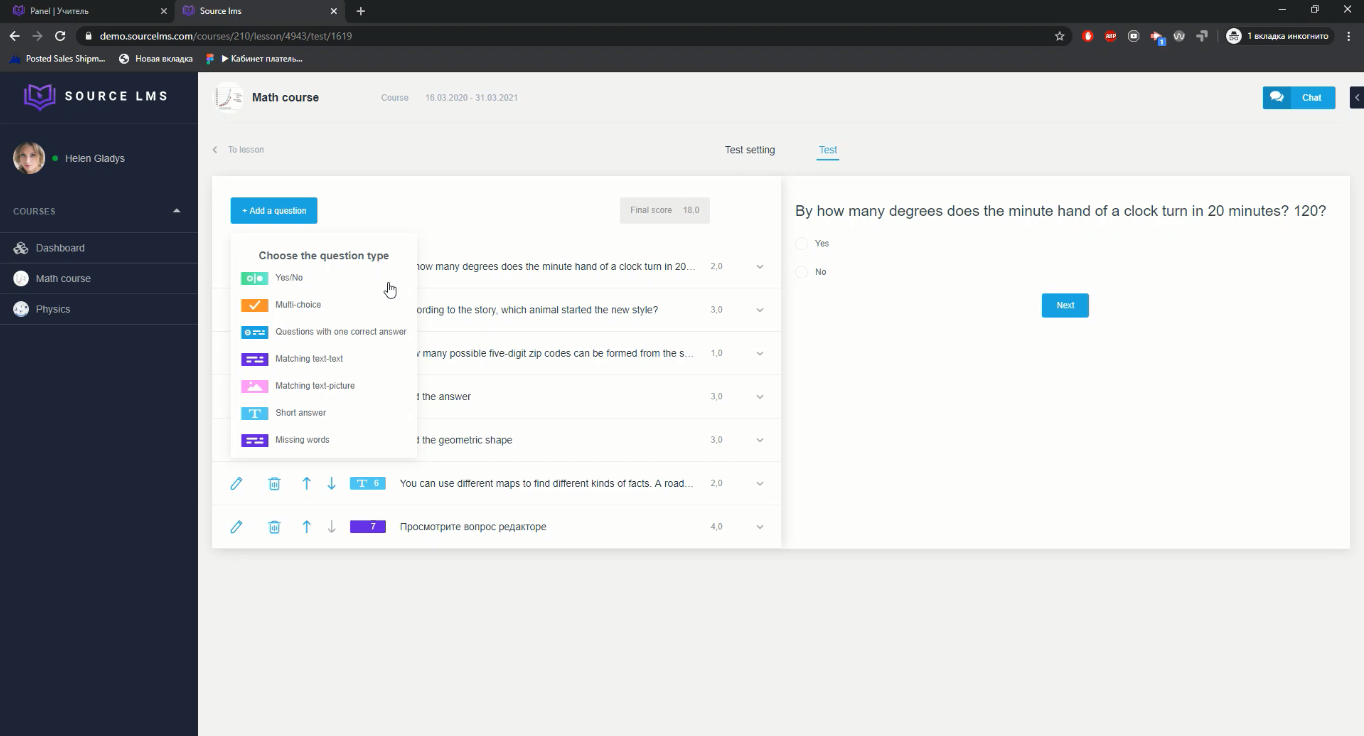 Whiteboard
You can install additional plugins for Whiteboard, such as Congrea or One-To-One, as this feature is not supported in the basic version of Moodle.
Our solution. Built-in Whiteboard, where teachers can draw, write formulas, enable screen sharing, video and audio conferencing, and where students are viewers (can't draw themselves but can communicate and use virtual pointers). The Whiteboard is a highlight of our system.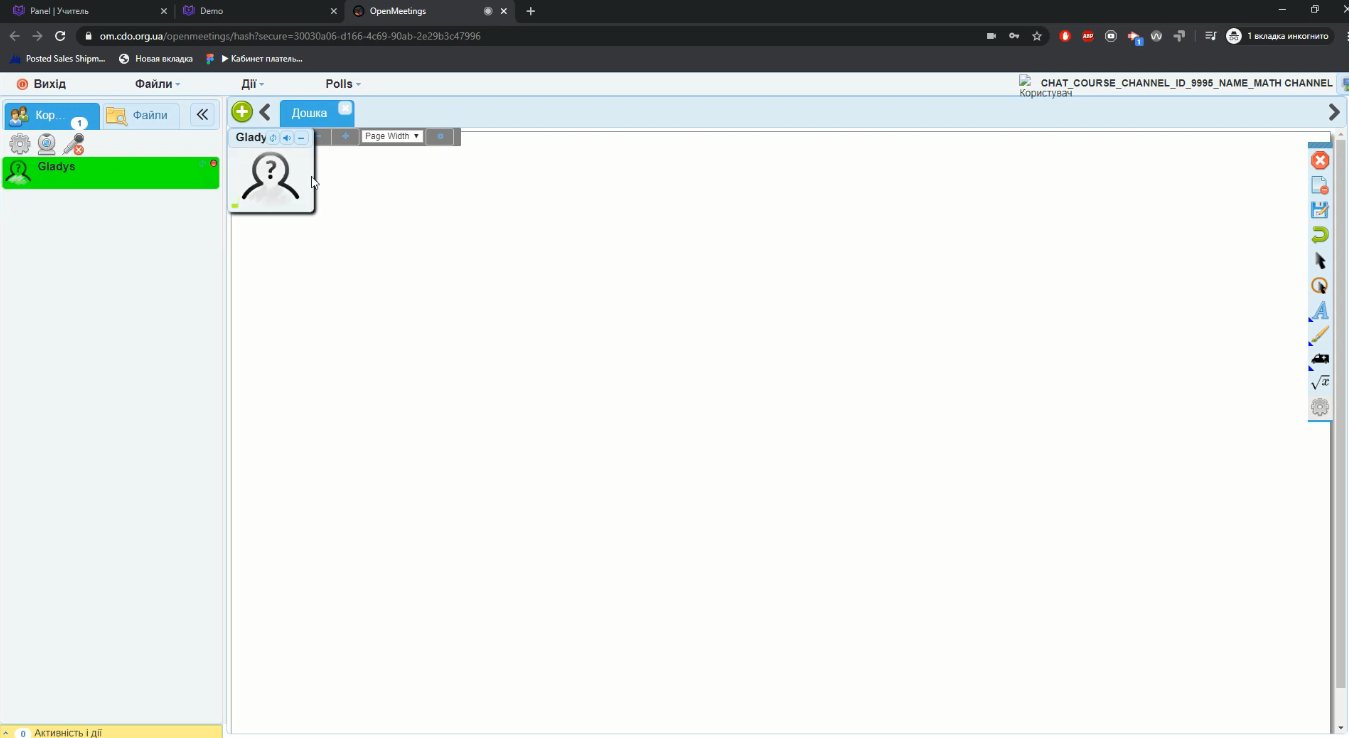 We compared specific features of Source LMS and Moodle for better illustration:
| | | |
| --- | --- | --- |
| | SourceLMS | Moodle |
| Courses, teachers, and students | yes | yes |
| Creating lectures, tests, assignments | yes | yes |
| Creating lessons (lecture + test + assignment) | yes | partially, only with tests |
| System SMS | yes | no |
| Group Chat Rooms | yes | separate plugins |
| Different limited forms of learning in one course, and different assignments for different forms | yes | no |
| Different access to common assignments/ tests | yes | no |
| HTML Editor | yes | no |
| Admin Panel | yes | yes |
| Integrated Whiteboard | yes | no |
| Cost | depending on your chosen plan | free download + implementation and support costs |
If you want to learn more about the system features, discuss its functionality, try a demo or order a ready LMS — please contact us. Use the benefits of distance learning to develop your organization! We are also ready to adapt the system to your individual requirements and processes.
20.05.2020
The images used in this article are taken from open sources and are used as illustrations.