Unprecedented numbers of children, youth and adults are unable to attend lessons due to quarantine and policies aimed at containing the COVID-19 pandemic. The primary concern of educators is to facilitate continuity of learning and to protect students and teachers from educational disruption due to the situation. According to UNESCO, as of 26 March 2020, 160 countries have already switched their schools and universities to distance learning mode.
Learning Management Systems (LMS) allow you to manage your educational processes remotely: conduct remote classes, use interactive learning tools such as whiteboards, screen sharing, record lectures, and videos, create group chats, run separate courses, combine different methods and forms of learning, etc. If you are looking for such a system, and want to launch distance learning in the shortest possible time, please contact us. We designed a learning management system and will be happy to offer you a ready-made solution.
You will be able to manage the student and teacher roles, view the structure of learning groups, migrate your educational materials to an online environment, and it is not a temporary solution. Sooner or later, the epidemic will end after all, and the benefits and opportunities of distance learning will remain.
Key Features of Source LMS
We developed a system that allows you to not only run remote classes but also manage the entire learning process remotely from a single user-friendly and elaborate interface.
Chat
The main value of this module is the capability to bring teachers and students together, giving them maximum space to communicate and share information. By using group chats, you can create groups for different classes, lectures or subjects, and share files like in a regular instant messenger. Plus, you can manage the groups (transfer students and track message statuses, etc.) with almost no effort thanks to flexible settings.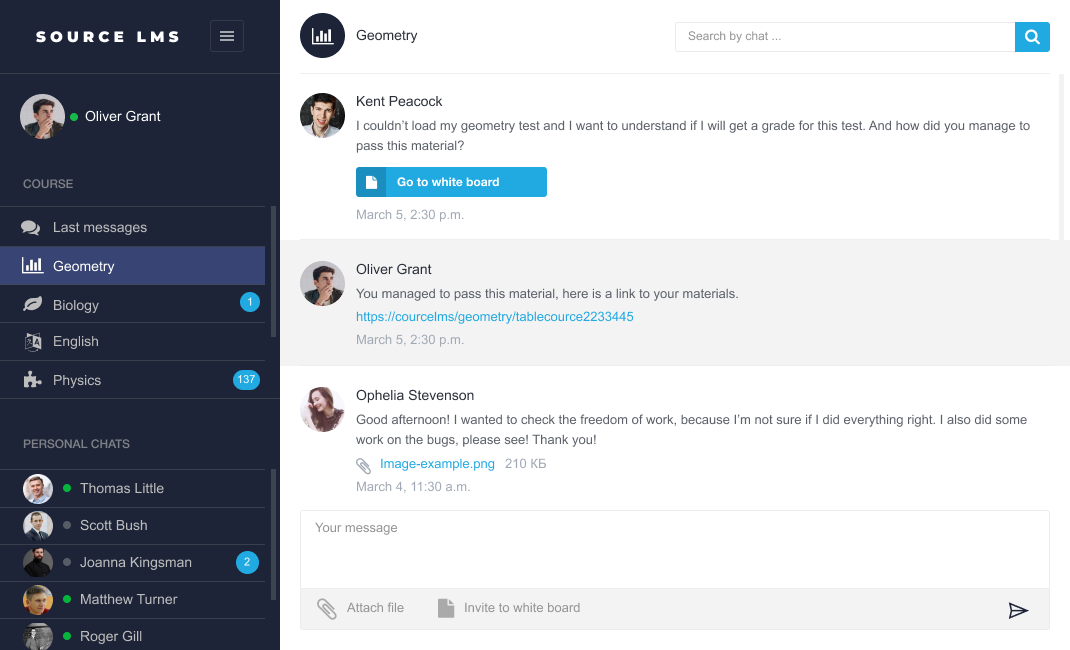 Whiteboard
An integrated whiteboard is our system's gem: you can open it from any chat room, your teachers and students can draw on it, write formulas, hold video or audio discussions. Teachers can share their screen or desktop view, and receive the students' feedback in real-time or any convenient format.
Admin Panel
The admin panel allows you to manage student and teacher roles, create student groups and virtual classrooms, manage parents' accounts and payments, and school-level administration.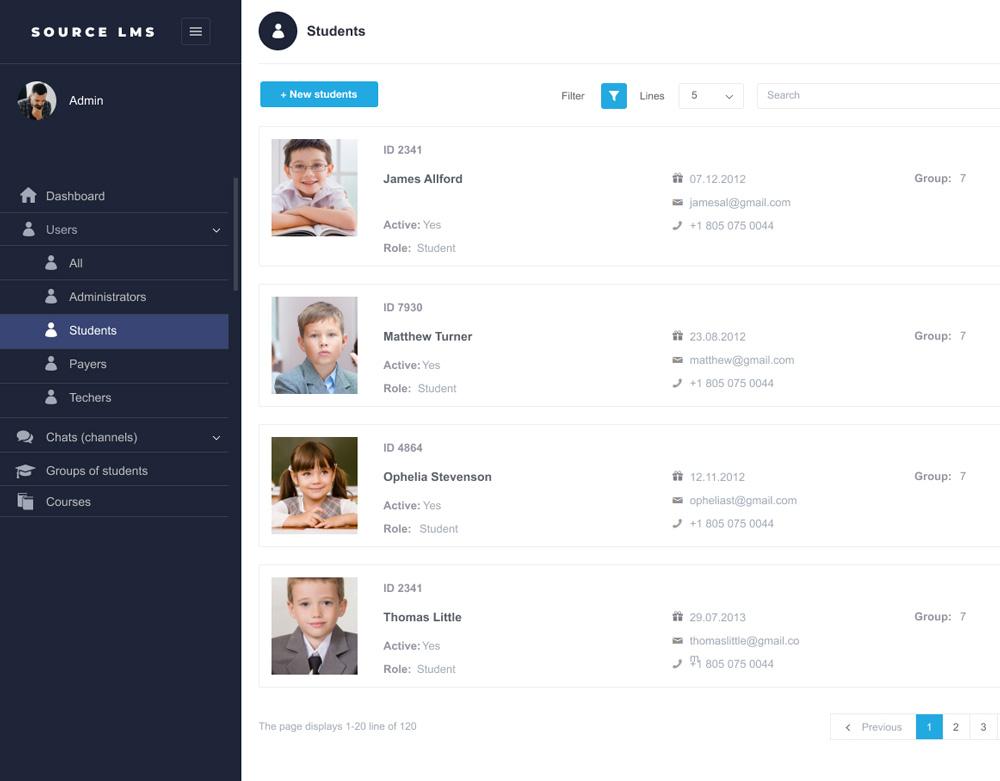 Courses
This powerful module allows you to arrange all your learning materials in one convenient environment and manage them effectively. You can create individual lessons, themes, and courses, combine different forms of learning in one course and much more. Teachers can use the system capabilities to create tests and assignments.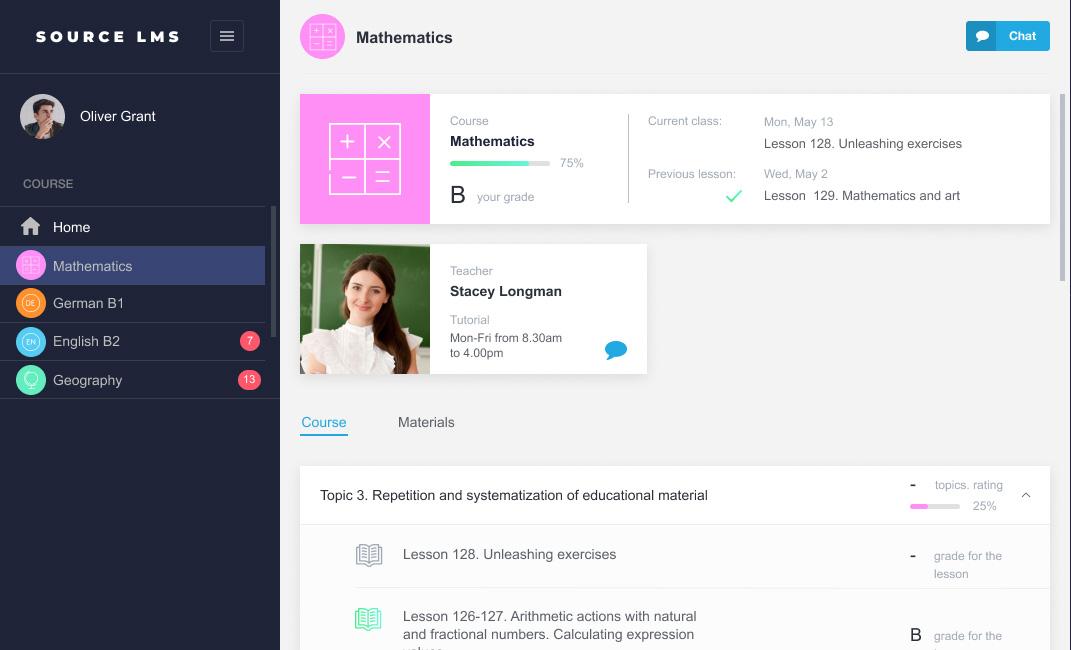 Furthermore, we are working on additional modules to be released soon:
Test module which will allow students to take tests, get grades and complete assignments;

Parent's account enabling parents to view their children's grade books and communicate with teachers and school management, manage payments, various course packages (basic education + elective courses) and fees, be able to sign contracts with the school and much more;

School Schedule module that will help manage and plan the school activity and create gradebooks, scorecards, schedules and more.
Would you like to get a better insight into the functionality, order a system or try a demo version? Don't hesitate to contact us. We are ready to configure and customize the LMS to address your processes and requirements. Let's provide your students and teachers with modern solutions, and make the learning process even more exciting, for many years to come!
If you have additional ideas and suggestions, we are here to discuss them. Our team will be happy to advise you on any matter — just write to us or fill out a form.
Today when millions of children and young adults are unable to attend lessons due to the COVID-19 pandemic, reliable systems for remote education are needed more than ever. We at Evergreen have developed our own Source LMS.
Try a demo now!
01.04.2020
The images used in this article are taken from open sources and are used as illustrations.