Believe it or not, but good things can happen even in 2020. Our CEO just got an email from one of the analysts from Clutch, who let us know that Clutch just awarded Evergreen as one of this year's top IT developers.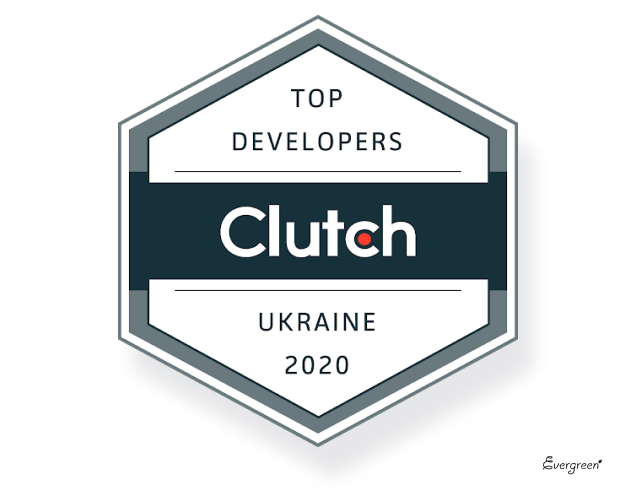 "We are proud to represent Ukraine in the best IT companies directory. We are even more proud to be named as a regional leader, and will continue to deliver WOW results to our clients!" — Sergii Kravtsov, CEO
Clutch is the gold standard for ratings and reviews for B2B service providers, which is why we're incredibly honored that Clutch's 2020 research listed us as one of Ukraine's best IT developers. Some 2 years ago, Evergreen landed among the 500 leading B2B providers in Poland and Ukraine, and we are so proud that we have chosen the right course of action for the company, progressing so well.
We love to share with you our stellar rating on Clutch, gratefully accepting the highly enthusiastic 5.0-star reviews of our satisfied clients, a testament to our consistent quality work.
Evergreen has many years of experience in developing IT solutions for start-ups, small and medium-sized companies, and corporations in various business areas. We also cooperate with government agencies, international donors, funders, grant organizations, and implement grant-funded projects.
For our clients, Evergreen is not just a development contractor but a technical consultant and an engaged business partner. We focus on providing a business approach to the projects: ROI calculation before the start, advice on the most effective technical solution, and we act in the best interests of the client. Our experts thoroughly study the customers' business processes and take into account future scalability at the initial stage of development.
We're incredibly blessed to be listed amongst Ukraine's top 25 IT developers for 2020 by Clutch. Please contact us today to see how you can join our many satisfied customers, and let's start working on your innovative ideas together.
06.08.2020
The images used in this article are taken from open sources and are used as illustrations.