Voice search has been one of the top digital trends for the past few years. According to Perficient, around 55% of the respondents included voice queries as one of their top three preferred ways to ask questions on smartphones in 2020. Voice responses have evolved from answering some basic questions to more complex tasks like researching products and online shopping, which speaks of the emergence of what is now called 'voice commerce'. Retail leaders can benefit from its rising popularity in the nearest future and include some new insights into their brand strategies.
How Voice Search Works
Voice search uses speech recognition to understand the questions and commands given to digital voice assistants, enabling users to speak their intent rather than type it. Digital assistants work by:
Processing and translating spoken language into the text;
Detecting questions and commands;
Querying one or more search engines for information;
Returning that information to a searcher as relevant answers.
While devices are getting smaller, artificial intelligence and interactive voice recognition systems are getting smarter. They can understand and handle more complex queries beyond linear scripts — it is often called conversational AI. And the quality of voice searches and interaction with virtual assistants is gradually improving, as technology is making advances in natural language understanding and processing. Done well, it can help people interact with complex systems in a faster and easier way.
The Future of Voice Technology: Can It Disrupt Ecommerce?
Voice search applications have become one of the preferred ways of searching online. And this market is forecast to grow in the coming years. It is increasingly common to hear that searching by voice is taking priority in the new pandemic reality (remember social distancing!), and more brands are struggling to find innovative ways of integrating voice into their operations to wow their customers. What other factors contribute to the widespread adoption of voice search?
The growing popularity of voice-activated smart speakers, apps, wearables and touchless control systems:
More than a quarter of the global online population use the voice search feature on their mobile devices. According to Perficient, smartphones are the most common devices for internet voice search —

nearly 40% more than using smart speakers

;

Voice search is a key contributor to the capabilities of popular virtual assistants such as Apple Siri, Amazon Alexa, Google Assistant, and Microsoft Cortana.
Growing accuracy and convenience of technology:
Voice search is more popular than typing for basic tasks like checking on weather or playing music. But as people are gaining more trust in the technology, voice ordering and payments are also taking off;

Voice search is an aid for anyone who cannot use a keyboard or screen due to visual impairment or physical disability;

Both Google and Amazon are pushing regional languages in their virtual assistant devices, so we should expect advancement in language development to keep up with the demand. Amazon started to sell Echo to 80 countries — let's see how well it works.
Impact on the buyers' purchase journey:
Voice assistance can help consumers research products and make purchases, track packages, leave reviews and ratings, repurchase items.
Why Is Voice Search Important for Your Business?
With the increased use and improvements in voice technology, it is clear that businesses need to adapt to high user expectations and manage to stay ahead of the competition. Investing in voice search now matters for several reasons:
Technology is changing the way customers are looking for products and services like the ones you offer. And voice search is about ranking among the top pages from SERPs (91% of the results are from Google's top 5);

Trends show users search for local results three times more often: 58% of them have found local businesses using voice search, and 46% of users will repeatedly use voice search for tracking local business details regularly. According to Google, searches for "available near me" have grown globally by more than 100% during the pandemic. This increase in local and hyperlocal search is good news for retailers;

Smart shopping and personalisation based on the preferences that have been communicated to the device. Voice search features are smart enough to capture the customers' behaviour and habits. For example, when they buy their monthly grocery online, a virtual assistant can remind them about the items missing in the current list.
How to Prepare an Ecommerce Website for Voice Queries?
Here are some ways to optimise for voice search on your site if you are seeking to attract the most possible traffic.
1. Pay attention to your SEO:
Research keywords for voice search queries separately. People type in searches differently than they speak in everyday life. Most likely they will use queries starting with "where", "how" or "who", so curate content that gives your prospects direct answers;

Use long-tail keywords — these search terms are longer and more conversational. Also, they seem to have lower cost and a higher probability of conversion;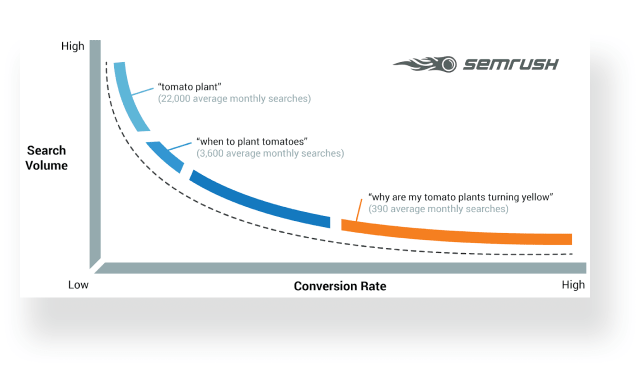 Source: semrush.com
Local voice search optimisation: we recommend optimising your pages for local SEO, including the use of geo-targeted search terms on your landing pages;

Provide greater specificity in questions and searches: design a thorough FAQ page and answer all your customers' questions before they ask, implement schema markup and make sure your website is structurally sound.
2. Optimise your business listings.
Having your business listing cited in location-based directories such as Google My Business can help improve your visibility.
3. Create voice-based navigation on your website to enhance user experience.
4. Ensure your products can be purchased with a simple flow using voice command.
Voice search is gaining popularity among online users, and many eCommerce brands see voice ordering as an opportunity to enhance their online presence. Take advantage of a global trend, and let your company's voice be heard by millions of users!
Are you interested in voice search optimisation? Reach out for our team of experts to get the best advice and to discuss how we can work together on your project.
29.01.2021
The images used in this article are taken from open sources and are used as illustrations.