Vitagramma is a system for storing and managing health records. For example, many are familiar with one of the most well-known partners, the Synevo network of medical laboratories. Vitagramma has been cooperating with Evergreen on the technical support of the project and its refinements since 2019.
Following the project owner's request, we introduced new functionality for saving coupons to Apple Wallet or Google Pay on smartphones. Both systems work as virtual wallets enabling you to pay for purchases and save coupons and cards in your device memory.
Apple Wallet and Google Pay are revolutionising loyalty programmes. Instead of a pile of plastic and paper cards that can be easily lost, virtual cards reside in a single smartphone app that is always on hand. A digital card is as functional as the physical one: it doesn't alter the customer's loyalty programme in any way, allowing for direct communication with customers without bombarding them with text messages or emails. Along with debit and credit cards, digital wallets support all kinds of passes: e-tickets, passcards, bonus coupons, business cards, ski-passes, and various discount certificates. Combined, it brings convenience for customers and opens up new business opportunities for companies.
Now, when you purchase a coupon on the Vitagramma website, you can add it to the corresponding application on your phone instead of receiving a PDF/SMS version.
There are different options for each operating system. For example, Android users will see the Google Pay button: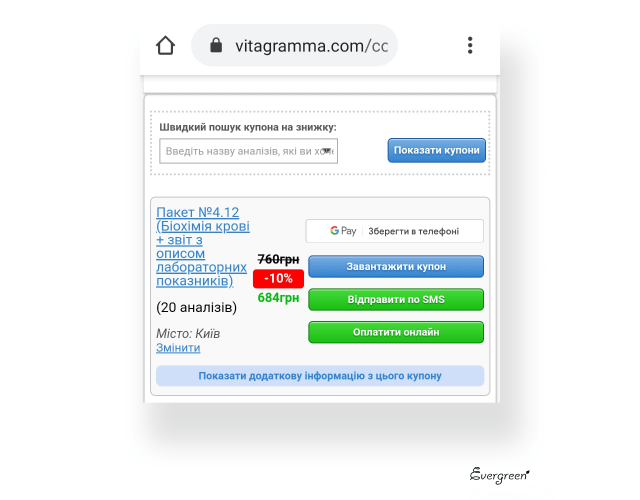 And the Apple Wallet button will be available for iPhone owners: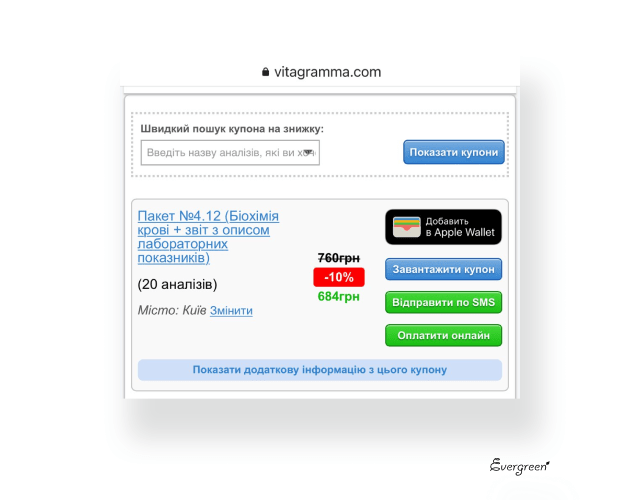 How Do the Electronic Coupons Look Like for Customers?
Once you add a coupon to your Apple Wallet, it appears alongside the linked cards. Below is an example.
| | |
| --- | --- |
| Adding a coupon: | Apple Wallet cards list: |
| | |
And in Google Pay wallet, a coupon looks as follows:
| | |
| --- | --- |
| Adding a coupon: | The coupon itself: |
| | |
How Customers Can Benefit From the New Functionality
Adding a coupon to your e-wallet is easy.
In Vitagramma — click on the Apple Wallet to add a coupon or a GPay button you see, then follow the in-app instructions.
You can just as easily delete a coupon from Apple Wallet or GPay.
Go to the GPay app or Wallet, find the coupon and delete it from the app. This action will not delete the coupon itself!
A unique feature of getting notified about the nearest lab (for Apple devices).
The Wallet virtual coupons for iPhone contain embedded coordinates (addresses) of Synevo laboratories in the city of choice. The coupon detects each customer's location automatically and then sends a push notification to the lock screen. There is no need for patients to go to the website, download a map and search for labs — the programme has already taken care of it. For example, below is the map of all locations scattered around the city: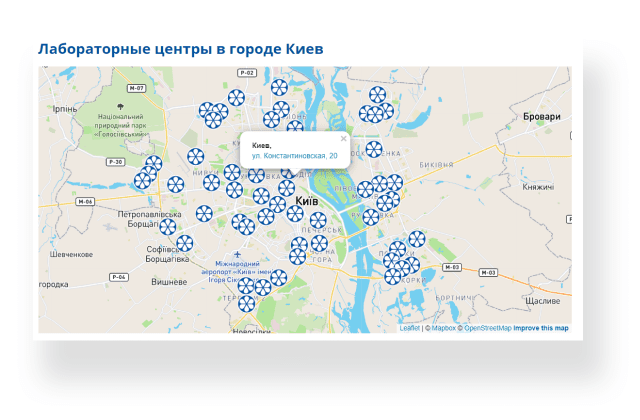 Source: https://www.synevo.ua/
And here's a standard notification message: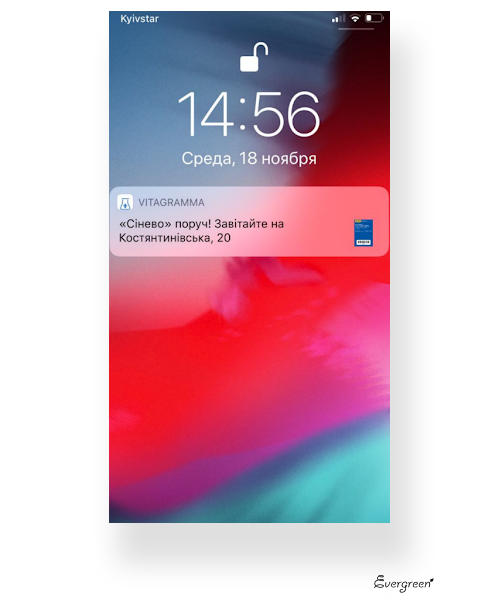 Advantages
Digital card applications and virtual wallets are reshaping mobile loyalty programmes. First, these apps free your pockets from clutter and are easy to use. Apple Wallet is pre-installed in all iPhones, and Google Pay is just as easy to download and install on Android. Second, bonus cards and coupons can be refreshed remotely, and the customer receives personalised push notifications about certain events such as expiry dates, accumulated bonuses, and location-based updates. Third, the new format frees the customer from unnecessary actions and provides an engaging and functional service that is also client-centred. New opportunities emerge for businesses in terms of increasing customer loyalty and engagement.
If you want to experience the convenience of the new mobile coupons, visit Vitagramma from your smartphone and give it a try!
Do you want to see more of our fascinating projects and examples of non-trivial technical solutions? You'll find them among our Case Studies. And if you're about ready to discuss your project idea and business tasks with us, please get in touch — either send us a message or fill in the contact form on the website.
15.01.2021
The images used in this article are taken from open sources and are used as illustrations.