While virtual reality technology aims to create a purely digital environment and fully immersive experience, augmented reality (AR) is more like a filter that layers digitally rendered elements over the real world. This effect can be achieved by projecting digital objects onto the see-through holographic lenses of special wearable devices such as AR smart glasses or mixed reality devices, or by inserting AR elements into a camera image of a smartphone or tablet.
The evolution of mobile device technology and mobile browsers has contributed to the increasing popularity of web-based augmented reality (Web AR). To enjoy augmented reality in a web browser, you only need a custom URL or a QR code that automatically opens a link without any additional apps.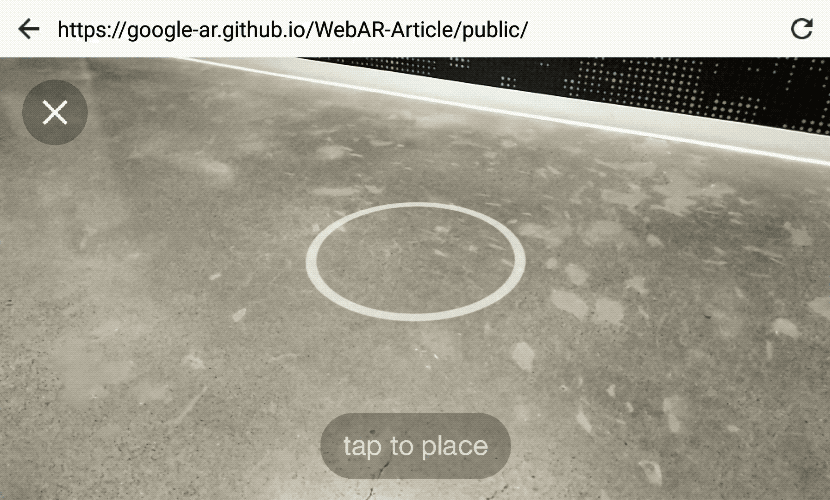 Source: https://google-ar.github.io/
A new interest in virtual and augmented reality emerged during the coronavirus pandemic when businesses were forced to shift their operations online, and the use of technology was the only way for companies to get along with the crisis.
AR is very well-suited for visualization and storytelling — features that can help bring something physically inaccessible, into our real living space. For example, previewing products in AR in a web browser, AR gamification in advertising, and much more.
We gathered some interesting statistics to keep you updated on the latest AR trends:
And now, let's take a look at some vivid examples of how businesses can use AR to create a wow effect for their customers.
Examples of Web AR in Retail
AR on the web has opened exciting new doors for brands looking for novel ways to engage customers and makes it easier to experience AR content by anyone without the need for investing in separate mobile app development.
Virtual Product Showcase
Customers are usually hesitant to buy goods without physically viewing them, especially when it comes to furniture or home appliances. With augmented reality, users can customize and visualize different colors and configurations of a digital product model in real-time without the actual product.
The Shopify AR solution enables merchants to develop Web AR in Safari (iOS 12 and above) to enrich their product pages, and allow shoppers to view realistic and interactive 3D versions of the goods:
Virtual Try-On
Virtual dressing rooms, eyewear try-on, and virtual makeup studios like the YouCam by L'Oreal — brands are trying their best to attract new customers and seek out practical ways to use facial tracking apart from sporting funny masks on Instagram and Snapchat. Smartphone cameras can be effectively used as augmented mirrors. By the way, after launching its try-before-you-buy AR makeup solution, L'Oreal increased sales by 49%.
Augmented Reality for Web Advertising
Your augmented reality web URL becomes another marketing channel like social media posts, banner ads, email campaigns, adding a new dimension to customer engagement. According to the Harvard Business Review, a 5% rise in customer attention generates a 25%-95% increase in profit.
Interactive Online Product Launches
Augmented reality is a great alternative to a face-to-face event or launch. You can create an AR portal through your brand's website to allow your audience to view the product embedded in their real environment, with added information you would usually communicate in a live presentation.
Toyota launched an interactive ad campaign for the new Corolla in the U.S., available as Web AR in Chrome (banner ads) on Android devices. By tapping on different parts of an interactive 3D model, users could access additional information about the vehicle's specs, activate animations, share a photo, and more.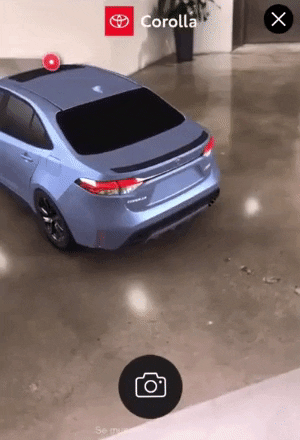 Source: https://mobile-ar.reality.news/news/toyota-rolls-out-web-based-ar-advertising-campaign-via-8th-wall-0198696/
Another cool example of how mobile AR can skyrocket customer engagement is Air Jordan's 2018 campaign for Air Jordan III 'Tinker' limited edition sneakers. Fans who had attended a pre-release event were asked to scan a mobile Snapcode (a collaboration with Snapchat) to reveal the new sneaker, purchase it and have it delivered to a selected address the same night. The sneakers sold out in just 23 minutes.
Personalized Customer Experience
Customers are looking for a unique experience when it comes to shopping, so retailers can use AR technology to deliver this experience and edge out the competition.
Gamification is one of the effective tactics to enhance brand awareness, sales, and customer loyalty. People are naturally competitive and can be easily motivated by different rewards like badges, store points, special discounts, gifts, free shipping, etc. Challenges and progress bars are also a powerful motive to keep the customers engaged and encouraged to take the expected actions. And, gamification is simply fun, like catching ghosts in a LEGO store: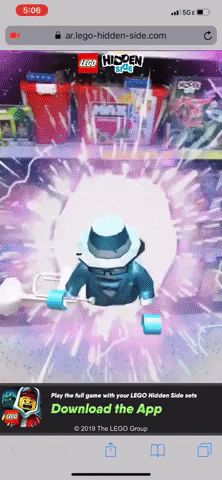 Source: https://medium.com/phygitalism/web-ar-348de5d7188
Also, mobile AR can tailor the shopping experience to a customer's preferences and use their living space to make personalized recommendations. Working in tandem, AR, and machine learning can respond to a user's real environment and offer real-time contextual product suggestions:
Enhanced AR recommendations can be used for anything from clothing, beauty products, electronics, sports gear based on the customer's previous choices.
Other Use Cases of Web AR
Augmented reality is an amazing technology, and it can be used far beyond retail, entertainment, and gamification. We cannot cover all the potential use cases with just one article — after all, we should leave you some space for your own ideas. But let's take a look at just a few more.
Augmented Reality in the Web for Navigation
Web AR can be used both for indoor and outdoor navigation, using augmented reality maps and virtually filling them with any content and location-based triggers. Users can walk around and point their phone at any object. If the AR-content exists on the digital map, they will see corresponding labels.
Location-based augmented reality is a web alternative to navigation apps like Google Maps, and it means to show AR content on the phone based on the position of places in the real world, according to camera orientation and position, but without installing any apps.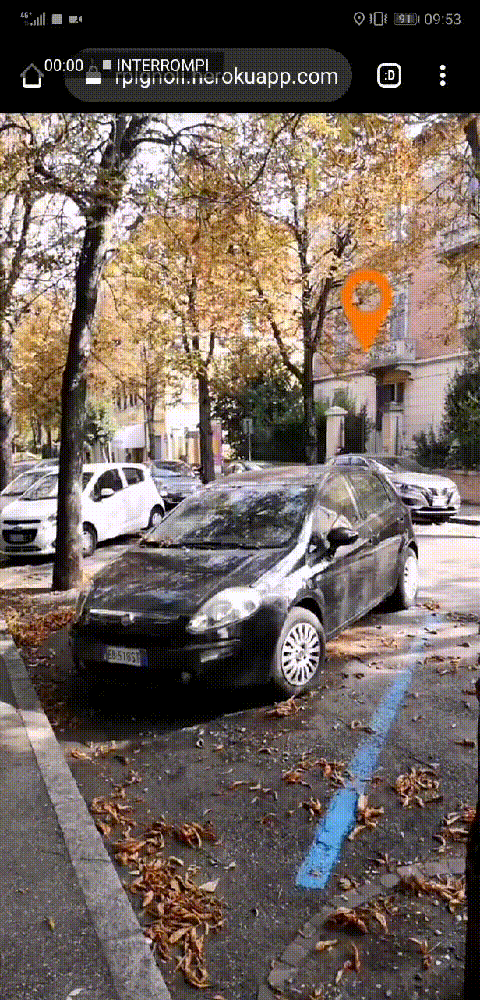 Source: https://medium.com/chialab-open-source/location-based-gps-augmented-reality-on-the-web-7a540c515b3c
Augmented Reality for Logistics and Warehouses
AR technology could be beneficial for logistics companies by providing warehouse workers with the right information at the right time. AR solutions can be used to improve processes for product picking and packing, assembly, inventory management, assisting with the training of warehouse staff. For example, by using an indoor navigation system, each worker can see the best route to the goods from their picking list. By using automated barcode scanning, the system can check whether the worker has arrived at the right place and picked the right item.
Summing It Up
Web-based augmented reality is a promising technology now living a great time. Its main advantage is the simplicity of implementation, and it allows businesses to cut costs on mobile app development and deliver mind-blowing user experience at the same time. To learn more about the technology behind Web AR, please follow up with our next article.
We have expertise in developing and deploying web-based augmented reality for various business scenarios ranging from Web AR portals to marketing campaigns and more. With Web AR services by Evergreen, your customers can try out augmented reality in the easiest way possible — via the web, thus making the technology more accessible for a wider audience, and beneficial for your business.
Our team has many years of experience in creating non-trivial solutions for our clients. We can develop a custom web-based AR product that will take your relationship with the customers to a new dimension.
Planning to launch your augmented reality project? Just give us a call, and we'll be happy to provide you with the best technical solution.
13.08.2020
The images used in this article are taken from open sources and are used as illustrations.