VUSO insurance company has steadily held a leading position in the Ukrainian market since the launch of e-policies in 2018 and introduced innovative digital technology to provide online insurance services.
We value our partnership with VUSO and would like to share with you a summary of a case study they published on Forinsurer, Ukraine's trusted information portal for the insurance market.
Two years ago, supported by Evergreen team, VUSO successfully launched Ukraine's first insurance bot for electronic MTPL policy issuance via Viber and Telegram. And already the first four months of operation have clearly demonstrated that users felt enthusiastic about the company's new service: mobile conversion rates have quadrupled, and by the end of 2018 VUSO has sold three times as many digital policies as the closest competitors. And besides the bot, visual recognition has also been implemented in the mobile version of the website.
Recognition of vehicle documents minimises manual data entry and errors: all the customer needs to do is upload a high-quality picture of the document, and the software will fill in all the vehicle and driver details automatically. Now it only takes a minute to issue and purchase an electronic policy.
The OCR.solutions system is a visual recognition service for vehicle documents by Evergreen. It is based on neural networks and fully secure, and the most important fields for recognition (state number, VIN, car brand and model) are additionally verified and validated.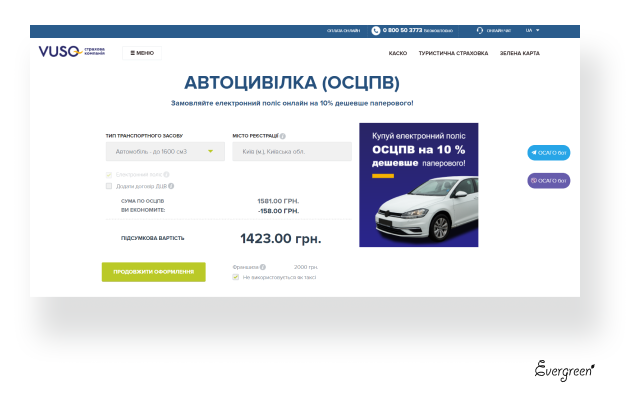 The figures representing two years of operation of the innovative VUSO service are impressive: a total of over 18,000 technical passports have been recognised, with only 3,000 errors detected (poor quality or pictures of something else). Out of the remaining 15 thousand documents:
90% were recognised almost ideally;
2.7% of them contained an error in one of the fields;
Only 3.3% were not recognised correctly.
We're happy that the team we built over the years of cooperation with VUSO, is strong and oriented towards online leadership, where ideas and quality are equally valued. It is how projects are created that bring real value to clients and tangible results to customers.
You can read about other unconventional solutions and interesting projects that our team is proud of, in the Cases section.
For reference:
VUSO insurance company is the leader in online MTPL and travel insurance. It has been operating on the Ukrainian market since 2001. Over 2 million clients trust the company, and 90% of them praise the quality of service.
You can find the original publication of the case on Forinsurer.
30.12.2020
The images used in this article are taken from open sources and are used as illustrations.