Innovative Ukrainian insurance company VUSO released the insurance bit @vuso_bot for the issuance of the MTPL insurance. There is no alternative to this bot in Ukraine. You can process an insurance policy in Telegram messenger and get ready documents on your email using @vuso_bot.
The Evergreen team designed the bot on the Corezoid platform with the help of Kwizbot constructor. The insurance bot helps you chose the policy. What are the next steps of the bot? It gathers all necessary data, formalises the policy, receives the payment and sends issued policy to the client via post or e-mail (if you purchase an electronic insurance policy).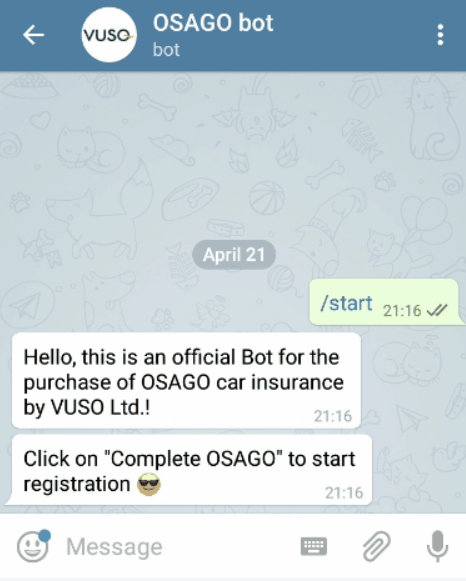 After releasing of the MTPL insurance electronic policy, the drivers get an opportunity to issue a policy remotely. And using the @vuso_bot it becomes more convenient to do via the smartphone, not a website. There is no need to spend time waiting when weekends go off or new day comes - issuing of an electronic policy is available 24/7. Now the client has an insurance company on his smartphone.
VUSO, an insurance company, is #1 on the Ukrainian insurance market, and the leader is MTPL electronic insurance. The company has more than 17 years of experience. And since 2001 they have gained up to 2 million clients.
The designer and developer of the bot is our Evergreen team. We are specialising in the IT projects, SaaS services, innovative platforms using AI, machine learning and IoT. Our solutions always work for business and bring positive results for the customers.
Evergreen developed the Insurance Bot and built the Chatbot for VUSO on this solution. More information about the product you can read here.
10.04.2018
The images used in this article are taken from open sources and are used as illustrations.