Image enhancement is the process of improving the picture quality without any information loss so that the results are more suitable for display (desired resolution, color, and style), or prepare images for further analysis in various computer vision applications, including object detection, image classification, scene understanding, and much more. Image enhancement usually consists of several transformations like image denoising, deblurring, upscaling, contrast enhancement, lighting up low-light pictures, removing optical distortion, etc.
Evergreen's Byte-Sized Takeaway - no time for the "full course"? Jump to the final page for the takeaway of our main points.
Image post-processing has always been an essential part of the whole photography process, and it is required to address common photographic flaws, including:
underexposure;
overexposure;
low contrast;
backlit subject;
incorrect color balance;
subjects out of focus, and many more.
Popular photo enhancement software like Adobe Photoshop, Adobe Lightroom, or RawTherapee provide different sets of tools for image retouching, and they've been leading the market for years. However, the quality of the results highly depends on the skills and aesthetic judgment of retouchers, which is subjective. And manual editing usually takes significant time.
Benefits of Automated Photo Enhancement Services
Instead, state-of-the-art automated picture enhancement software makes the photo editing process much more timely and easier for all users. AI-based digital enhancement software can take away almost all manual work and bring results that are still under the editors' control. Automated retouching helps:
make the pictures taken with regular sensors look professional and revive low-quality images by using intelligent algorithms;
save time by avoiding manual editing and let the software do all of the work;
press and publishing companies can improve the process of image/ color correction for magazines, marketing campaigns, etc.
Image enhancement algorithms are not limited to digital photography. They can be as well useful for processing medical images, e.g., in radiology, where AI not only helps enhance the quality of the picture itself but also helps detect certain medical conditions. We already wrote about AI in medicine here.
Automated image enhancement can produce high-quality results that can be further used for specific computer vision algorithms:
image enhancement of infrared images is crucial for Smart City applications;
forensic video and image processing software like Amped FIVE allows to restore a moving car, measure objects in crime scene photos, detect faces in blurred/ dark photos, sharpen text — just as we have seen it in FBI and CSI movies;
haze visibility enhancement and defogging of images can be used to interpolate and measure the distance between objects under different atmospheric conditions for vehicle visual systems development.
Open Source AI Solutions for Image Enhancement
Deep learning (DL) is a relatively new field of machine learning (ML), and it can be effectively applied to image processing. Different types of neural networks can be utilized for solving different image enhancement tasks, for example, successful denoising, producing high-resolution images from low-resolution images by training super-resolution, and much more.
We've picked some interesting examples of what deep neural networks can do in terms of AI photo enhancement.
Deep Photo Enhancer
Deep photo enhancement with GANs (Generative Adversarial Networks) using unpaired learning algorithms. Deep Photo Enhancer offers a method for image enhancement by learning from photographs. Neurons learn to discover common characteristics in a set of sample pictures (e.g., contrast level, white balance, colorization), and apply these characteristics to the enhanced image in a way, that it still resembles the original image in content. This method requires high-quality pictures as input and can be further personalized.
Super-Resolution for Images Using Neural Enhance
Deep learning algorithms allow you to train a neural network to zoom in the images at 2x or even 4x ratio, making it possible to enhance the quality of your low-resolution pictures. Deep neural networks (GANs, deeply-recursive convolutional networks (DRCN)) are able to recover photo-realistic textures from heavily downsampled images: NN is 'hallucinating' details based on its training from example images. It's not a 100% accurate reconstruction of photos in HD, however, the results are impressive.

Source: https://github.com/
IBM/MAX Image Resolution Enhancer
This deployable model allows users to upscale a pixelated image by a factor of 4, while generating photo-realistic details, using a GAN (SRGAN-tensorflow) trained on 600,000 OpenImages V4 pictures. The ideal input image has to be a PNG file between 100x100 and 500x500 pixels, preferably without any post-processing. This model can generate details from a pixelated image, but it is not suitable for correcting blurred images.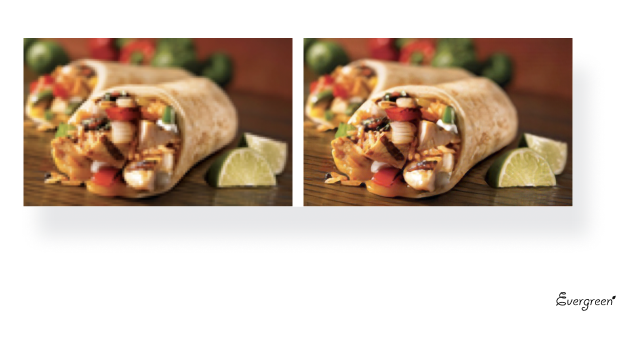 Source: https://github.com/
We at Evergreen use TensorFlow — an open-source machine learning framework — to conduct neural network training, and have experience in working with this framework to implement custom visual search and object recognition solutions for our clients' projects. Would you like to learn more about our business cases? Don't hesitate to contact us.
Commercial Intelligent Image Enhancement Solutions
We can describe them in general as 'smart automation' algorithms that allow applying the intelligent enhancement to individual images, or series of photos. Users can decide which automatic corrections they want to apply by setting them up manually to their liking, save these presets, and use them instead of manual editing.
Deep Image
Deep Image is an AI-based picture upscaling software that utilizes neural networks (CNN and GAN) to remove JPG artifacts and reverse the image compression, restoring the image almost to its original quality. The program also allows you to upscale resolution and magnify images at a 2x and 4x ratio: the neural network calculates how the enlarged image should look like to maintain its quality. Deep Image API allows you to integrate the service in your website, app, or workflow.
Luminar
Works both standalone and as a plugin. Aside from containing comprehensive editing tools this software contains a set of content-aware AI image enhancement tools that can detect and focus on certain picture areas: AI Sky Replacement, AI Skin Enhancer & Portrait Enhancer, AI Augmented Sky Tool, Sunrays (adding realistic sunbeams to the picture), AI Structure (detects areas that could look richer and enhances only them), AI Accent tool (selective adjustments), Smart Contrast (preserves colors and details, creating a more realistic textured image), allows to delete objects from a photo, enhance foliage, and much more.
Fotor
Fotor is another one-click online photo editor for professional and amateur photographers that enables them to apply filters, automated effects, and edit images on the go. It contains basic and advanced image enhancement tools, including HDR tech, artistically designed backgrounds, textures, and much more. Fotor's GoArt application uses AI to transform photos into classical painting style artwork, by imitating different art styles such as impressionism, fauvism, dadaism, etc.
Remini
A trending photo enhancer designed to revive old, blurred, or low-quality photos taken with old cameras or mobile phones and enhance them to high-definition. It can also repair blurred videos to high clarity, making them comfortable for watching on larger screens. The app uses state-of-the-art AI generative technology and does not require manual input in editing images. Unlike other apps of this class, it has predefined processes: users only have to choose a photo they would like to edit. Aside from enhancement options, the app allows you to edit selfies in real-time and offers some other interesting editing functions, including turning photos into drawings, etc.
Wrapping It Up
AI-based image processing tools that use deep learning algorithms can help you in developing intelligent applications, implementing elements of computer vision, detecting and recognizing objects, and actions in images and videos.
Our team at Evergreen has many years of experience and successful use of artificial intelligence technologies for visual search, face, and object recognition in various projects across different business areas. We can develop, support, and enhance an individual solution for a client: build an MVP based on the use of open-source solutions timely and cost-effectively, support and maintain the project at every growth stage, and lay the foundation for future development at the start.
If you are interested in creating a personalized image enhancement solution for your project, would like to implement deep learning algorithms for image processing, pattern recognition, or add other elements of computer vision to your product, don't hesitate to contact us. We will be happy to offer you a unique solution that uses state-of-the-art machine learning technology — let's start today!
Evergreen's Byte-Sized Takeaway
So let's shotly overview the software for image enhancement
Deep Image

Website

Capabilities

upscaling image via (CNN and GAN);

removing JPG artifacts ;

reversing the image compression;

upscaling the resolution at a 2x and 4x ratio;

Fotor

Website

Capabilities

basic and advanced image enhancement ;

HDR tech ;

different backgrounds and textures ;

Luminar

Website

Capabilities

- image enchancment;

- detect and focusing elements;

- ai accenting on elemnets;

- smart contrast;

Remini

Website

Capabilities




high-definition enchacement;

predefinded processes of upscaling;

real time selfie editing;

turning fotos into drawnings;
27.07.2020
The images used in this article are taken from open sources and are used as illustrations.