In one of our previous articles, we already wrote about the importance of digital transformation and how it has been reshaping the global economy by optimizing business operations, facilitating certain tasks, and boosting productivity in many industries. In medicine and healthcare, the use of cutting-edge IT technology is opening up new possibilities for improving the patient-doctor experience, better care provision, quality treatment, and access to medical data.
Global IT Healthcare Predictions and Trends
According to a recent Frost & Sullivan report, the global digital health market is expected to reach an estimate of $234 billion by 2023, up from $147 billion in 2019, from which the services sub-segment of the healthcare IT is expected to hold it's highest market share. One of the main driving forces for such impressive growth is the healthcare industry's ongoing tendency towards value-based or patient-centered care that helps bridge the gap between what customers want and what the healthcare system can deliver. According to Deloitte, these new care models will be driven by advanced telehealth software solutions, shaping a predictive, preventive, and personalized future of this industry:
cloud computing solutions;
fifth-generation (5G) technology designed to support utterly reliable, low-latency and massive data communication;
radical interoperability and open platforms that make healthcare information more accessible;
artificial intelligence (AI) to improve diagnostic accuracy and treatment efficiency;
natural language processing (NLP) that can be implemented in medical chatbots, for generating detailed medical notes through spoken or written sentences;
big data analytics that already helps interpret medical images more accurate than clinicians;
Data as a Platform (DaaP);
virtual reality as a safer alternative to drugs in pain management, for treating mental disorders; VR-simulations of surgeries for better planning and medical staff training, etc.;
robotics, sensors on wearables and medical IoT;
blockchain systems that help pull together the data from multiple healthcare systems, pharmacies, streamline the insurance claims, monitor and track the supply chains of medical products and much more;
learning platforms.
With the continuous improvement in smartphones, tablets, wearables, and other portable wireless devices and rapid growth in the mobile application market, telemedicine app development opens up new opportunities for revenue generation, cost reduction, and improved patient care for both medical establishments and telehealth software providers.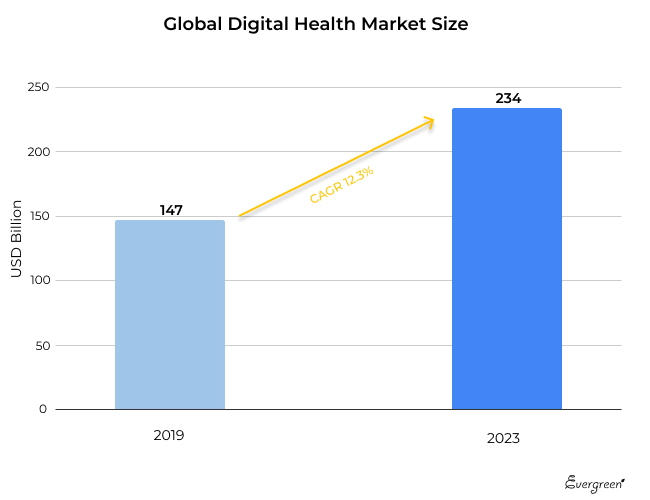 What is Telehealth Software?
Health information technology (health IT) includes an array of technologies to store, share, and analyze any health-related information. Both telehealth and telemedicine are its subsets.
Despite being seemingly synonymous, there is a subtle difference between these two categories. Telemedicine is considered to be an older term, more focused on a clinical application, and the use of telecommunication technologies to deliver traditional diagnosis and monitoring. It refers more specifically to education over a distance and providing remote clinical services to patients. Telemedicine examples are video consulting, digital imaging transmission, remote medical diagnosis, etc. Telehealth refers to a broader scope of services and technology beyond the doctor-patient interaction. It encompasses both telemedicine, educational services, telepharmacy, and other non-clinical care services that can be provided at a distance.
Telehealth software development can fall into the following categories:
Real-time communication telehealth software systems. Real-time communication requires patients and doctors to communicate at the same time using various technical means to conduct a clinical visit: webcam, telephone, computer audio, chatroom, etc. Real-time medicine resembles a 'live' doctor's appointment the most, allowing both parties to assess and communicate the patient's condition and provide treatment remotely, and connect to a remote specialist or facility for a consultation. Some real-time telehealth software may also support mobile medical devices to capture the patient's health information instead of medical inspection.
Store-and-forward telemedicine platforms. They are related to the transmission of digital imaging and videos for diagnosis, as in radiology or dermatology, or patients' clinical data between patients and health specialists, or between physicians for further consultations. It is a secure and quick way of exchanging clinical information that allows for more precise diagnostics and more efficient healthcare delivery, especially in areas where access to quality medical aid is limited, like rural or remote territories.
Remote patient monitoring. It is also referred to as 'home telemedicine' and allows healthcare providers to monitor their patients' condition using various medical devices that can be installed at home to track the patient's vital signs, and receive updates on their well-being more frequently. Remote patient monitoring is especially beneficial for patients with chronic diseases or those recovering after a major injury, illness or surgery, for bedridden and elderly patients whose physical condition doesn't allow them to travel to a doctor's appointment.
Telemedicine software integration. The key requirement for quality telemedicine/ telehealth software systems is their seamless integration with the existing EHR (electronic health records) and PM (practice management) systems, proper documentation of telemedicine visits, insurance sync, integration with patient portals, medical API, revenue cycle management platforms, and much more. All of the above is crucial to deliver better technology for healthcare providers and convenient care for patients. Some telemedicine platforms are built to communicate directly with mobile medical devices.
Integration with pharmacy. Through the use of telehealth software platforms, patients can access many professional services offered by pharmacies and get advice on medication management remotely. Pharmacies participating in telehealth programs usually collaborate with other healthcare facilities, providing their customers with holistic care. Telepharmacy services may include patient counseling, drug therapy monitoring, refill authorization for the prescribed drugs, and using means of telecommunication for training, videoconferencing, education, and management services among the pharmacists.
Data analysis in healthcare. A recent Frost & Sullivan report reveals that the share of data analytics is expected to grow to at least 65% of the global data health market. Big data analytics and robotics allow one to process and draw valuable insights from massive medical data volumes that are being collected and stored across multiple platforms and applications. Some advanced robots can record vital signs during medical procedures. Health care analytics also helps evaluate practitioner performance and patient costs to maximize their efficiency and allows for better risk management based on the aggregated data (medical data, demographic and socio-economic profile, comorbidities, etc.).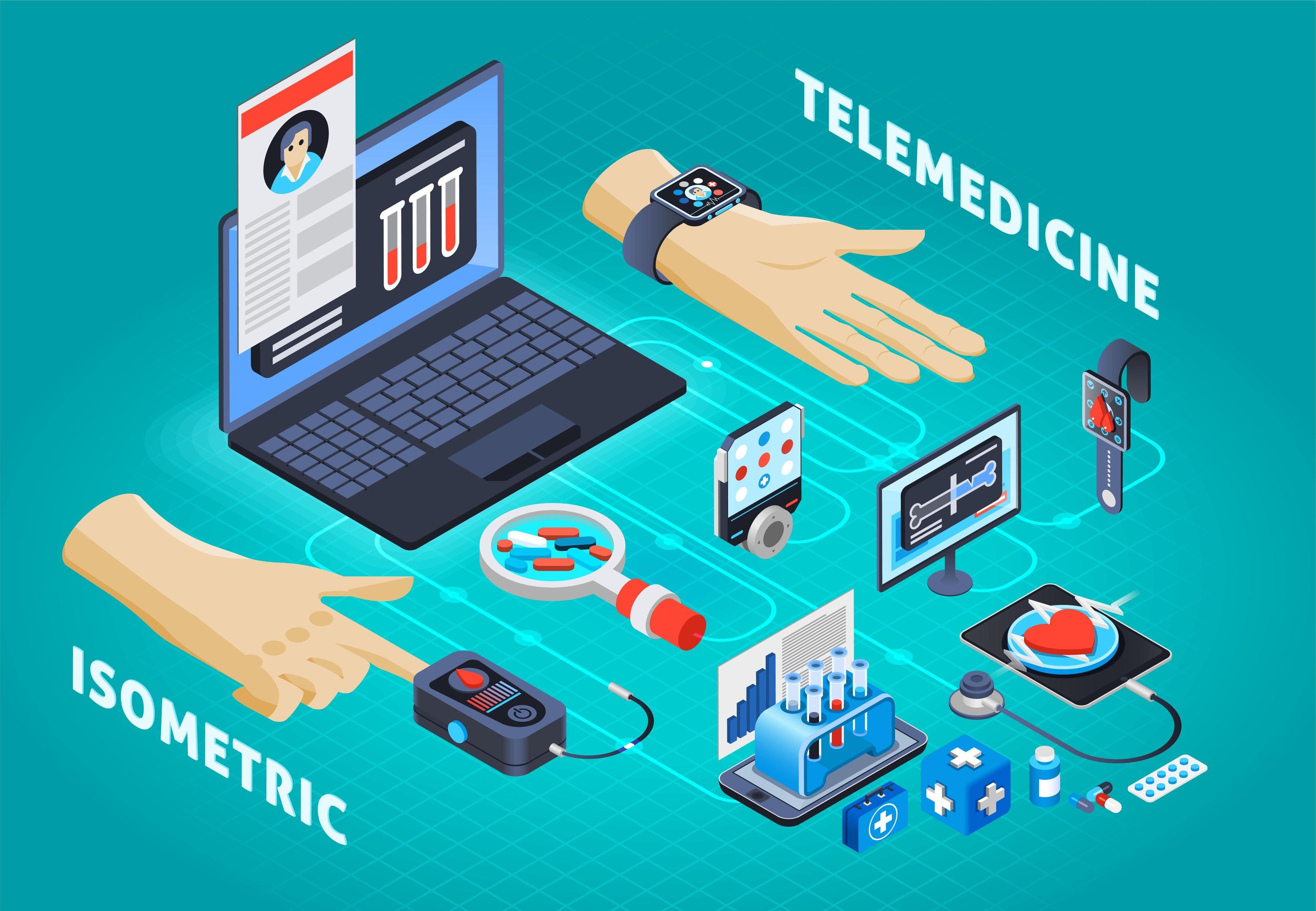 The Role of Telemedicine Solutions in Healthcare
Until recently, the pharmaceutical and healthcare industries have lagged in implementing digital technologies: only 7% of U.S. companies confirmed they've gone digital, compared to 15% of companies in other industries, according to recent studies. Widespread adoption of telemedicine and telehealth apps remained more of a concept rather than reality until 2020 and the outbreak of COVID-19. Both WHO and CDC are advocating for telemedicine, and governments and medical associations worldwide have issued guidelines and taken significant steps to expand telemedicine services due to increased demand and to mitigate the COVID-19-related risks. In March, the usage of one of the most popular U.S. telehealth apps AmWell has risen by 400%, with a usage surge of 650% in some regions.
Telemedicine Software Features Comparison
Let's take a quick look at what the best telehealth software has to offer.
Patient-related features. Basic features include registration, search, patient profile, notifications, appointments and calendar, communication, geolocation, payments, and more. Additional features include personalized dashboards, secure chats, in-app calls, cloud data storage, medication tracking, access to patients' insurance plans. As an example, eVisit's flexible scheduling makes it easy for patients and doctors to connect at a convenient time. Chiron Health telemedicine platform additionally sends an automated email containing a link to the visit to patients once their appointment is confirmed. Medici has been called the "WhatsApp of telehealth" for their secure video and text communications, and the famous Teladoc's most significant drawback is that users need to re-enter all their background medical data once they change their phone, because this information is not linked to their accounts.
Features of telemedicine apps for doctors and organizations. Key features include doctor profile, communication, scheduling and calendar, EHR review, and medical prescription. Other useful features encompass video and audio session recording, access to pharmacy databases, dashboards, and analytics. eVisit supports billing with direct patient's card charging option, ePrescribe function allowing to send prescriptions to over 70,000 pharmacies across the U.S. AmWell additionally supports pre-designed workflows for clinical use cases that can be adopted at all scales from urgent to acute care delivery. Enhanced telemedicine solutions (e.g., Amwell) can support separate direct-to-patient and provider-to-provider modules for different telehealth programs.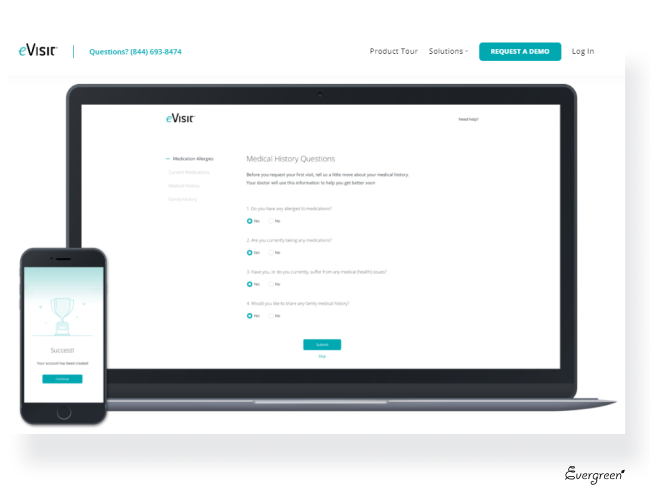 In a nutshell, the benefits provided by telemedicine apps include:
More convenient and accessible patient care: real-time consultation, photo-based consulting, including the one provided via a store-and-forward solution, availability of the medical services on-the-go;
Cost-effectiveness and healthcare savings: telemedicine reduces non-urgent ER visits, eliminates transport expenses for regular checkups, allows for an automated prescription renewal, etc.;
Better patient care quality: medical record storing, unified patient management and monitoring system, increased patient engagement, better access to more specialists;
Efficient time management, and facilitation of administrative operations, automated workflows of healthcare specialists.
Challenges related to telemedicine apps development are:
Compliance with the healthcare legislation which can be tricky — for instance, in the U.S. all telehealth/ telemedicine software must be HIPAA compliant;
Backend integration — for better communication, both apps for patients and doctors need to be connected to a backend that mediates data exchange between them;
Reimbursement — mobile apps should be able to provide secure credit card payments and insurance billing tools, as well as support billing at the provider's side;
UI/UX implementation on both patients' and providers' side for preserving consistency and excellent user experience.
Custom Telemedicine Software Development
The team at Evergreen has many years of experience in implementing the most unconventional solutions in various business areas. One of our core competencies is understanding and learning the customer's niche business. We understand the healthcare market complexity and are ready to offer you the development of solutions using advanced technologies, following global practices and trends, and in strict compliance with industry standards and healthcare regulation policies.
The value of custom telemedicine software development by Evergreen is in providing you with a solution based on in-depth market analysis and tailored to your individual needs.
The development cost will depend on the software complexity and is calculated for each project individually. Would you like to learn about our approach to project estimation? Please contact us right now.
Technologies We Work On
Here are some of the technologies we have been successfully working with that we are ready to implement in your project:
Machine learning. ML and automation help streamline processes in hospitals, map and treat infectious diseases, personalize medical treatments. Machine learning can be as well used to create "smart" electronic health records, for imaging and diagnostics (e.g., quick and precise tumor detection based on MRI scans), drug discovery and development, remote patient monitoring, and much more.
Artificial intelligence. AI and deep learning can be used for image identification and classification to help improve diagnostic accuracy in disease detection and drive better outcomes for patients. AI solutions as well help automate the telehealth process from scheduling to consultation, examination, diagnosis, and billing, and support doctors in decision-making.
Chatbots/ Voice assistants. Chatbots and virtual health assistants can fill a multitude of roles from customer care service to diagnostic tools or virtual therapists. The voice recognition technology continues to improve in accuracy and the users' interest in voice search increases. We can meet the patients' needs by creating virtual assistants for a quality, hands-free patient-provider interaction.
RPA. Robotic process automation enables medical establishments to automate routine administrative tasks, free up clinicians' time, reduce errors, and save money. It can be used for appointment scheduling, claims processing, and general workflow automation.
IoT combined with telemedicine creates a new field of Internet of Medical Things (IoMT). It includes the use of various medical wearables that gather specific health data by either asking patients or using sensors and provide real-time assistance. Its efficiency depends on a reliable software solution.
Highload systems/ HIS. Highload systems are fault-tolerant and with the proper architecture, your service will be able to handle large amounts of requests even during the peak loads. We have experience in maintaining large healthcare projects and can as well assist you in the development of a health information system (HIS).
Bottom Line
As we can see, the advancement of digital technologies has altered the healthcare delivery process in many ways. A shift towards patient-centered care creates a favorable environment for further health IT development and positive dynamics in its market growth. Telemedicine is considered the future of healthcare, and it's continuing to evolve.
Do you have any additional questions, would like to see more of our business cases or share your project ideas with us? Feel free to contact us, we will be happy to advise you on any professional matter, and create a telemedicine solution for your organization that will help deliver personalized care to your customers in a cost-efficient way and using the most advanced technology.
21.05.2020
The images used in this article are taken from open sources and are used as illustrations.