Digitalization, digital transformation, digital learning, digital marketing — the word 'digital' has been on everyone's lips for years. The current crisis with its bomb strike effect has already proven that not only the future lies in digital business solutions, but also the present is at stake if we don't act quickly.
What is Digitalization?
"Digitalization is the generic term for the Digital Transformation of society and the economy. It describes the transition from an industrial age characterized by analog technologies to an age of knowledge and creativity characterized by digital technologies and digital business innovation", according to Innolytics.
Digitalization is the force to bring businesses forward. Its main advantages are:
Time savings and performance improvement —

automation of production and other internal processes of the company

;
Streamlining and enhancing communication — both internal and external;
Cross-sell/ up-sell opportunities — delivering the next-level customer experience and encouraging them to buy more products;
Competitive advantage — through improved customer experience and general workflow optimization.
A study from just 3 months ago revealed that the worldwide spending on digital technologies and services had been forecast to reach $2.3 trillion in 2023. But the crisis has changed everything.
COVID-19 Is a Before-And-After Moment in Digital Transformation
Companies are now forced to use technologies they haven't planned to implement until some time ago and revise their strategic priorities in the digital sphere. 'Go digital or die' is the reality to which the COVID-19 epidemic has taken us. The main challenges we are facing now that can be addressed through digital transformation, are:
The need of business owners to protect their employees — this epidemic may be the moment that brings telecommuting to the mainstream and shows leaders that employees can be just as effective and productive from home as in-office when supported with the right technology, culture, and management approach;

Networking and business communication — all major events have been canceled, as well as flights and travels due to quarantine restrictions. One of the alternatives to face-to-face meetings is videoconferencing, and there are plenty of platforms supporting networking options as well;

Continued learning — virtual schools, self-driven courses, online learning platforms, learning management systems — these are some of the modern solutions to support educators during the school closures and beyond;

Corrupted supply chains and production stoppage — hence a growing demand in manufacturing automation and robotics;

Strategy and tactics to keep the companies as viable as possible amidst the chaos.
"Companies that will survive long term are the companies who have the best tools to be flexible, agile, nimble, and can do the best job of quickly changing runs, controlling their plants, monitoring their plants, adjusting their supply chains, and being able to deploy their workforce from really any location," as Craig Resnick, vice-president, consulting at ARC Advisory Group, says in an interview.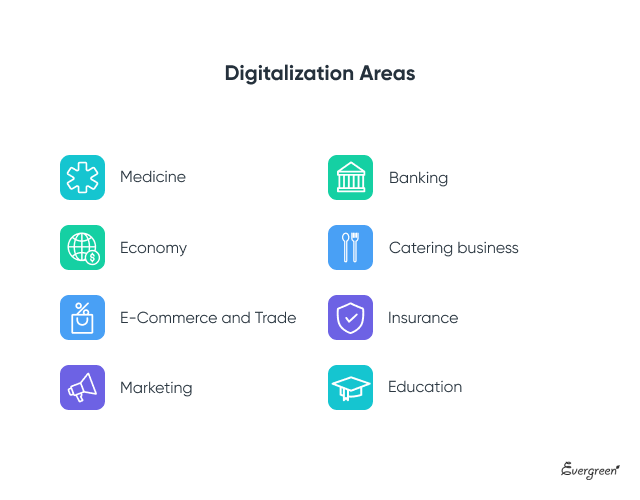 We've picked some examples of how digital technologies are being used in response to coronavirus crisis in different areas of the economy.
Digitalization in Medicine
Many of the digital tools that were developed some time ago are in high demand now.
Telehealth
Self-distancing and quarantine resulted in an increased popularity of e-health and telemedicine apps. Telemedicine has a critical role during the coronavirus: keeping doctors at a safe distance and focusing care and limited supplies to the most urgent cases. It is important, too, for all other necessities that don't stop because of coronavirus like diabetes, heart conditions or cancer. Examples of the most popular (and trusted) telehealth apps in the U.S. are One Medical, Teladoc, Amwell, HeyDoctor by GoodRx, PlushCare and others. Many of those apps are reporting growth: PlushCare appointments are up by 70%, the usage of Amwell app has increased by 158% in the USA and by 650% in Washington state alone.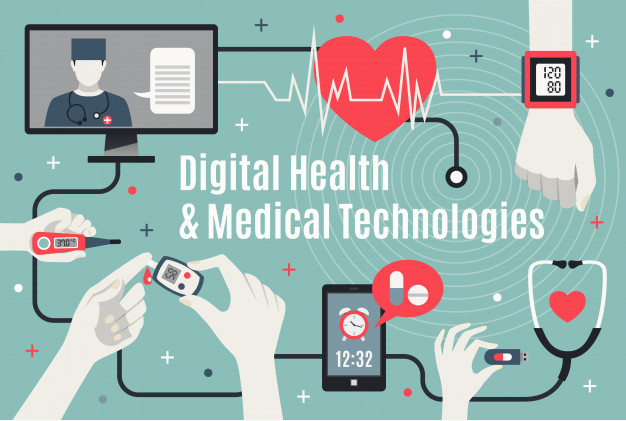 IoT, AI, Big Data and Blockchain
These digital tools can be used for augmenting two traditional public-health strategies to remediate coronavirus: 1) monitoring, surveillance and prevention and 2) mitigation of the impact to healthcare indirectly related to COVID-19.
IoT is being used for real-time tracking and live updates in various online databases in the USA, UK and China, live tracking of the at-risk vicinity in Korea (Coronamap.live; Wuhanvirus.kr), virtual clinics (PingAn, China), public information dissemination via WhatsApp in Singapore.
Use of big data: modeling of disease activity, potential growth and areas of spread; modeling of the preparedness and vulnerability of countries in fighting coronavirus; business modeling on pharmaceutical supplies for various medications, etc.
AI examples: detection of COVID-19 from chest imaging (X-ray) (Beijing Hospital) and prognostication of disease progression via clinical data and imaging; AI to automatically diagnose medical conditions unrelated to COVID-19 (Zhongshan Ophthalmic Eye Center, China); medical chat bots.
Blockchain can be used for: manufacturing and distribution of COVID-19 vaccines once they are available; insurance claims from COVID-related illness and death; distribution of patients' regular medication to the local pharmacy or patients' doorstep.
Other
Healthcare agencies currently use the social-media platforms (e.g., Facebook and Twitter) to provide real-time updates and clarify uncertainties with the public. Additionally, some facial-recognition companies (e.g., SenseTime and Sunell) have adopted the thermal imaging–enabled facial recognition to identify people with an elevated temperature at various screening points in China.
Digitalization of Business and Manufacturing
A huge number of workers who used to work from offices are now working from home, and many manufacturers had to temporarily shut down their factories due to quarantine restrictions.
Telecommuting and Virtual Office
Remote communications use applications like Citrix and VMware virtual environments, virtual private networks (VPNs), client collaboration platforms such as HighQ, and presentation tools like Zoom, Webex, GoToMeeting, and Skype. Virtual conferences help managers keep their teams connected and are an alternative to face-to-face business meetings. Modern cloud-based solutions have made it simple, inviting, and profitable to work from any remote location with a decent network connection.
Manufacturing Automation
The recent interviews with Chinese enterprises showcase that the epidemic may drive further enhancement of automation, in order to reduce dependence on people and improve resilience to future outbreaks.
A prime example has taken place during the early stage of the coronavirus outbreak, where some semiconductor and flat panel factories in Wuhan were able to maintain relatively normal production thanks to high levels of automation. At the same time, the labor-intensive industries such as 3C manufacturing almost completely shut down, and the restriction of personnel mobility has made the resumption of normal operations difficult.
Ecommerce
For eCommerce, the current crisis will be a springboard for even more rapid development. Actually, that has happened before: the SARS outbreak in 2002-2003 allowed both Alibaba and JD.com to grow significantly, and Amazon is already hiring extra 100,000 workers to facilitate their warehouses because of the increased demands.
Emerging Ecommerce Trends During the Outbreak
eGrocery. Retailers see an increase in demand for online grocery shopping. In recent weeks, grocery stores have been wiped off due to panic buying when shoppers were hoarding on food and other essentials like toilet paper or hand sanitizers. As Grocerydive.com reports, grocery apps see record downloads as customers move online: Instacart has seen 218% increases in average daily downloads compared to the previous month (February), followed by Walmart Grocery (160%) and Shipt (124%) in the U.S.
Contactless delivery. Amazon Fresh and Instacart announced a "Leave at My Doorstep" contactless delivery option, and customers can even receive a real-time photo of groceries on their doorstep if they leave such instruction for the delivery driver during checkout. The European on-demand food delivery services also start implementing no-contact "drop-off " options in response to the COVID-19 epidemic, e.g. the UK-based Deliveroo, Spain's Glovo or Uber Eats.
Online Learning
As most schools and universities go online due to school closures, the value of high-quality education is growing. There are plenty of online tools that are used by educators across the globe to ensure the continuity of learning, from educational apps to virtual schools, learning management systems, 'educational influencers' and public school networks. In our previous articles, we have already written about the role of LMS systems in education, as well as the prospects of eLearning and why investing in it might be a good idea.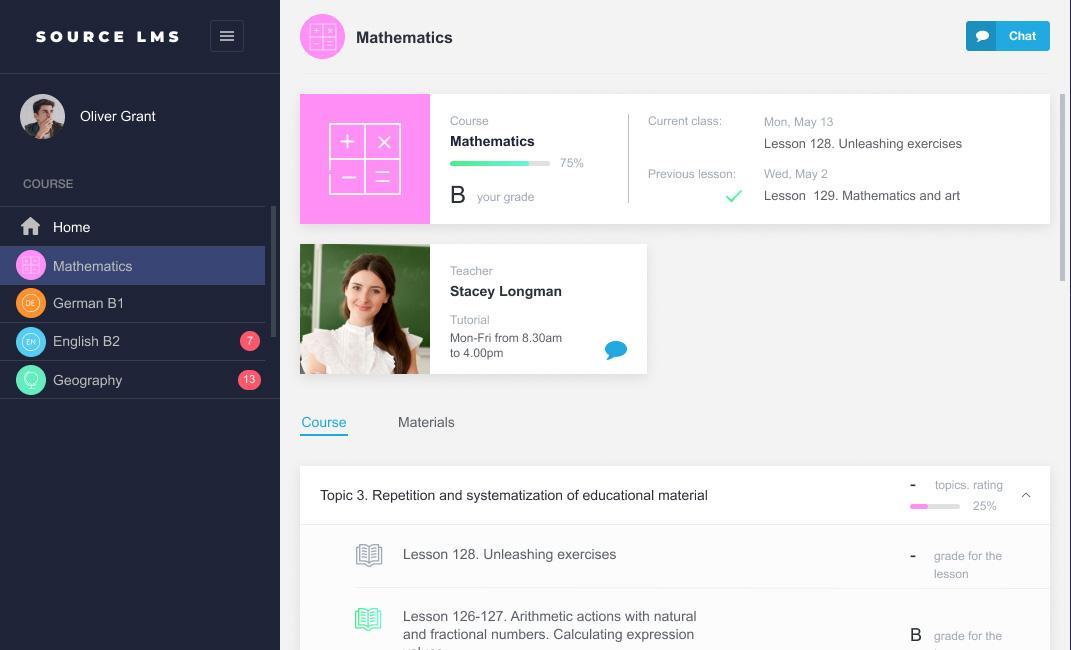 Digital Marketing
Given the sharp disappearance of all channels related to live events, conferences, and barriers in face-to-face meetings (especially in the B2B sector) companies are having hard times. Those who haven't had any social media presence (e.g. a Facebook page) most likely are considering social marketing, content marketing, SEO and influencer-led campaigns. If face-to-face interaction with the customers was a standard for a particular business, adapting may open new channels over media and social platforms to build relationships. From the beginning of March, agencies have seen an increase in requests for creating or updating websites, creating and launching social media campaigns focused on home-workers and SEO optimization. Read more about digital technologies in marketing in our next article.
Law, Insurance and Banking
In addition to sending their employees to work from home, law firms are being proactive towards their clients. One of the biggest U.S. law firms, Taft has issued a Coronavirus Resource Toolkit to address client questions. Big brands in BigLaw have also created cross-disciplinary task forces and released checklists and guidance for their clients. This material is often available for free on their websites and over social media.
In FinTech and banking, contactless operations are the preferred way to make payments to avoid cash. According to IDC, in the coming years, a fear of infection, disease outbreaks, and other disruptions will accelerate the switch to cashless money.
Chatbots have become critical for contact centers to handle large amounts of non-voice communications. Lots of banks and credit unions have begun converting from on-premise to digitalized cloud-based contact centers to mitigate the security risks connected to the remote work from home.
Health insurance companies worldwide are activating emergency plans to prevent the spread of coronavirus. Some of the companies, like the U.S.-based Aetna, offer zero co-pay telemedicine visits. Alignment Healthcare has launched a personalized COVID-19 risk assessment tool with a questionnaire for an instant risk assessment (with automatic data updates).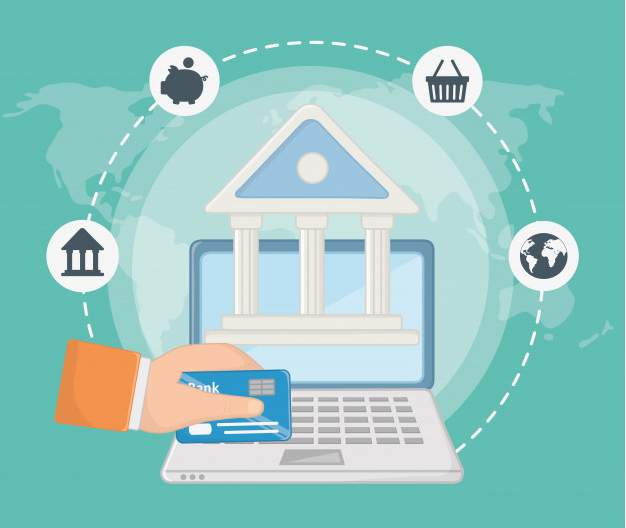 On-Demand Food and Restaurants
Thousands of small businesses are likely to be closed for good, and many of them will be restaurants, as the Forbes analysts suggest.
However, the on-demand strategy can save some of the restaurants, especially the ones that have been open to carry-out and cooperate with the delivery apps as Uber Eats, Glovo, Deliveroo, and others.
Some of them may as well switch to the Ghost Kitchen model permanently and deliver virtual food courts after the coronavirus outbreak has ended. As Google reported recently, U.S. searches for Uber Eats, DoorDash, Postmates, and Grubhub jumped 53% within the past month. Uber Eats led with a 70% increase in searches, followed by DoorDash at 55%, Grubhub at 46%, and Postmates at 42%.
Bottom Line
No modern business can exist in the long term without developing a digital transformation strategy. We're now seeing a forced acceleration of the previously slow-moving trends that are likely to shape the future of digital business development for the long haul. Digitalizing and digital technologies have already saved millions of jobs, helped slow the spread of the virus, and allowed businesses to cope with the new reality.
If you have interesting ideas or have been planning to use digital technology in your business for a long time, you should do it as soon as possible. The long-term future of your business depends on it. We know how to help you — give us a call right now.
16.04.2020
The images used in this article are taken from open sources and are used as illustrations.