A system that can be used by start-ups with one user as well as by large international companies with over 300 thousand users. Learn how Odoo can guarantee its unique flexibility without sacrificing quality and what distinguishes it from other ERP providers.
What is Odoo?
Odoo is a modular ERP (= Enterprise Resource Planning) system that impresses above all with flexibility, modern interface, and simple operability.
The software is becoming increasingly popular and works best for e-commerce projects due to its easy customization options. It was originally developed in Belgium in 2005 under the name TinyERP. Later known as OpenERP and finally as Odoo, both the software and the company have won numerous awards since then and are listed in numerous guides.
The Power of Odoo
At first glance, the clear, modern software structure is what catches your eye, and it enables your employees to switch to the system quickly. However, the strongest point of Odoo is its expandable architecture: an enormously wide range of apps that can be optionally extended and can interact with each other smoothly — it makes the system interesting for almost any company.
Ranging from small start-ups that want to organize their finances and online store in an uncomplicated way and from one source, to global companies that need to manage their own financial accounting, human resources, and inventory management, and those of their subsidiaries.
On top of that, Odoo offers numerous functions that are rather unusual for conventional ERP systems, and which previously required the involvement of other third-party providers, e.g., the website module or processing mailing lists. With Odoo, everyone will find an individual solution
...just like with Evergreen!
That is why we have been working intensively with the software for a long time, and support partners across the globe when it comes to implementation, expansion, and general advice regarding Odoo, an out-of-the-box ERP solution.
The continuous growth of our existing clients and, above all, immediate increases in efficiency for those who switch to Odoo with our help, confirm these efforts. We believe that Odoo is the smartest way to centralize the obligatory bureaucratic processes so that you can focus on business operations and company growth in the best possible way. It is not for nothing that over 4 million users and around 2500 partners worldwide trust the software.
Our range of services includes:
the implementation, development, and adjustment of various modules
preparing your data for the migration in Odoo
the preparation of technical specifications
the installation and implementation of Odoo
...and much more!

ERP systems are designed to support companies in managing business processes and thus ensure the most efficient value chain possible. Besides Odoo, major ERP software providers are SAP, Oracle, and Microsoft.
Business processes are as diverse as the companies themselves and include different areas such as materials and human resources management, product information management (PIM), warehouse management, project and data management, etc. The length of this list will always depend on the company and its activities.
As a result, ERP systems of different companies — in addition to their core functions — must include many individual extensions to cover the entire business activity. Consequently, companies usually spend a lot of money on the development and integration of individual modules. A major cost factor is often to adapt the many programs so that they can reliably communicate with each other and no data is lost when different modules interact.
A good ERP system is therefore characterized on the one hand by its ability to manage production factors clearly at all times to enable continuous process optimization, and on the other hand by its flexibility, so that every business, however unique, can be controlled.
Advantages of Odoo:
All modules can be integrated independently, so — if desired — you still can use other programs for specific purposes;
Open source: any adjustments can be made relatively easily by software developers like our team;
A system that eliminates the need for many individual programs and convinces with powerful, uniform solutions;
Highest level of flexibility;
Scalability in all conceivable dimensions;
Easy integration of external programs;
Relatively low implementation costs.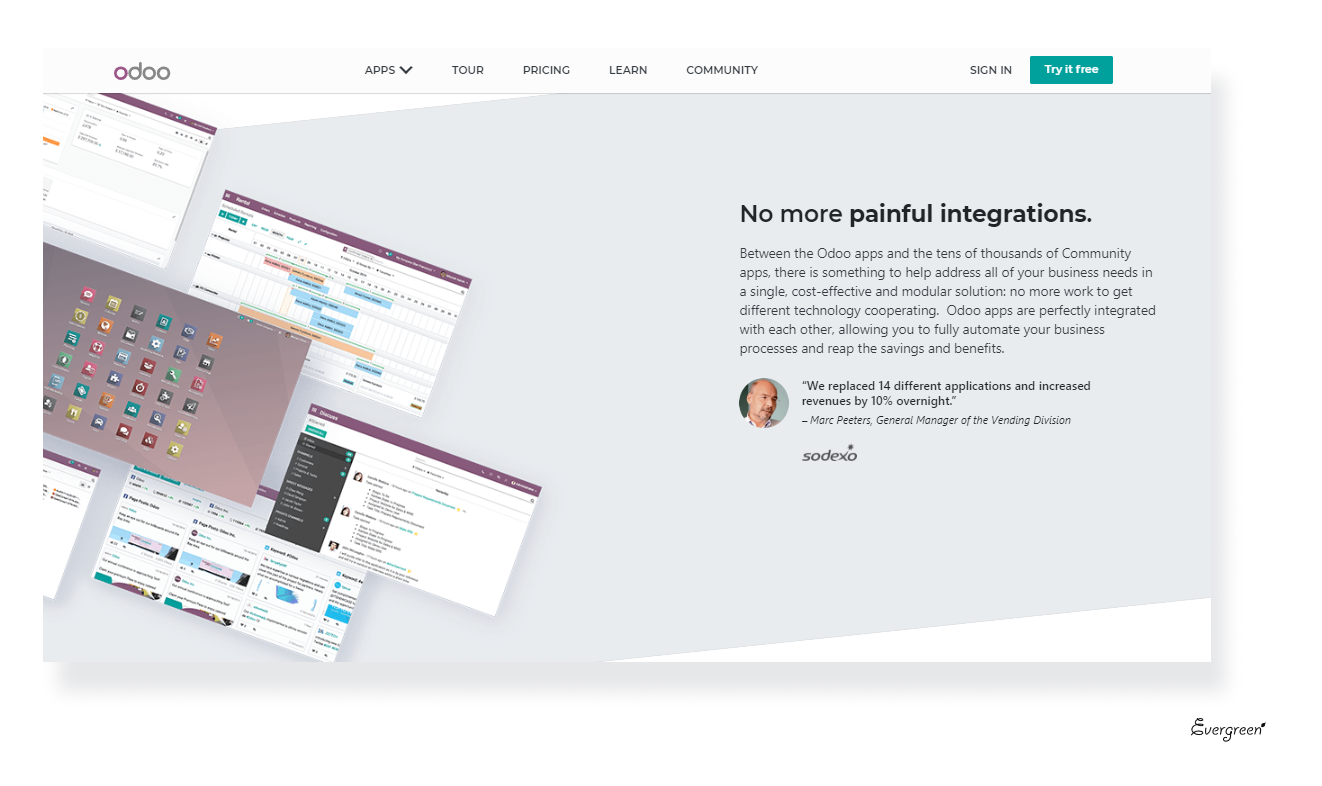 Overview of the Odoo Modules
Odoo is supported by a large community that has produced over 16,000 modules to date. Some of them are available for free, and some are subject to a fee. The extensive core modules from Odoo include:
CRM
Strong customer relationships are the key to sustainable success. If you rely on Odoo to manage this task, you can be sure that none of the important business partners/customers will be neglected.
PoS
Your digital Point-of-Sale: in daily business, this popular Odoo function allows you to serve your customers even when there is no Internet connection. You can manage tables in your restaurant or access your products quickly and easily using your computer or tablet.
Sales
Upselling, customer communication, and digital signatures: because sales are the engine of your business, everything has been thought of here! Bright and modern, so that retail is fun for both parties.
Project Management
Organize, plan, analyze. If you want to keep an eye on budgets and other resources for projects, you will love this module.
Timesheets
Done quickly and easily, so that employees and managers can concentrate on their actual work again.
Helpdesk
When customers need help, they rely on your company. Processing all requests with care strengthens this trust and helps prevent customer dissatisfaction. So that you don't have to spend too much time here, Odoo forums, live chats (e.g. with a chatbot developed by us), and other solutions can be integrated to improve your CS efficiency in a long run.
Inventory
Improve performance and lead time. Organize your warehouse better with the intelligent inventory management system from Odoo, whether you have 50 or 30,000 products.
Procurement
Improve your purchasing and inventory management efficiency by setting up procurement rules depending on your inventory levels, logistics rules, and forecasted production orders. Choose from different replenishment rules for each product depending on your manufacturing and delivery strategies.
Website Builder
You can create a website without any code, and add functions flexibly depending on your growth: job offers, e-commerce, customer portal, events, company blog, calls for action, newsletter, etc.
E-Commerce
Easily create product pages to represent your business in a unique way. With an integrated e-commerce platform, inventory and sales can be easily managed through automatic inventory adjustments and reports.
Invoicing
Manage contracts, generate recurring invoices, create timesheet invoices, get paid faster. Invoicing is often an unpleasant task, especially when errors occur. Use Odoo and benefit from reliable automation. With an integrated accounting, you develop a holistic concept for your business!
Email Marketing
Communicate with your customers using aesthetic, simply created e-mails provided by this module, and build funnels. Use email lists to design sophisticated sales processes and save time
...and much more!
How Much Does Odoo Cost?
There are two ways to use Odoo. While the community version is available for free, various features of the enterprise version cost 18.00 € ($ 20) per user per month with the annual billing in advance. Additionally, there are user-independent fixed amounts for the apps used. In this case, however, you will only be charged for those apps that are the company actually uses, so you don't have to pay for the entire range of modules.
So, why are you waiting?
Are you still unsure whether Odoo is the right choice and what other ERP systems could be used for your needs? We are familiar with this subject and guarantee you competent and target-oriented advice where your satisfaction and your economic advantage are our top priority! Contact us without any obligation and let us grow together on this task!
06.07.2020
The images used in this article are taken from open sources and are used as illustrations.