Service without cashiers is a separate trend at the junction of retail, e-commerce, and visual search systems. Regular offline retail works on PoS systems and needs human resources and manual labor to enter data and serve customers. However, service without cashiers helps save customers' time, business owners' money, and the energy of store employees who can focus on merchandising and customer service instead of sitting at the checkout.
Service without cashiers has been increasingly implemented in shops with a massive flow of people: in hyper-and supermarkets, in fast-food establishments. Although there is still much to work through to bring the system to perfection, there are already interesting new generation solutions of service without cashiers.
Why Do You Need Service Without Cashiers?
There is a vast amount of goods people buy only offline, especially in small cities. For example, Americans spend $ 800 billion annually on grocery shopping. Moreover, only 2% of people buy products online. The entire retail industry in the United States as of 2018 showed a turnover of $ 5 trillion. Furthermore, only 10% of this amount fell to the share of e-commerce.
Therefore, retailers head for equipping offline stores with autonomous payment systems. Currently, three retail giants compete in autonomous customer service systems. Let's have a closer look at their technology solutions from the lowest to highest artificial intelligence usage.
If you believe that artificial intelligence and visual search systems are applicable only for online businesses, just read this article to the end. So you will see that there are many opportunities for their efficient implementation into your offline business.
Technical Solutions for Cashier-Less Stores
Kroger and his Scan, Bag, Go
In 2014, the American supermarket chain Kroger user packers to fight the queues at the checkout. Each cashier was assigned an employee, whose duties were to pack the buyer's goods in 30 seconds. This somewhat speeded up the queue but did not eliminate the need to stand in it.
In 201 Kroger launched their version of autonomous payment systems for purchases - Scan, Bag, Go, to place them in 400 stores of the chain. At the store entrance, buyers need to take special scanners and go with them to the sales area. All they need to do before starting the shopping session, enter their phone number into the scanner.
Tips continuously appear on the screen: which button to press, how much does the scanned product cost, how much money have you already spent. Any previously selected item can be canceled simply by scanning it again and pressing the appropriate button. You can also make purchases using the application on your smartphone and pay for them with one simple click.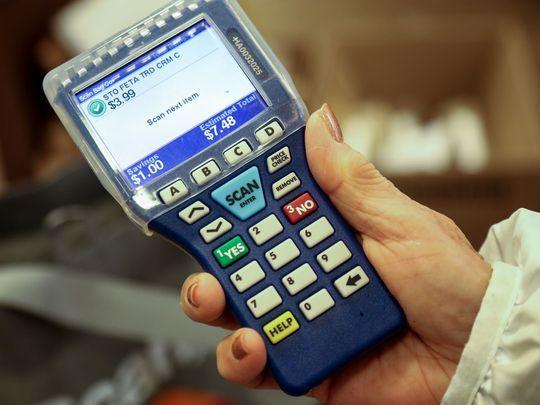 https://www.kroger.com
Disadvantages: inconvenient for the customer, too many buttons and functions that distract attention, makes purchase time only 1.5 minutes shorter and does not change the overall user experience. Besides, only Kroger discount cardholders can use the system.
Technical solution: barcode scanner, payment terminal.
The Scan & Go technical invention of Walmart that was implemented in more than 100 stores of the chain works alike with minor differences.
Amazon Go - Store Without Queues and Cashiers
Amazon decided to keep up with competitors and bite off its piece of offline retail cake. In 2017, they bought Whole Foods stores and created a space that unites people's online behavior patterns and ordinary grocery stores shopping. With only one difference: there are no checkouts in the store at all.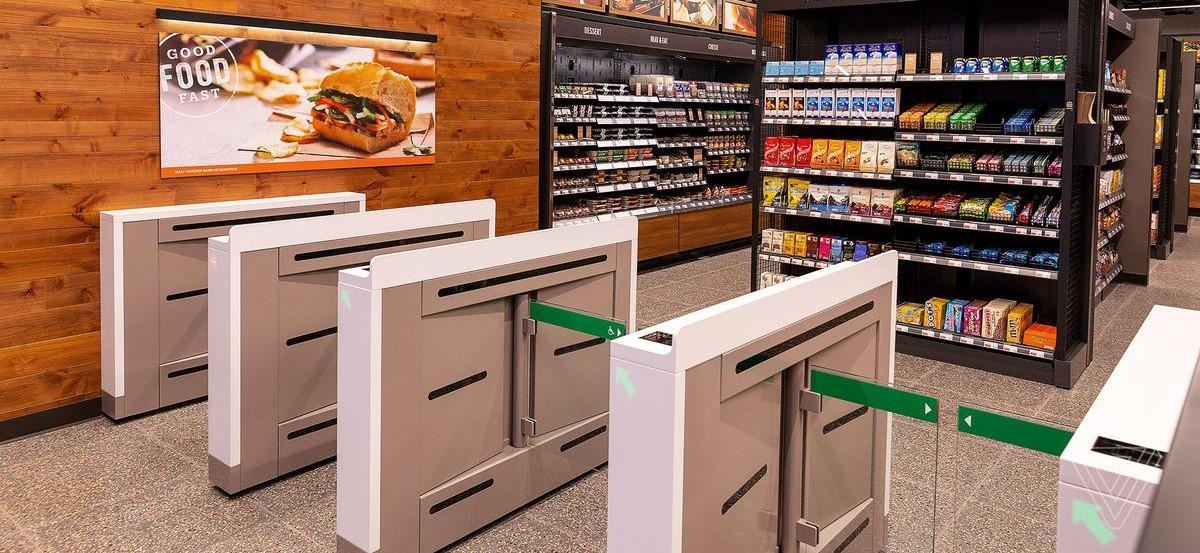 zoomit.ir
Amazon Go works as follows: at the entrance, the client checks in through the mobile application (puts it to the pay-gate to enter the shop). All the stuff the buyer takes from the shelf is added to his virtual cart. If he changed his mind, it is enough to put the goods back, and the system removes an item from the shopping cart — no need to scan each item. The buyer takes what he needs and goes away. While he gets out of the store door, the cost of the purchase is charged off from his Amazon account. Then the customer receives a bill including the cost of all the purchased products and the time spent in the store placed on record.
Amazon Go store security system uses nearly 300 ceiling cameras and sensors, that follow customers, determining their habits, and allowing to figure out the thieves. Only three people work in the store with an area of ​​1,800 square meters, robots and machines do the rest of the work. For comparison, at least 15 people would work in two shifts in a regular retail store of the same size.
Technical solution: computer vision, machine learning (deep learning algorithms), a combination of multiple sensors. The developers at Amazon call their technology "Just grab and go."
Caper - a Startup with Artificial Intelligence and Ambitions
Potentially a new round of autonomous payment systems uses in retail - Caper, a shopping cart with artificial intelligence. Presently the product is under development. It looks like a cart with a built-in barcode scanner and the ability to pay for purchases with a mobile phone. However, in the final version, it is expected that three cameras with artificial intelligence and a weight sensor will allow you to scan goods that you throw in the cart automatically.
The creator company reports that already today, visitors buy 18% more during each visit to stores equipped with smart carts. Today, Caper has already raised the revenue of stores, where it is used, by $ 3 million. Combinator, Hardware Club, FundersClub, Sidekick Ventures, Precursor Ventures, Cogito Ventures, and Redo Ventures invested in product development. At the moment, two retailers in New York are equipped with Caper, but after further development, investors are planning to provide smaller-sized stores with the smart cart too.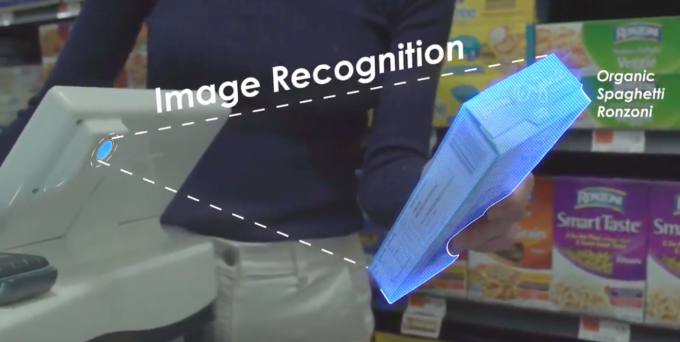 https://techcrunch.com
In fact, the buyer does everything the same as before, but he no longer needs to stand in lines: the system itself recognizes the goods and allows them to pay with a phone. All information about discounts, discount coupons will be stored in mobile applications that visitors can download to their phones.
The creators are announcing that Caper will no longer need a barcode scanning system soon. The combination of data from cameras, pattern recognition, and a weight sensor will accurately determine what exactly the buyer puts in his shopping cart.
Caper is expected to bring significant benefits to merchants in three ways:
It will encourage buyers to make more purchases (recommending additional products, combined with those already purchased)
Ease and convenience in transactions will increase the customer flow in the store
Caper can share the collected data (customer path, foot traffic) so that you can optimize the store layouts.
The cart's screen will also need to display discounts information about products that are near the customer. By the way, we described such a "smart" assistant in the first release of our futuristic project "Green Mirror 1. Hike to the supermarket".
Technical solution: barcode scanner, weight sensor, a camera with object recognition function.
Ukrainian Examples of Service Without Cashiers
The first self-service areas in Ukrainian supermarkets appeared in the "Great Kyshenya" chain back in 2013. In June, in 2018, the same checkouts appeared in several Silpo stores as an experiment - in a residential area and a center, to monitor consumer behavior and their readiness for such innovation.
Technical solution: self-checkout systems are equipped with a barcode scanner to identify the goods, a touch screen to control the system and weights to monitor the product, barcode, and the actual purchase price matching. Automatic machines accept cards, and some even cash and give change, accept discount coupons and loyalty cards, but work exclusively on simple technical solutions, without artificial intelligence. However, for Ukraine, such service without cashiers is already a massive breakthrough in retail.
Possibilities and Limitations of Technology
The AI-based technologies of autonomous service allow not only to increase sales of offline retail but also to speed up service in fast food establishments. More information about how technologies work for fast food restaurants, you can read in the article "How neural networks and object recognition can serve more customers without expanding the staff."
In the grand scheme of things, the possibilities are limited only by legislation and the capabilities of the developers. One thing is clear for sure: the systems of visual search in offline retail radically change the way the store and the customer interact. Machine learning and artificial intelligence make decisions for the client and give him advice on time. AI recommends products that are worth buying because he understands your purchases.
Do you want a product that your competitors do not yet have, and that will benefit not only your business but also customers? Contact us. We will create what you need.
07.08.2019
The images used in this article are taken from open sources and are used as illustrations.