Reviewed by Andrei Butenko
1. How did you choose the web-studio, with which agencies did you compare us to, why did you choose us? What difficulties did you have when choosing a web agency?
Actually you were advised by Yuri Gorban. Since it is impossible to objectively evaluate your qualifications, not having deep knowledge in this field, we relied on the refernce from the man who we already trusted in solving other issues.
2. What in our interaction did you like most?
You delve into the customer's needs, deep-thinking, ask a lot of reasonable questions. And now we have an outcome closest to what we wanted originally.
3. What has been your biggest disappointment working with us?
The sudden price increase.
4. What business result did you get? What changed as a whole in your business since you've been working with us?
We've grown thanks to a decent site, corresponding to modern design requirements.
5. Are you going to continue to cooperate with us? In what format, in which specific areas?
We are and will be. Our next big thing is website development for our software.
6. Did you think that working with us was expensive? Did it pay off?
In general, your services are not cheap. Especially the budget for a new website to promote our software seemed quite big.Anyway, the cost of website development paid off as an investment in brand promotion, although we did'nt plan to pay as much for a promo-website.
7. How do you assess the professionalism of our team?
The professionalism of the team as a whole is high.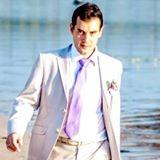 Andrew Butko
— Сo-founder of the Technolex-translations