For software startups and scaleups, having a technical leader is a must. Senior developers or founders with a strong tech background can supervise the software development team at initial stages, and oversee the project's technology scope. As the business begins to grow, companies need a technically skilled manager to advise and guide the organization by providing the best technology solutions to fulfill their business objectives. If business owners are not sure, however, whether they should hire a full-time in-house Chief Technical Officer (CTO), the CaaS model may be a cost-effective alternative. Let us explain why.
What Is CTO as a Service?
CaaS (CTO as a service) is a new way to access a CTO: a company hires an outsourced expert to solve the technical challenges, develop and troubleshoot the tech team, and help bring your ambitious project ideas into life. CTO outsourcing enables a flexible payment model: depending on your company's needs, a virtual CTO would work for you when required, from a couple of hours per week to the standard full-time working day, or occasionally to meet with your development team or investors.
There are several situations, in which the assistance of an outsourced CTO might be helpful for a business:
When you have a great product idea but you lack the understanding of how to realize it;
You have developed your first product or part of your app but you realize that its design doesn't comply with the next stages of your product/service, or is out-of-date;
Your business needs a professional with many years of experience in technical leadership to help build your product, effectively discuss technological aspects with investors, evaluate vendors, and create technical roadmaps;
Your company doesn't need a full-time CTO at this stage of its growth, but you need a maximum level of flexibility and cost-efficacy by paying only for the services your business needs;
You need objective advice on a variety of technical issues and an expert to lead your development team.
If you agree with one or more of the above statements, then the outsourced CTO services could be beneficial for your company.
The Role of CTO in Business
Depending on the company's scope, its marketing goals, and its business niche, the Chief Technical Officer may have various responsibilities, unlike other C-level executives. The role of a CTO will as well depend on the startup level, team size, business management style, and other factors. CTO is the public face of the tech department responsible for the management of research and development (R&D), technological budget, as well as aligning the company's IT strategy to its business goals and developing innovative products.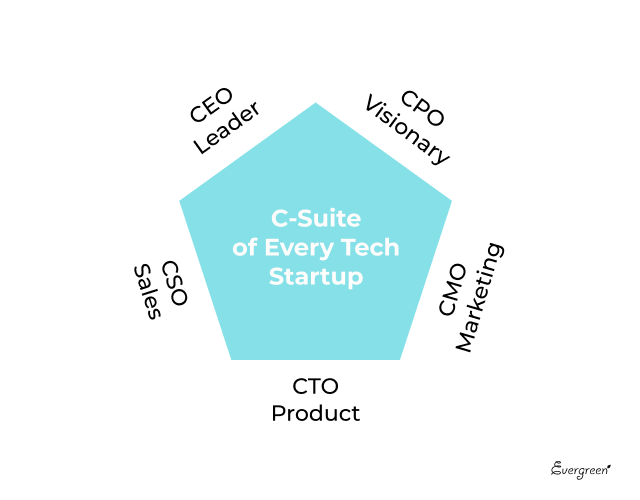 Most typical responsibilities that require a CTO engagement include:
Short-term and long-term tech strategy:

monitoring of technological, social, and scientific trends that can influence the company's business objectives, participating in management decisions, and identification of business risks and opportunities.

R&D:

managing research and development of technology, maintaining current information about technology standards and compliance policies, research, and recommendations on the most effective solutions, etc.

Technical design & platform selection:

maintaining the strategic focus of projects, managing several development teams, making critical tech decisions such as development platform selection, product architecture layout, technical design planning, tech supervision, and more.

DevOps and MVP issues:

building the tech side of products from scratch, handling tech tasks related to first product iteration, technical process backup, budgeting of MVP rebuilding, and much more.

QA, product testing, and cybersecurity:

task allocation between the team members related to product testing and debugging, QA and tech budgets alignment, security procedure and algorithm development, emergency audits, and much more.

Evangelism:

presenting the company's technology strategy to partners, board, investors and employees, engineer hunting and team growth management, building relationships with customers, vendors, communities, etc.
CTO as a Service for Startups
If your business is a product, it is imperative to plan every aspect of its development from the very beginning, including the development team and responsibilities, tech stack, development tools, and map all processes to minimize the risk of failure.
By referring to virtual CTO services by Evergreen, startups can get expert advice on best technology and architecture, professional management of development team, timely task coordination, and technical consultancy on the following IT services: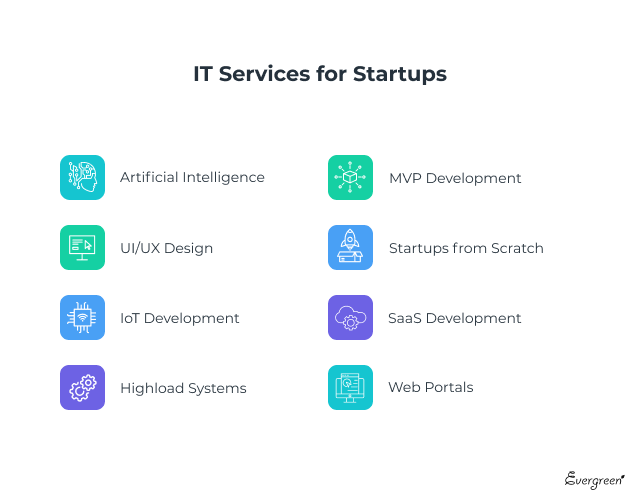 AI solutions. Creating effective solutions based on cutting-edge technology that will be both feasible and fit within the project budget.
UI/UX design. Technical advice on architecture, website logic, and visual design that will convey your product's value to the users, and help you stand out from the competition.
IoT development. We have expertise in IoT-compatible mobile app and web service development for managing IoT devices to minimize routine operations and create additional competitive advantages for businesses.
Highload systems development. Technical design and engineering of fault-tolerant highload architecture to create effective commercial projects.
MVP. Prototyping, testing, MVP app development, selection of the product/market fit, passing all pivots in product life, and real-user testing to assess the market response, support for further growth, and scalability of the product development team.
Startups development from scratch. Full range of services for designing, creating, and implementing a turnkey startup. We have methods to "pick up" a project started by other developers and bring the product to the launch.
SaaS development. We have the technical know-how and proven processes to offer a balance between off-the-shelf components and custom development to create your unique SaaS-product. Back-end/ front-end development, scalable architecture, integration with internal systems and CRM, testing, support, and maintenance after launch.
Web portals development.

Defining the architecture, platform design, and selecting personalized solutions.
CTO as a Service for Small and Medium Business
If the company is on the fast track for growth and planning to attract investment, it is crucial to convince the investors of product potential. The chances of success are much higher if there is already an experienced technology officer on your team, or you should pay attention to virtual CTO service.
We constantly monitor the market and offer our clients technical innovations that can bring profit, or that will soon become trends. We make sure that all technologies used for the project are kept up to date and "grow" relevant and reliable technical solutions that do not require massive investment. CTO services by Evergreen cover the following categories of IT solutions for SMBs: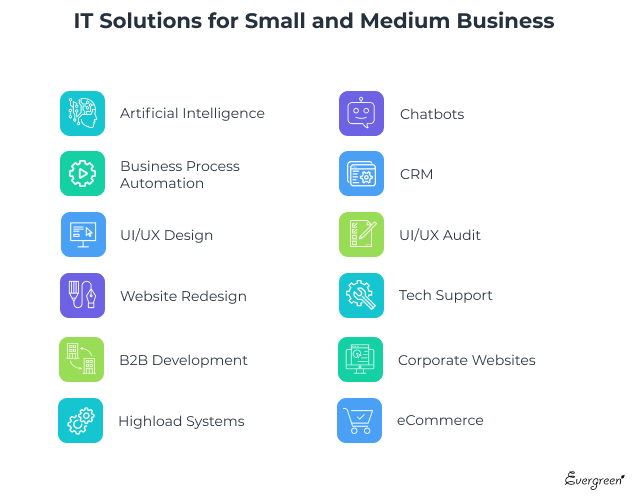 AI solutions and chatbot development. We provide you with the best technical advice and develop effective AI-based solutions for boosting your business productivity by minimizing the human routine and help bring communication with the customers to the next level.
Business process automation. Technical leadership experience in developing automated business management systems that will guarantee smooth operability of your business and allow your teams to concentrate on more creative tasks.
CRM. We advise you on how to implement CRM before the project start, perform CRM implementation and setup, and accompany you after the launch.
UI/UX design. We will ensure the creation of a quality UI/UX that will be your advantage in the eyes of users, allowing you to sell more without having to change the product characteristics.
UI/UX audit. Our experts will study the issues which contribute to reduced conversion and find ways to change these processes to your favor.
Website redesign. Creating a redesign plan that encompasses both changes in the visual part and the website's functionality and aims at improving conversion and visitor statistics.
Tech support. Our technical approach is not limited to updating the website content alone but implies constant features improvement and optimization with an engaged team's involvement in further support.
B2B development. We thoroughly plan all projects before we start working on them, always taking into account the specifics of B2B customers.
Corporate website development. Creating reliable websites that are integrated with your accounting, CRM, workflow, and team management systems, based on a deep understanding of the business we are working with.
Highload systems and eCommerce solutions development. Technical design and engineering of fault-tolerant highload architecture to create effective commercial projects. Individual approach, reliability, and choice of the best solution to achieve a wow result for your business.
Benefits of CTO as Service for Business
The key benefits of recruiting CTO as service for startups or SMBs in the vision of Evergreen can be summarized as follows:
Reduced operational risks. CTO helps create sustainable operations, processes and infrastructure through overseeing IT budgets and improved resource planning, business continuity planning and disaster recovery, security, governance and risk, product management and mapping;
Oversee the industry market trends and transform the business. Given the large number of projects we are working with, it is important to define and implement development strategies according to up-to-date coding methodologies and best practices, focus on the target markets of the business and deploy projects to support customer experience;
Creation of digital transformation strategy by overseeing the transformation of every business process and suggesting ways that technology can help the company be more successful;
Team building support. Team mentoring, coaching and helping them to improve their skills, hiring new resources, filling technical gaps while the company searches for right tech talent;
Upward management. Communicating with and presenting technological strategies and technical implementation plans to stakeholders and investors.
Our team has many years of practical experience in programming, system architecture, and software design, as well as technical consulting. For startups, small and medium-sized companies Evergreen is not just a development contractor, but a technology consultant and business partner.
The main goal of our activity is to achieve results for the client: ROI calculation before project start, advice on the best technical solution in accordance with the requirements and in the interest of the customer.
Your CTO services provider and technical consultant — Evergreen
Does your business need a reliable technical advisor to develop an effective tech strategy, manage your development team, and communicate with your investors and customers? Do you need professional assistance to push your business forward using cutting-edge technology that best suits your strategic goals? Please contact us — we will be glad to advise you on any professional matter. Just give us a call or fill in the form.
26.05.2020
The images used in this article are taken from open sources and are used as illustrations.